The final hours of the US Presidential elections of 2020 have arrived, with both US President Donald Trump and his Democratic challenger Joe Biden wrapping up their final pitch in politically crucial states.
Biden toured in states of Pennsylvania and Ohio, whereas, Trump campaigned in the voting battlegrounds of Wisconsin, Michigan, North Carolina and Pennsylvania.
Let's take a look at both these candidates' closing pitch:
Trump's closing arguments in the final rally
US President Donald Trump had a tight schedule. With rallies scheduled in six states on Sunday, the Republican candidate attended four more battleground states on Monday.
While attending the rally in North Carolina, he informed his supporters," Next year will be the greatest economic year in the history of our country."
Trump's closing argument featured a list of his personal grievances against government agencies, courts, voting laws, individual journalists, TV hosts and medical experts.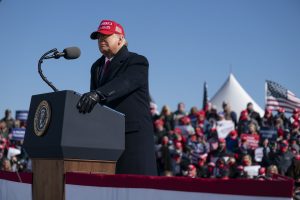 President Donald Trump speaks during a campaign rally at Fayetteville Regional Airport, Monday, Nov. 2, 2020, in Fayetteville, N.C. (AP Photo/Evan Vucci)
For his next rally, Trump headed to Scranton in Pennsylvania. This is the city where Trump's opponent Biden lived until the age of 10. In Scranton, the US President was quick to remind his supporters that he won the state in 2016 despite polls suggesting otherwise.
At the rally, Trump lashed out on Biden and said: "Joe Biden is a globalist who spent 47 years outsourcing your jobs, opening your borders and sacrificing American blood and treasure on ridiculous, endless foreign wars most of you have never even heard of."
Biden's campaign rally for the final day
Democratic candidate Joe Biden was joined by pop icon Lady Gaga at a rally in Pittsburgh, Pennsylvania. Furthermore, the Vice-Presidential candidate Kamala Harris addressed the voters along with musician John Legend.
At his last-minute campaign stop in Ohio, Biden stated his main motto of the campaign and said, "It is time for Mr Trump to pack his bags. We're done with the tweets, the anger, the hate, the failure, the irresponsibility."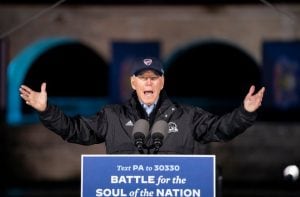 Democratic presidential nominee Joe Biden speaks during a drive-in campaign event in Philadelphia on Sunday. (DREW ANGERER/GETTY IMAGES)
The main theme of Biden's speech revolved around Trump's handling of the coronavirus pandemic. The deadly virus has claimed more than 2,30,000 American lives.
Addressing his supporters in Mocana, Pennsylvania, Biden said, "That's exactly what Donald Trump has been doing from the beginning of his campaign: Dividing America. Pitting Americans against one another based on race, gender, ethnicity, national origin. That's wrong. That's not who we are."
For our in-depth coverage of the US elections 2020, please visit our LIVE blog