Railways should extend the flexi fare scheme to other trains, instead of being forced to rework or scrap it on existing trains.
The Indian Railways' flexi fare scheme, in which fares move up with coach occupancy on premium trains, is turning out to be a crucial factor in enhancing overall earnings of the national transporter.
While populism may demand that this scheme be tweaked and fares further lowered in this election year, practicality demands that the flexi fare scheme should not be touched. If anything, it should be extended to other trains.
Indications are that the scheme may neither be scrapped nor tweaked further, never mind incessant criticism from MPs and frequent train passengers.
If flexi fares were to be scrapped, the railways will probably need to effect a step across-the-board increase in fares, just to keep going.
Remember, the cost of carrying passengers has been increasing each year with no simultaneous increase in passenger fares. There has been no fare hike by the railways in almost eight years.
It is also well known that freight earnings continue to subsidise passenger earnings for the Railways and in the absence of political will to raise passenger fares, flexi-fares are really the only option to generate additional revenue.
The railways started flexi-fare system in September 2016, egged on by the prospect of earning more revenue by smart pricing, for Rajdhani, Duronto and Shatabdi trains.
Under this system, the base fare increases by 10% with every 10% of berths sold subject to maximum ceiling limit of 1.5 times in second AC, sleeper, second sitting (reserved), AC chair car and 1.4 times in third AC class. No change was made in the fares for first AC and executive class.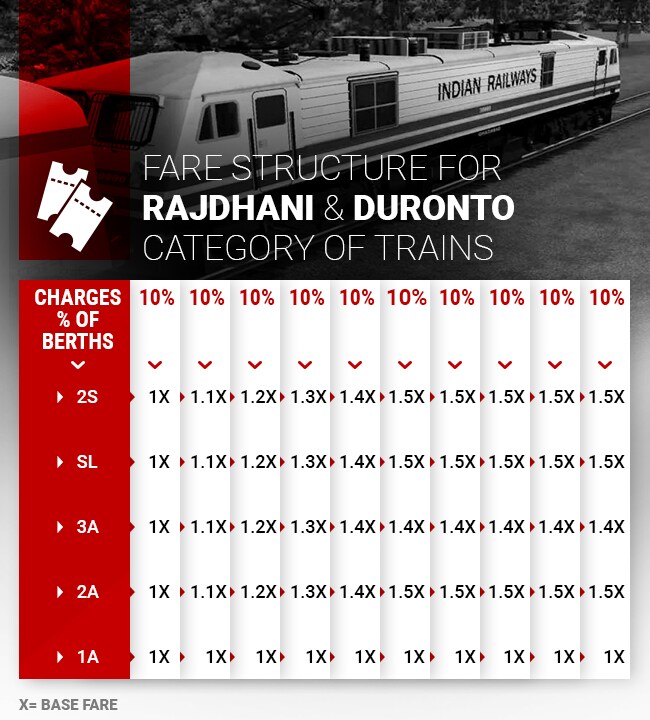 It is clear that the fare increase is capped at 1.5 times the base fare, no more. A senior railways official explained that on an average, the highest ticket price under the flexi scheme is 1.25 times the base fare (it doesn't always touch the 1.5 times ceiling) and that there have been a slew of discounts too after the flexi scheme was implemented, to ensure these fares do not pinch the pocket.
This include offering 10% rebate in basic fare on vacant berths/seats after preparation of first chart in these trains, discounted fare is also being offered for the passengers in several Shatabdi trains with low occupancy. Besides, provision of tatkal quota has been reduced in flexi fare trains from maximum 30% to 10% of the total berths availability.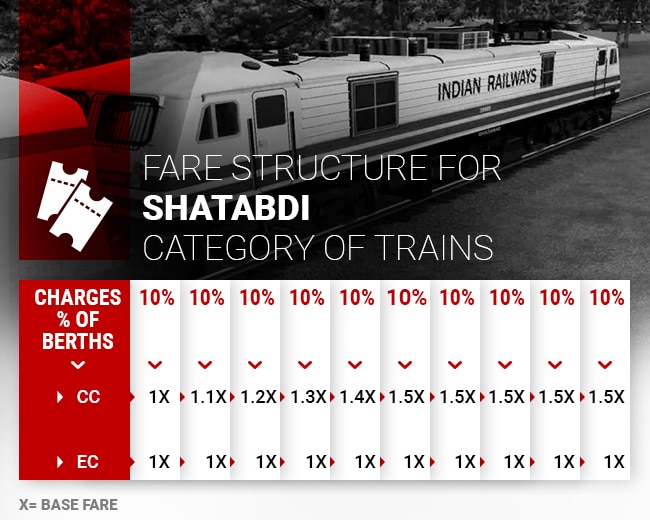 The official also added that the only option before the railways would be to increase fares across-the-board in case populism forces its hand and flexi fares are scrapped.
Less Impact, Maximum Profit
Inadequate understanding of the scheme coupled with populism lead MPs and passengers to oppose it vehemently ever since its launch.
But it is a misnomer that flexi fares impact a majority of train passengers — this scheme impacted just under 4% of the total passengers travelling on the railways' network on any given day last fiscal.
It managed to generate Rs 800 crore in additional revenue in the first full year of its implementation till August 31, 2017. This fiscal, the railways is eyeing Rs 1,000 crore incremental revenue from just the flexi fare scheme.
Besides, it is also incorrect to compare flexi fares in Railways to the surge pricing method followed by airlines.
The flexi train fares do not increase based on frequency of bookings but remain based on distance travelled. Also, price variations are introduced of each slab of 10% seats.
The Railways has been thinking whether to reduce the ceiling to 1.3 times the base fare from the current 1.5 times norm.
It has also been toying with the idea about whether flexi fares be introduced on other trains — this is unlikely to happen anytime soon though.
Then, according to another proposal, almost half the seats available on these premium trains could actually come at the base fare, against just 10% now.
Flexi fares are crucial in the railways' scheme of things since its earnings target for 2018-19 is a steep Rs 2 lakh crore, up from about Rs 1.78 lakh crore achieved in 2017-18. This means it must generate an additional about Rs 22,000 crore this fiscal.
The Railways official quoted earlier said that it was possible to generate Rs 10,000 crore additionally by loading more freight on to trains in 2018-19 and another Rs 1,000 crore could come in through increased passenger loads.
In case flexi fare scheme is not touched, yet another Rs 1000 crore could be earned from this scheme too in 2018-19. Though this still leaves a gaping Rs 10,000 crore shortfall in earnings, it is quite evident that the Railways can ill afford any tweaks to the flexi fare scheme at this juncture.
Even the Comptroller and Auditor General of India (CAG) has urged the railways to have a relook at its passenger fares in order to reduce its losses in the segment.
In its latest report, CAG has said that the railways ministry needs to revisit the passenger and other coaching tariffs so as to recover the cost of operations in a phased manner and reduce its losses in core activities.
"The fixation of passenger fare and freight charges should be based on the cost involved so that it brings both rationality and flexibility in pricing considering the financial health of railways and the current market scenario," the report said.
The railways cross-subsidises passenger fares through freight charges, which not only hurts overall revenues but also drives away freight to the road sector.
The loss on account of passenger fares (railways' social obligation cost) for 2015-16 stood at Rs 36,286.33 crore. In this scenario, it should extend the flexi fare scheme to other trains, instead of being forced to rework or scrap it on existing trains.
Sindhu Bhattacharya is a journalist based in Delhi.
First Published: May 17, 2018 5:18 PM IST