The 'all weather' air conditioner (AC) of Voltas wasn't able to weather the unseasonal rains in northern India.
Shares of the leading AC player, tripped 9% on Friday in trade. The scorching summer hasn't converted into higher sales for the company.
In fact, in Q4, like to like revenue growth in UCP ( Unitary cooling Product) segment was just 6-7% against expected growth of 13-15%.
The growth is weaker, when compared to its peers like Blue Star, which reported a 13% revenue growth in the same quarter.
The result is – market share loss . Voltas market share in room AC now stands at 22% vis-a-vis 23.7% reported at end of Q3.
While the AC business disappointed, it was the MEP (Electromechanical project) segment that supported margins and revenue.
Margins in MEP segment came in at 7.5%, a tad higher than estimates.
While brokerages like Jefferies see this weakness in stock buying opportunity, there are others like CLSA, who believe that their thesis of peaked market share has started to play-out and can be a de-rating catalyst.
Additionally, DB notes that high inventory level in the system could pose a challenge to margins going forward.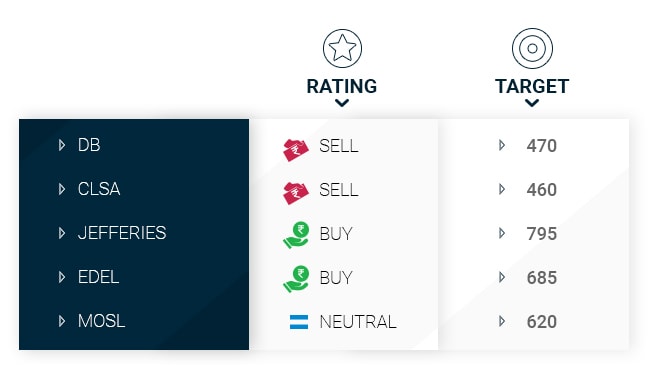 The analysts also seemed to be perturbed by the faster than expected shift to invertor AC, where Voltas grew by 30% against industry growth of 40%.
All eyes are now on Q1FY19 numbers as Voltas books 35%-40% of its annual AC revenue in Q1FY19.
However, due to unseasonal rains, there are worries of a possible wash-out of summer season.
The same was also pointed out by Asawari Sathaye, Corporate Communications, Voltas, in its analyst concal, "In the immediate term, unseasonal showers across some parts of the country in the peak summer months of April and May have dampened the industry spirits. However, it is too early to predict the impact of this on the entire year's sales."
Management added that they do expect possible recovery as 45+ summer days are still remaining in the current season. But the loss in April-May would be significant as as per DB, -82% of Q1 sales are booked in April-May.
The stock does not enjoy valuation support currently, as it is trading at 30 times FY19 earnings, against historic average of 22 times.
First Published: May 18, 2018 3:42 PM IST