The last couple of years have seen a boom in watch microbrands across the world. Most of them sell their wares exclusively via the internet and have small production runs.
My favourite watch is the Vacheron Constantin Patrimony self-winding (in white gold, Caliber 2450 Q6). In a way that is unfortunate because I'm certain that by the time I manage to save up the hefty sum the timepiece commands, I'll be too old to care about the time of day or even be able to tell it. So, I look for echoes of its elegance, if not its horological excellence, in brands that cost much, much less. I like Junkers, Longines, Nomos, and microbrands such as Weiss and Martenero. The last couple of years have seen a boom in watch microbrands across the world. Most of them sell their wares exclusively via the internet, have small production runs, and use off-the-shelf movements. In many cases, the watches are designed by the owners themselves.
In 2018, an Indian microbrand — the first ever — sparked my curiosity. Bangalore Watch Company (BWC) was started by Nirupesh Joshi and Mercy Amalraj. The husband-wife duo — the former was into content services, the latter a software professional — spent most of their careers abroad, mostly in Hong Kong, before returning to Bangalore to take a break from their rewarding but hectic careers. Joshi says he always had an eye for good watches and his interest blossomed in Hong Kong, leading eventually to BWC. "In India you either have expensive watches or mass-market ones. Our idea was to tap the bridge-to-luxury segment," says Joshi.
BWC's first offering, the Renaissance Automatic collection, was designed by Joshi, and is powered by Citizen's Miyota 9015 movement. The Renaissance is a good-looking watch: simple, subtle but extremely well-made. Think 40mm, sapphire crystal, stainless steel case. It recalls watches from the mid-20th century, says Joshi, and is also a tribute to watches made by the now defunct HMT, in particular the Janata. "Every collection of ours is/will be inspired by Bangalore. We have spent several years of our life here," says Joshi.
The Renaissance collection is limited to 500 pieces, and orders for the brand's next line, Renaissance Strl, which is more flamboyant than its debut collection, are now open on the company's website. Later this year, Joshi and Amalraj will launch a line for women. Here, Joshi picks four watch microbrands from across the world whose work he is inspired by.
Konstantin Chaykin
Those of us used to the mostly utilitarian aesthetic of the likes of Russia's Poljot would be surprised to encounter Chaykin's works. "He is a maverick," says Joshi. Chaykin not only develops complex movements, he often has fun with them. His most recent creation, released around Halloween last year, is the Joker Dracula, with fangs that come out at dusk.
JN Shapiro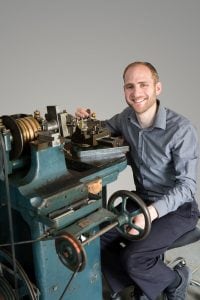 Joshua Shapiro at Rose engine.
LA-based Shapiro makes watches when he is not at work as a high school principal. He started off by making engine-turned dials (guilloche in French, a style of hand or machine engraving with intersecting wavy or straight lines), and eventually went on to launch the Infinity series that features intricate engine-turned dials, and movements from German watchmaker Uhren Werke Dresden.
Vertex
Joshi finds Vertex's history fascinating. "It was founded by a grandfather and relaunched by his great grandson." British watchmaker Claude Lyons set up Vertex in 1916. It was among the watch companies that made watches for the British military. In 1945, the company was commissioned to build an 'Ordnance timing watch' -- a mono pusher — but that never got made. Vertex shut down in 1972 until Lyons' great grandson Don Cochrane relaunched it recently, and along came, among other watches, the MP45, the mono pusher that failed to make it to production in 1945.
Melbourne Watch Company
"Melbourne Watch Company was founded by Sujain Krishnan, a former Indian IT professional," says Joshi. The launch of the brand's first ever timepiece, Flinders, was crowdfunded, and since then they have added five collections to their range. Especially interesting is Portsea Calendar Classic, a "modern spin on the classic marine-style timepiece."
The writer is a content strategist with Haymarket SAC
First Published: May 24, 2019 6:00 AM IST