The most important incremental news from the IDBI Bank press meet yesterday is that Life Insurance Corporation (LIC) wants 51% stake and promoter status in the bank.
This squashes all speculation that LIC will only be a financial investor. This development could make a nod from the Reserve Bank of India (RBI) more difficult. It is important to note that the RBI has to view the deal both as a banking regulator and as the ultimate guardian of financial stability. As a banking regulator, some may argue, the RBI should be happy that in this case policy holders' money is being used by LIC to guarantee depositors' money.
If the insurance regulator had no qualms putting policy holders' money on the line, the RBI should be thankful, not choosy. But the banking regulator may has other fine lines of worry. With LIC demanding promoter status and the IDBI Bank managing director saying he expects LIC to translate its controlling stake into an active role in the management of the bank, the RBI will necessarily has to apply the "fit and proper" test to LIC.
In which case, it will have to demand from LIC a comprehensive report of its financial status. In fact, it will have to demand regular financial reporting from LIC, so that it satisfies itself that LIC is "fit and proper" continually. RBI's continual worry with respect to financial conglomerates is whether one unit's bad loans are camouflaged by transferring the load to another. So it will be well within its rights to demand the authority to inspect all books of all units of LIC.
Also, the banking regulator has to assess how competent LIC is in running a bank. In 2013, when LIC Housing Finance had applied for a banking licence, the RBI-appointed Bimal Jalan committee rejected the plea. The RBI has to check how different the current request is from LIC Housing's previous bid for a banking licence. The other problem for RBI is that if it allows "promoter status" to LIC, it must insist that LIC bring down its stake in other banks to below five percent a time-bound manner.
The RBI's own rules require that an entity with a banking licence cannot hold more than five percent interest in any other bank. Also, it would be unfair to allow the owner of a bank to nominate its directors on the boards of rival banks. The RBI may well rule that LIC should withdraw its rights to board seats in other banks. The bigger moral dilemma for the RBI will be in its role as the keeper of financial stability. In the interest of financial stability, RBI want more equity in the financial system via-a-vis leverage.
When equity for IDBI comes from an LIC, which itself has only Rs 100 crore of equity capital, the regulator will be understandably uncomfortable. For instance, if IDBI Bank had remained with government, the system (through IDBI) would have got Rs 10,000-12,000 crore of fresh equity capital. Now that equity is missing. The RBI, as keeper of financial stability, must also worry about the tendency on the part of the government to dip into policy holders' money for its responsibilities. Let no one be in any doubt about the load that LIC's policy holders are taking.
As the accompanying table shows, the Rs 21,000-odd crore that LIC puts into IDBI Bank works out to 35 times its net worth and seven percent of its net premiums earned in FY17. In the past as well, LIC has frequently been asked to provide capital to other PSU (public sector undertakings) banks by being offered shares preferentially. This repeated reliance of the sovereign on LIC is reminiscent of the way in which successive governments have used the deposits of PSU banks to serve their political ends. This has been a principal reason why these banks have reached their current sorry state. The RBI will worry, in the interest of the financial system that such liberties are not taken of LIC.
One tweak may relieve the situation somewhat. RBI can insist that it will approve the deal only if LIC agrees to be a "financial investor". It can also require LIC to not demand board seat on IDBI and indeed bring its stake down from 51 percent to below 25 percent in a time-bound manner.
Such an arrangement may have the following advantages:
RBI has to be fair to other banks where LIC holds a board seat.
RBI has to apply the same rules to LIC, where it applied to Uday Kotak and to Rana Kapoor.
It may not have to assess LIC's fit and proper status minutely and hence may not have to demand to see LIC's books regularly.
There will be no danger of LIC's bad investments getting palmed off to IDBI or vice versa.
Policy holders will have the satisfaction that LIC won't be dipping into their monies at regular intervals to help IDBI.
The financial system and IDBI investors will be reassured that IDBI will develop into a widely held private sector bank, and not an ailing government bank subservient to the sovereign.
As LIC looks to sell off its financial investment in IDBI it will bring fresh investors, additional equity and may be new talent into the Indian banking and financial system.
Not quite nirvana, but LIC as a financial investor will perhaps be better for all than LIC as a bank promoter.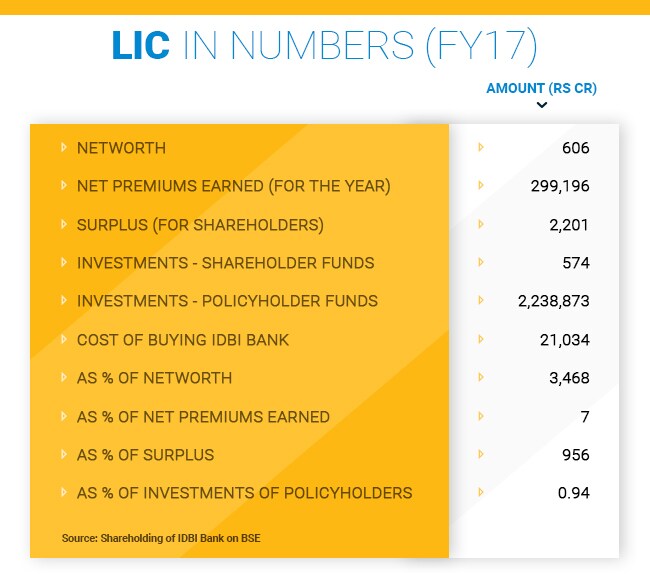 Compiled by Sonal Sachdev.
Source: LIC Annual Report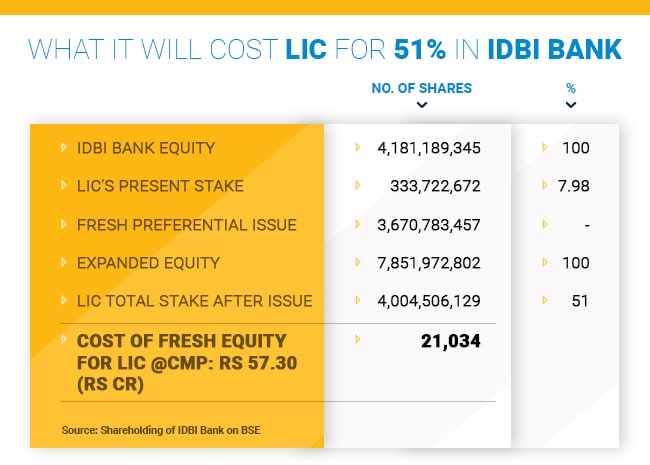 Compiled by Sonal Sachdev.
Source: LIC Annual Report