Jim Murray often uses the word 'intertwangling' when he is talking about whisky. He does it so he can help realise his friend and former BBC broadcaster Eddie Mair's dream of getting the word added to the Oxford Dictionary. The editors of the dictionary haven't taken note of Mair's portmanteau yet, but Murray hopes their dogged persistence will pay off someday. "Sometimes I taste something in a whisky that I've never tasted before. It could remind me of a coconut but it is not really that. At such times, I will take a word and twist it ever so slightly, because it approximates the taste or flavor I'm trying to describe. I have fun doing that, and whisky should be fun," says Murray, who smiles with his piercing blue-grey eyes.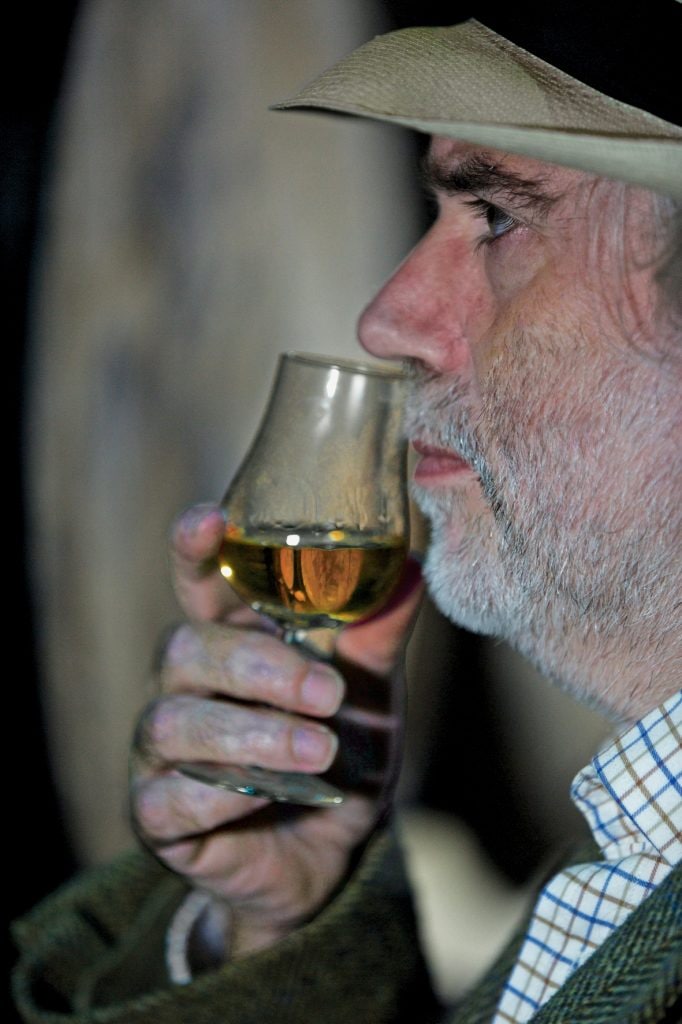 The world's leading authority on whisky is also the author of the annually updated Whisky Bible, which is to whisky what Wisden is to cricket, except a lot more powerful. In the past decade, Murray has been instrumental in putting Japanese, Indian and Australian whisky on the global map, and has been a great champion of rye whisky. The Yamazakis, Amruts, and Paul Johns of the world owe him one. His choice for the world whisky of 2019 is a wheated bourbon, the highly elusive William Larue Weller 128.2 proof. Among his other highly rated whiskies in this year's Bible include his old favourite, the Glen Grant 18.
It would seem to be a life worth aspiring for, tasting over a thousand whiskies from all over the world in a little cottage near Northamptonshire. But when he is doing that — and working on the book — he leads a hermetic existence. He shuns all other flavours, tastes, and smells except that of whisky. "For four months a year, it is mostly fish, boiled potatoes, and black coffee. I stick to the same rules when I'm travelling on work," says Murray, who orders his lunch — a bagel with some bacon — after great deliberation. The rest of the time, though, the Fedora-sporting whisky guru has a profligate palate; there is nothing he would say no to, he says.
Murray picks Australia and India as the countries from where the next great whiskies will come from. He gets approached at periodic intervals by wealthy families in India who own tracts of land and are interested in setting up a distillery. "Some of them are genuinely interested, but a distillery is a long-term project, you've got to put a lot of cash up front. But, since whisky matures faster here, turnaround times are quick. I think Australia is poised to make that jump from making small amounts of great whisky to larger amounts of it. We can expect a lot of consistency from them."
Whisky lovers should also check out England, he says. "There are distilleries in Cotswolds, southern Yorkshire, and the Lake District that are making wonderful stuff." And he'd be delighted if whisky drinkers, especially this writer who has been incurious about it all along, were to taste and enjoy rye whisky. "Whisky is a journey, from one expression to another," he says. "Rye has an incredibly strong flavour. Its mouthfeel is crisper, different, and it's vanishing off the face of the earth."
Murray, who gave up his job as a crime reporter in London in 1992 to turn into the world's first ever full-time whisky writer, is also highly interested in rum and gin. About four years ago, he created Sea Wynde, a tribute to the British Royal Navy's custom of dispensing a daily tot of rum to its sailors. (The Navy ended rum rations in 1970.) The rum was inspired by the Navy's recipe, and Murray travelled across Jamaica and Guyana, blending pot-still rums that eventually became the Sea Wynde. But it is whisky that moves him the most. And he has a piece for advice for men and women who drink whisky, especially in India. "I know it's a hot country, but always drink it neat. Whisky is about molecules and oils, and good whisky costs money. Why do you want to kill it by adding water or ice? If you do that, what you are drinking is an ex-whisky."
The writer works on content strategy at Haymarket SAC.