Exactly a year ago, American retail giant
Walmart
announced its $16-billion buyout of
Flipkart
. I had just started out as an independent reporter and thought, well, it's a good time to find other interesting tech stories while Flipkart is a huge distraction for all. Alas! There was an afterglow in the investor and startup community. Not for the first time, everybody was talking Flipkart.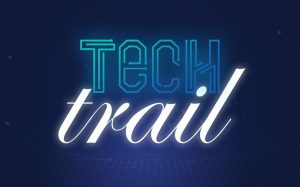 So as I spoke to an investor of a $130-million early-stage fund in Bengaluru (for my other story), our conversation veered to the importance of loss-making Flipkart's exit for India's startups. The investor made a point pertinent enough for me to remember a year after: "The ability to raise monster rounds (of capital)—to be that bullish about India. Flipkart definitely paved the way for that."
In July 2014, Flipkart raised $1 billion in a single (Series G) round from a spate of private equity investors as well as early backers Accel and Tiger Global. Flipkart had just acquired online fashion company Myntra. Before that year ended, it raised another $700 million, preparing to extend an early mover lead over Amazon in its second year of ecommerce operations in India.
It was almost three years before another internet company from India, One97 Communications (renowned for digital wallet Paytm), would raise capital of that order at once: $1.4 billion in a round led by Softbank. And restaurant aggregator Swiggy raised $1 billion in a single round in December 2018. That's a monster round.
How significant is it in the larger scheme of things? Doesn't it smack of overpromise in India?
Market Bite
Swiggy is embroiled in a fierce battle with Zomato, just like the Flipkart-Snapdeal bout five years ago. As Snapdeal reinvents itself yet again, the ecommerce battle is now between Amazon and Walmart, as Reliance is set to mount a challenge against the online players. All this is different from the picture five years ago, when many expected ecommerce to be a 'winner-take-all' market in a war to raise capital and compete based on discounts to find customers. But the winner-take-all thesis could lose its sheen in India faster than in other markets because of consumer sentiment and the comfort to transact online.
Sure, more and more of India's users — 481 million in December 2017 — are going online, but the transacting base has not been growing at the same clip. There have been a fair number of warnings. In October 2017, Morgan Stanley Research noted: "As a proportion of total personal consumption expenditures, digital transactions in India were just 8 percent, well below those of other emerging market countries such as Brazil (30 percent), South Africa (27 percent) and Russia (16 percent)." It estimates digital transactions as a percentage of personal consumption expenditure in India to touch 36 percent by 2027, which sounds like a stretch to me.
Here's why: the top nine cities accounted for 35 percent of all urban internet users (295 million), according to Internet in India 2017, a report published by the Internet and Mobile Association of India (IAMAI) and Kantar IMRB. One of the more startling insights of that report was that only 281 million internet users (of the <500 million user base in India) check the internet every day, which is skewed to urban areas. The proportion of transacting users will be lower. That makes it hard to imagine digital transactions shooting up from 8 percent of personal consumption expenditures to 36 percent before 2027, across India's large base of digital users.
In another March 2017 note on India's Millennials (youth aged between 18 years and 35 years), Morgan Stanley pointed out that 32 percent of the total population comprises millennials who are internet natives, not averse to spending online for products and experiences. Millennials are estimated to comprise 69 percent of the workforce. But the report alluded to two exceptions to online purchasing trends among India's Millennials: hotel booking and on-demand taxi apps.
"Less than 1-in-5 hotel stays were booked online, and only a third of those were booked through online travel agencies; 63 percent of all bookings were handled by walking into hotels. As for app-based on-demand taxis, only 18 percent of respondents have used such a service, possibly due to availability," stated Morgan Stanley based on its AlphaWise survey.
Currently, what is worrying is the sluggishness of the economy. A year ago, Info Edge (India) informed its shareholders about the headwinds facing its flagship business,
Naukri.com
. The Rs 916-crore Info Edge is one of the few profitable internet companies in India. "The sluggishness in the Indian economy and growing protectionist measures in the US has had an adverse impact on the job market in India," its 2017-18 annual report stated.
While Naukri's analytics saw a pickup in hiring activities between October 2017 and March 2018, hiring activity had reduced by almost 17 percent between March 2017 and October 2017. "The company has been consciously widening its scope to non-IT sectors and diversifying risks," the annual report said. India's rising disposable incomes have been inextricably linked with the IT sector, which is also a source of talent to startups.
New Horizons
In that sense, the large rounds of investment in India provides some respite to our fast-evolving software engineering and product talent, as fast-growing ventures create new and prominent avenues — new ecosystems. The global companies are well trenched here. Even as questions persist about the sustainability of the VC-backed internet businesses, mega rounds back organisations that are creating new jobs in industries (delivery staff in food tech, for example), which will inevitably get enabled by technology.
According to startups data platform Tracxn, seven of the top 20 funding rounds for tech ventures in India have happened in the past year and a half. The average funding size of these seven deals grossing $3.7 billion was $532 million. And there is no Flipkart, in that list!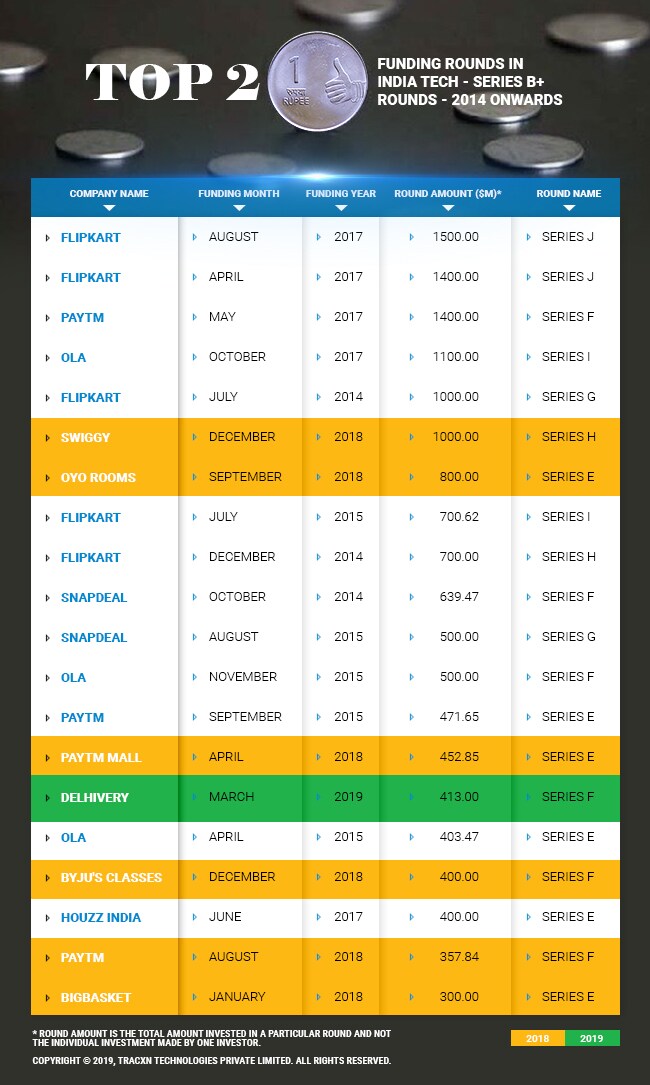 Online grocery BigBasket, which raised $300 million last year, just closed another $150 million round. Logistics platform Delhivery closed a $413 million round, as did Byju's last year with a $400 million fund-raise. Even as this is almost entirely foreign capital, startups now need a policy and regulatory environment for local investors to get into the act. Until that happens, much of the monster rounds will flow in from abroad with the "winner take all" mindset in every category.
Flipkart did blaze that trail. As the early stage investor reflected a year ago: "Geo-political or war issues notwithstanding, the question will be: is the Walmart-Flipkart thing a one-off, or will it become a habit? Will there be more exits and liquidity? Maybe profitability?"