The United States and India have had a strong and growing bilateral relationship through at least the last four US presidential administrations and through the Vajpayee, Singh, and Modi governments. 
The United States and India have had a strong and growing bilateral relationship through at least the last four US presidential administrations and through the Vajpayee, Singh, and Modi governments. The US has been explicit in encouraging and supporting India's rise in Asia; defense cooperation is a manifestation of that. Similar perspectives on Afghanistan and counter-terrorism have contributed to the sense of common purpose. While the countries are partners -- not allies -- and have different approaches on many issues, one area ripe for (further) collaboration is India's neighborhood.
There was a time when Delhi was suspicious of any US involvement in South Asia, perceived as inimical to Indian interests. Today the perspective from South Block is different and starts with a recognition that US activity in the region can often redound to India's benefit. Indian support for the American naval presence in the Indian Ocean, and its tacit acceptance of the base at Diego Garcia, is an example of changing attitudes in South Block.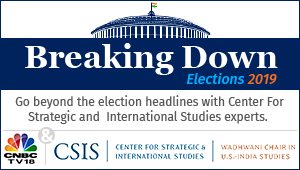 Today, there is nothing resembling a parallelism between US policy toward India and toward Pakistan. Since President Clinton firmly took India's side in the Kargil conflict of 1999 (and certainly since the Mumbai bombings of 2008), Washington has had no hesitation criticising Pakistani-based terrorism against India. Washington's response has not always been as severe as India would like; Pakistan policy is balanced by the US need for Pakistani transit routes to supply troops in Afghanistan, and by the reality of Pakistan's possession of nuclear weapons. Overall, though, the US is a firm supporter of India's efforts to end cross-border terrorism.
The United States can and does cooperate with India in much of the rest of South Asia, where the two countries have shared interests in stability, prosperity, and the mitigation of Chinese influence in the smaller nations of the region. Moreover, when the United States and India can work together, especially in times of crisis, our contributions are enhanced. Assistance to Sri Lanka after the tsunami in 2004 is a case in point. India was first on the scene, despite its own coast being hit very hard. The US followed through with military assets and with supplies from its humanitarian stockpile. Similarly, the Nepal earthquake in 2015 demonstrated the key role of neighbour India but also the long-distance reach of US assistance efforts.
Political turmoil in Maldives and Sri Lanka over the past three years demonstrated how the US and India can work with a common purpose and with consultations in capitals but independently toward the same end. Both countries have a strong interest in a democratic and moderate government in Male which neither exports terrorists nor allows China a dominating role in the archipelago. Both the US and India showed their displeasure with the last, unelected government in Maldives and have welcomed, and increased cooperation with, the new government there. Similarly, the US and India offered substantial economic support to Sri Lanka's coalition government following its victory over former President Mahinda Rajapaksa in January 2015.
For the future, the key to making regional collaboration work is very active communication between the two governments at every level. There has been a welcome dialogue between our leadership and frequent contact between the national security and diplomatic establishments in Delhi and Washington. That contact, over 20 years, has bred a degree of familiarity and trust that was unknown in the first 50 years of the relationship.
Nowhere is this communication more essential right now than US policy toward Afghanistan. Delhi must be a partner if Afghanistan's independence and security is to be assured in the years following American military withdrawal. Afghanistan is perhaps the biggest challenge in the immediate future and a test of the value of US-Indian partnership in South Asia.
Across the broader region, India and the United States could work together with Bangladesh, Sri Lanka, and Maldives to enhance maritime domain awareness through the sharing of shipping data, and by collectively deterring illegal, unreported, unregulated, environmentally damaging fishing by fleets from beyond the Indian Ocean. India and United States could also work with these countries to enhance the security of the vital shipping lanes, not only by guarding against piracy and intrusions by powers that may seek to supplant the status quo, but by enhancing the ability of nations in the region to respond to possible collisions or oil spills from the very large crude-carrying tankers that ply those constricted sea lanes and passages.
The next five years present a great opportunity for the United States and India to cooperate more deeply in South Asia. With changing attitudes in New Delhi about US activity in South Asia, as well as a deeper recognition in Washington that India's rise is in US national interests, there is greater alignment between the partners. Both governments should, therefore, make further collaboration in India's neighbourhood a priority moving forward.
Donald Camp is a senior associate (non-resident) of the Wadhwani Chair in US-India Policy Studies at CSIS. Follow him on twitter @donacamp.
Breaking Down Elections 2019 is a series of articles by experts of Center For Strategic and International Studies that will go beyond the headlines to provide a deeper look into what the 2019 Lok Sabha Elections means for the Indian polity and electorate.
First Published: May 24, 2019 3:24 PM IST