Buy / Sell Reliance share
Reliance Industries Ltd (RIL) shares fell amid a market-wide sell-off on Friday, ahead of the announcement of the oil-to-telecom conglomerate's financial results for the January-March period. The Reliance Industries stock declined by as much as Rs
38.4 or 1.5 percent to Rs
2,602.4 apiece on BSE.
Analysts in a CNBC-TV18 poll expect the company's revenue to increase 18.9 percent sequentially to Rs 2.20 lakh crore.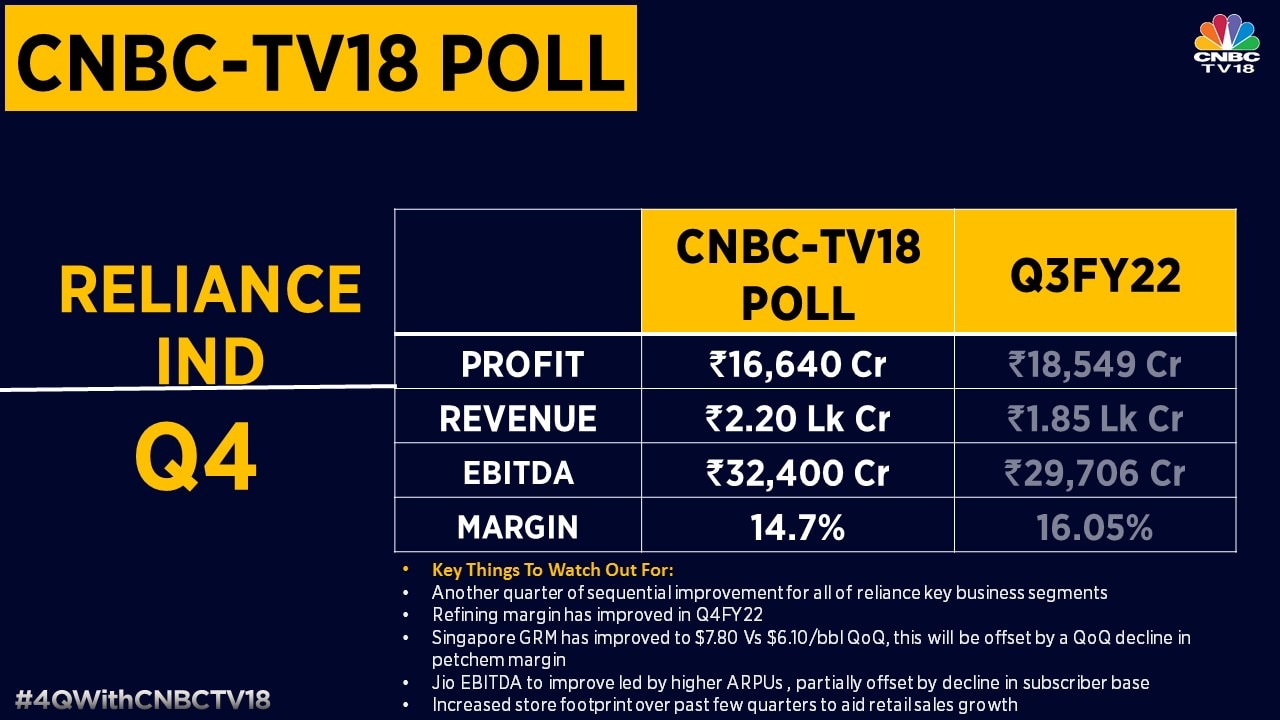 They expect Reliance Industries' earnings before interest, taxes, depreciation and amortisation (EBITDA) to rise 9.1 percent on a quarter-on-quarter basis to Rs 32,400 crore.
Analysts see the refining margin improving sequentially in the company's oil-to-chemicals segment to $7.80 per barrel.
They peg the Singapore gross revenue margin (GRM) for its oil-to-chemical arm at $7.8 per barrel in the January-March period, as against $6.1 per barrel in the previous quarter. In April, the Singapore GRM stood at $17-18 per barrel.
Gross refining margin is an important measure of profitability for refiners. It determines the amount earned from each barrel of crude oil into products.
Nomura expects the company's GRM at $12/barrel in the quarter ended March 2022. The brokerage sees its EBIT rising three percent sequentially and 25 percent on a year-on-year basis to Rs 11,400 crore.
According to Citi, s
trength in refining is being under-estimated. It is of the view that the January-March period
may not see any major benefits in the O2C arm due to the petchem weakness.
Morgan Stanley expects the e
nergy upcycle to help fund growth and lift multiples.
Analysts estimate Jio's EBITDA to grow 10.3 percent to Rs 10,500 crore led by higher average revenue per user (ARPU).
In the consumer business, the company's increased store footprint is likely to aid growth in retail sales.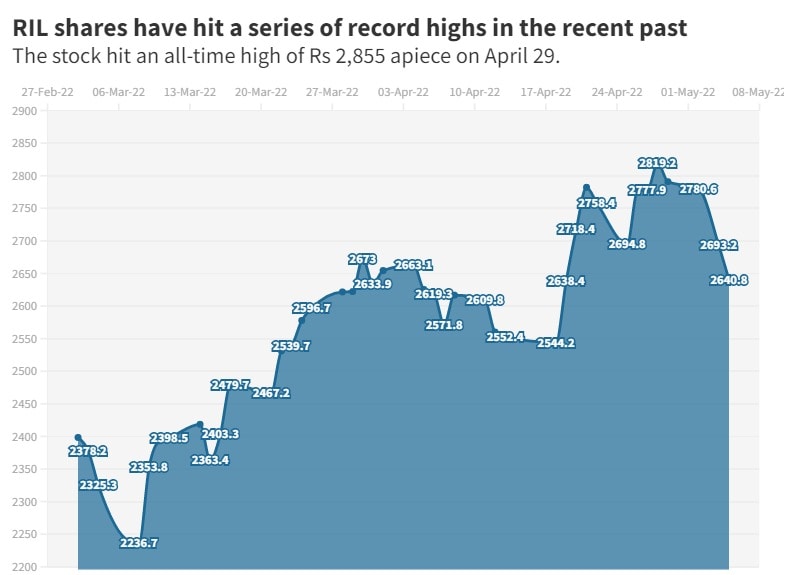 The company's stock has risen 18 percent so far this year with a series of record highs.
Watch video for more.
Disclaimer: Network18, the parent company of CNBCTV18.com, is controlled by Independent Media Trust, of which Reliance Industries is the sole beneficiary.