Mini
There has been a 29% jump in the number of Indians opting for cruise holidays.
From the balcony of my cabin on-board Norwegian Cruise Line–Jewel, the Andaman Sea looks a brilliant blue-green. But that is expected when you are somewhere in the middle of the ocean with trade ships and old fishing vessels for company, cruising through a landscape interspersed by gentle hills or, nearer to a city port, surfers and sailing enthusiasts. This silence is broken by a gaggle of seagulls or the rare sight of an Asian dolphin slicing through the milky green waters.
Wooing Indian Travellers
NCL is focusing on Indians as a huge potential market. By all reports, more Indians are cruising. Here are some statistics: In 2018, according to Cruise Lines International Association report, 4 million Asian passengers took an ocean cruise—a record high for the industry and up about 20 percent compared to 2017. There has been a 29 per cent increase in the number of Indians cruising Asia.
NCL is selling the Southeast Asia journey to Indians, especially since the Norwegian Cruise Line (NCL) launched its opulent Jewel in November 2018.
The Fully-loaded NCL-Jewel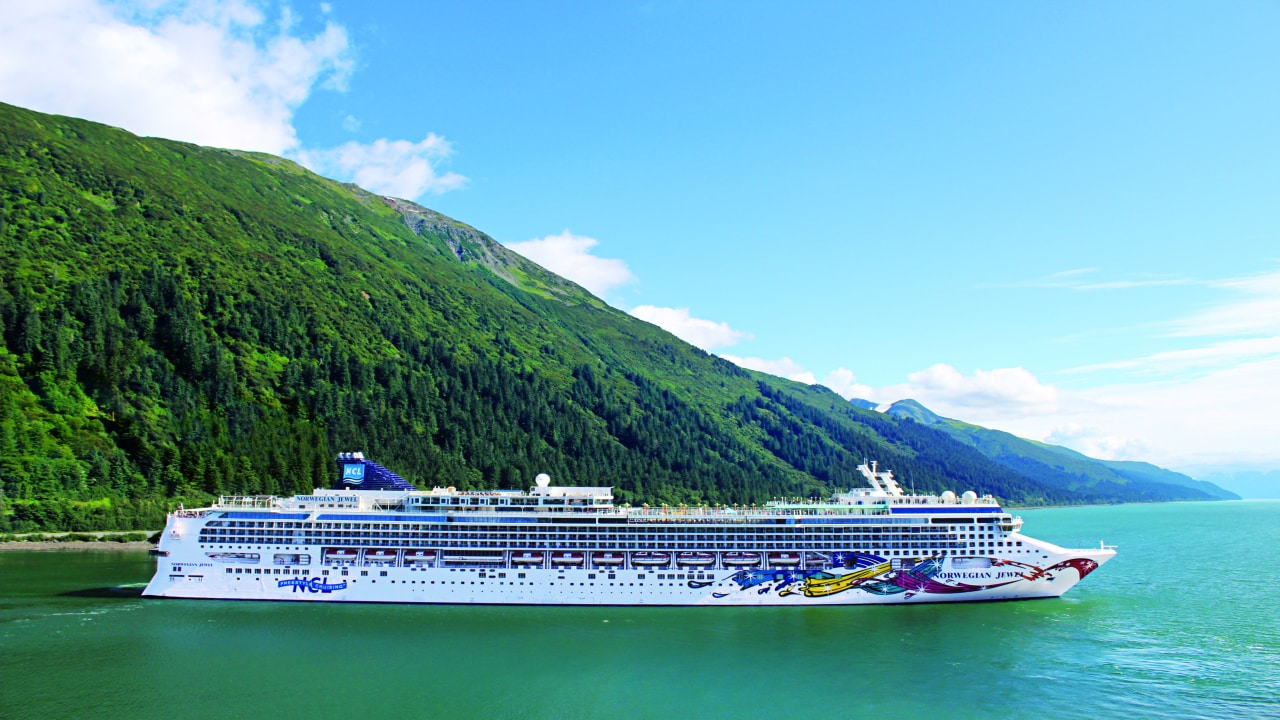 Some travellers cruise for exotic destinations. Others go to the sea for the thrill of the voyage. Many, to have fun on-board, because, really, a cruise liner is like a fully-loaded luxury hotel.
NCL just completed the bow-to-stern refurbishment of Jewel as part its $400 million
'The Norwegian Edge' initiative
. The ship emerged from a two-week dry dock with redesigned cabins, refreshed venues and new entertainment.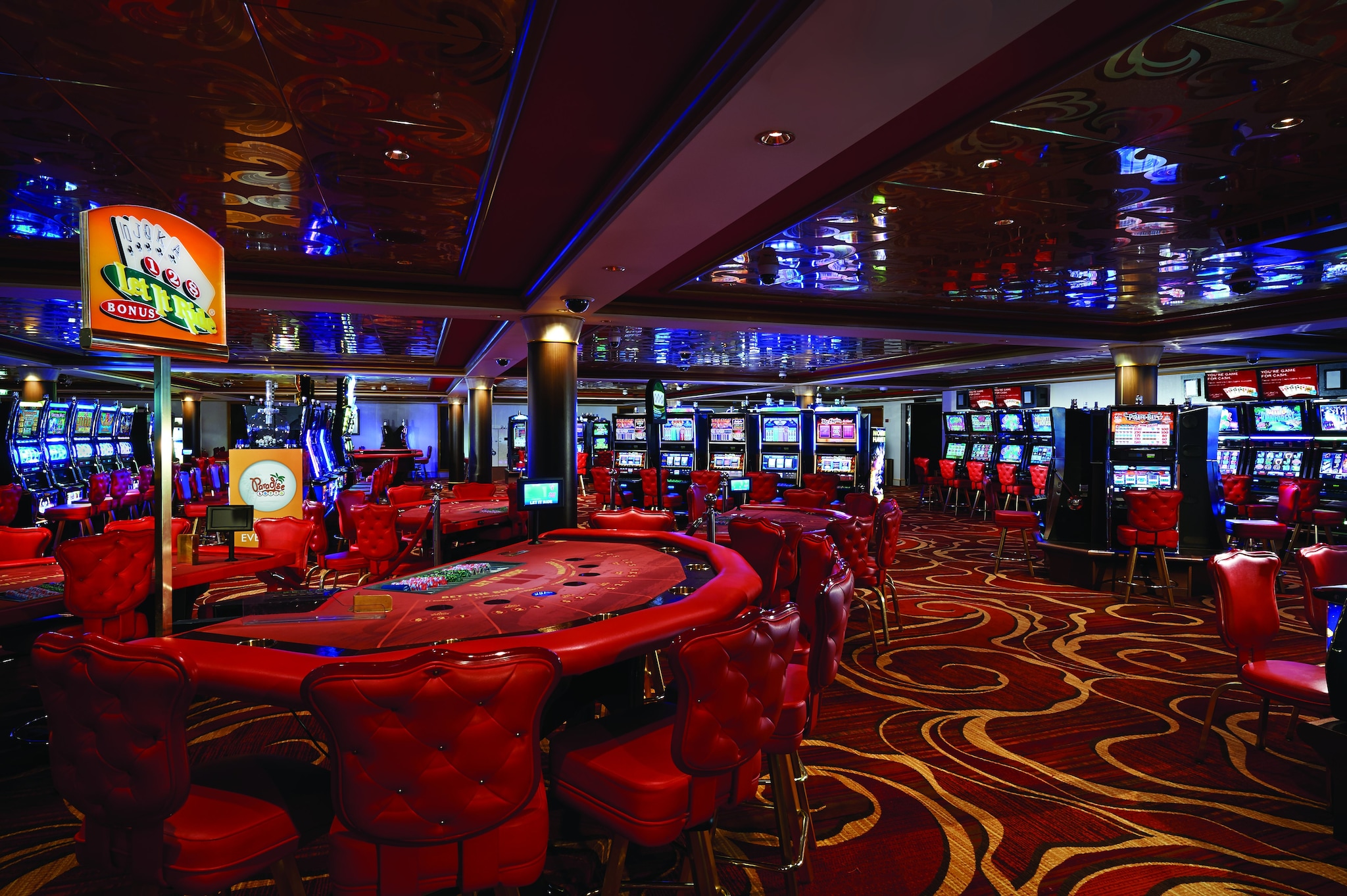 The upgraded 1,188 cabins are outfitted with plush carpets, artworks and wood furniture. Almost all have balconies to enjoy the unbeatable view. The luxurious Haven suites measure nearly 1,200sq. ft, and feature an enviable 567sq.ft balcony, living and dining rooms, and access to a private courtyard area where parties are hosted by the captain. Guests of Haven also have access to a personal concierge. Rodney Irodistan has an answer to everything, from help with those restaurant reservations to booking on-land tours and helping with little things that need looking after.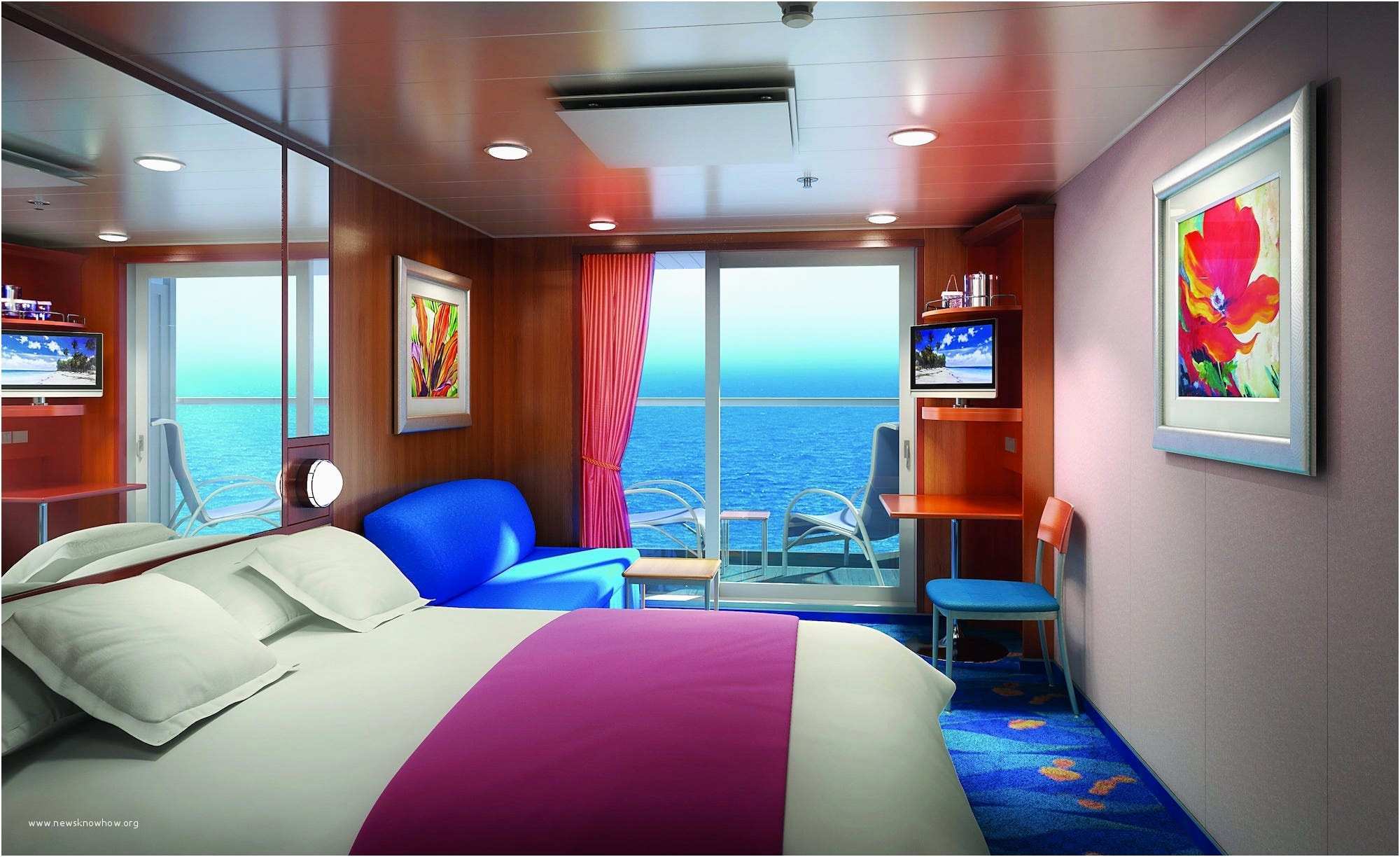 NCL-Jewel is not discreet luxury. In fact, it is exactly what Indians love. Over-the-top décor, large chandeliers in public areas, loads of cabaret/ modern circus/concert-style entertainment, a wide variety of culinary options and fancy fine dine restaurants, lavish buffets and some great shopping at unbeatable prices, not to mention the deals you can land and the wins in raffle draws.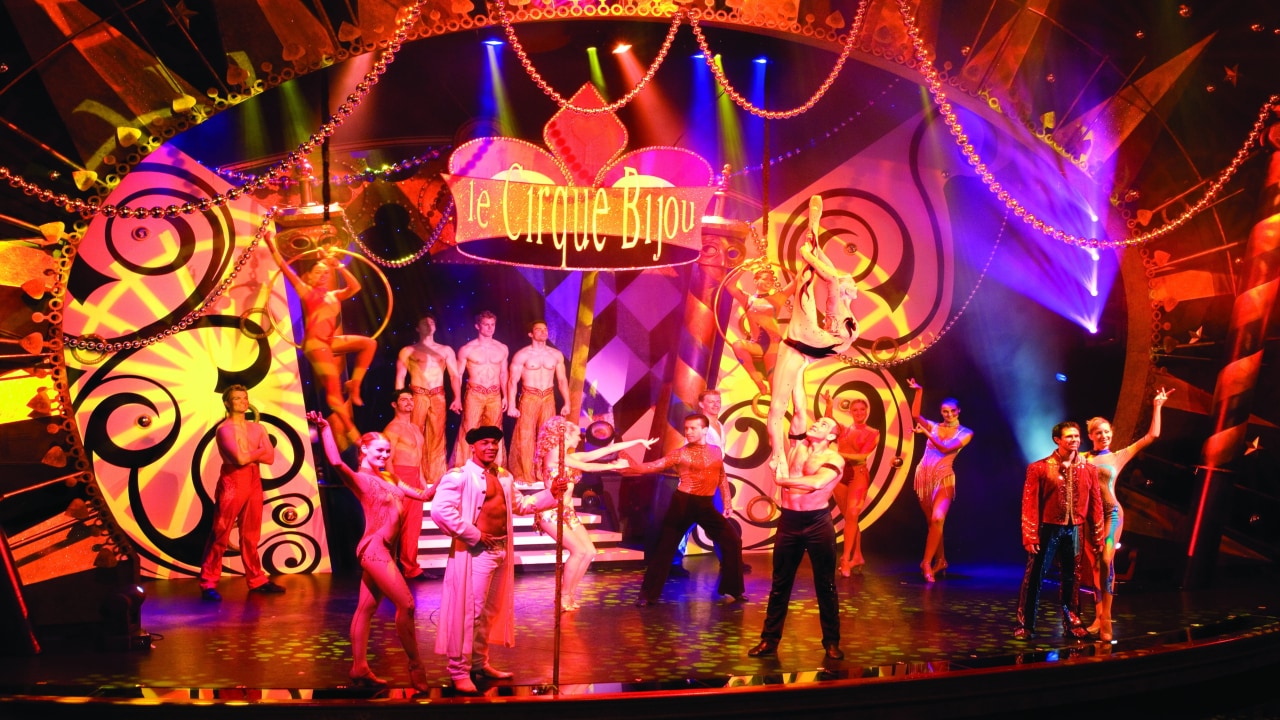 Norwegian Jewel - Norwegian Cruise Line
Cirque Bijou
The Great Outdoors
Norwegian Jewel - Norwegian Cruise Line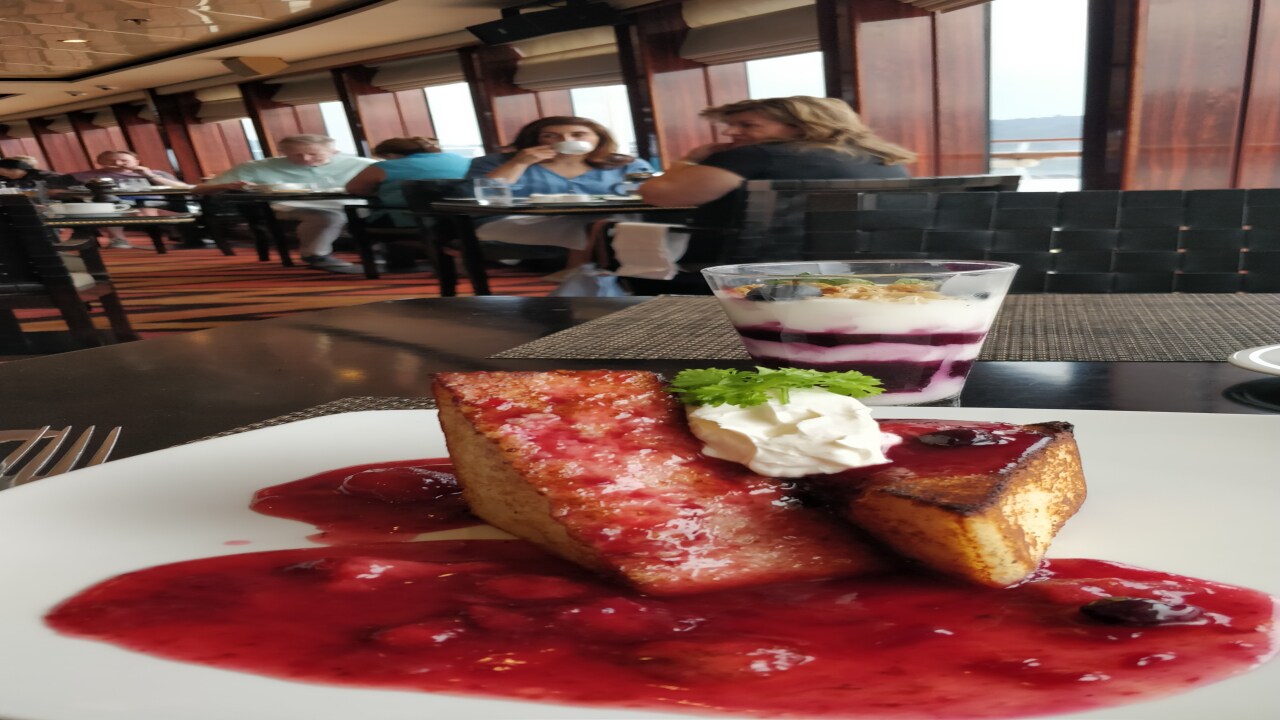 What is there to not like?
The big drawbacks: noisy evenings if you are looking for a quiet rendezvous with the sea, a crowded swimming pool, and long queues at ports-of-call to get out and explore the destination. And some seriously average buffet options with indifferent vegetarian fare that may prove to be a little problematic for some Indians. But if you pay extra, you can eat in a fancy restaurants on-board.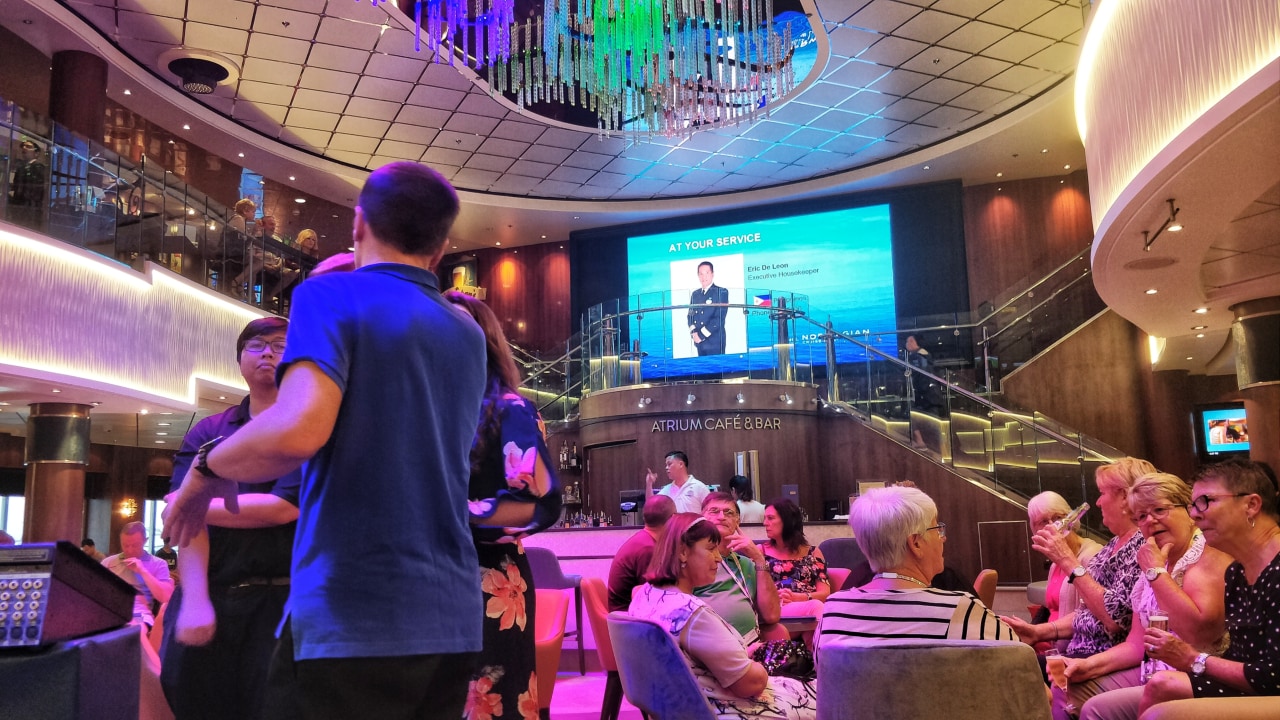 And there are several bar and dining options. Besides The Pit Stop and a more relaxed Bliss Ultra Lounge, travellers can savour their tipple in the Sky High Bar—an all-American bar retrofitted with vintage license plates, gas station signage and other classic car elements, or O'Sheeshan's Bar that serves up a spot of live music and some interesting world cuisine. Tsar's Palace, studded with faux Faberge egg balustrades, is inspired by the grandeur of the palaces of St. Petersburg. Chin Chin is a pan-Asian eatery that lists a separate sushi and sashimi bar, and a space with oven tops for a Shabu Shabu—a Japanese-style gourmet experience in which meat is cooked in a noodle pot in front of diners.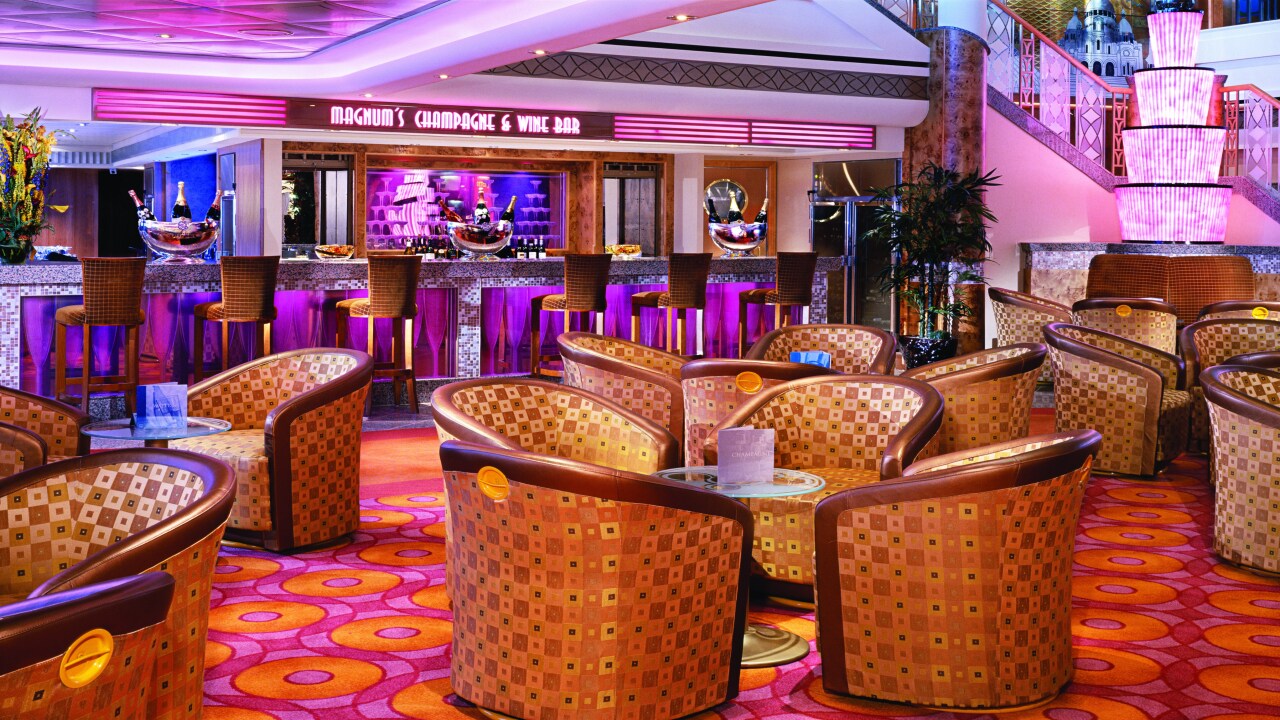 Magnum's Champagne & Wine Bar
Norwegian Jewel - Norwegian Cruise Line
For upscale French dining, guests head to Le Bistro, popular for duck breast, escargot and a selection of seafood puff pastry with lobster, shrimp and scallops. Located in a quiet corner of Deck 13 is the American steakhouse, Cagney's that serves filet mignon, rib-eye and New York strip. La Cucina is an Italian restaurant with traditional favorites such as fried calamari, chicken parmesan, shrimp risotto, and spaghetti and meatballs or spaghetti carbonara, while Moderno Churrascaria is a slice of an authentic Brazilian steakhouse which serves skewered meats.
NCL pioneered the concept of 'freestyle cruising' that offers guests the option of eating in any one of several restaurants, only some of which attract a premium for extra service and broader variety of food.
Sailing into the heart of Southeast Asia
NCL-Jewel begins its journey in Singapore and cruises through Phuket, before arriving in Langakawi—the pristine rainforest and mountains-covered archipelago of 99 islands. It then sails into the Strait of Malacca to make stops at the rarely visited Penang (at least by Indians) and the big city of Kuala Lumpur.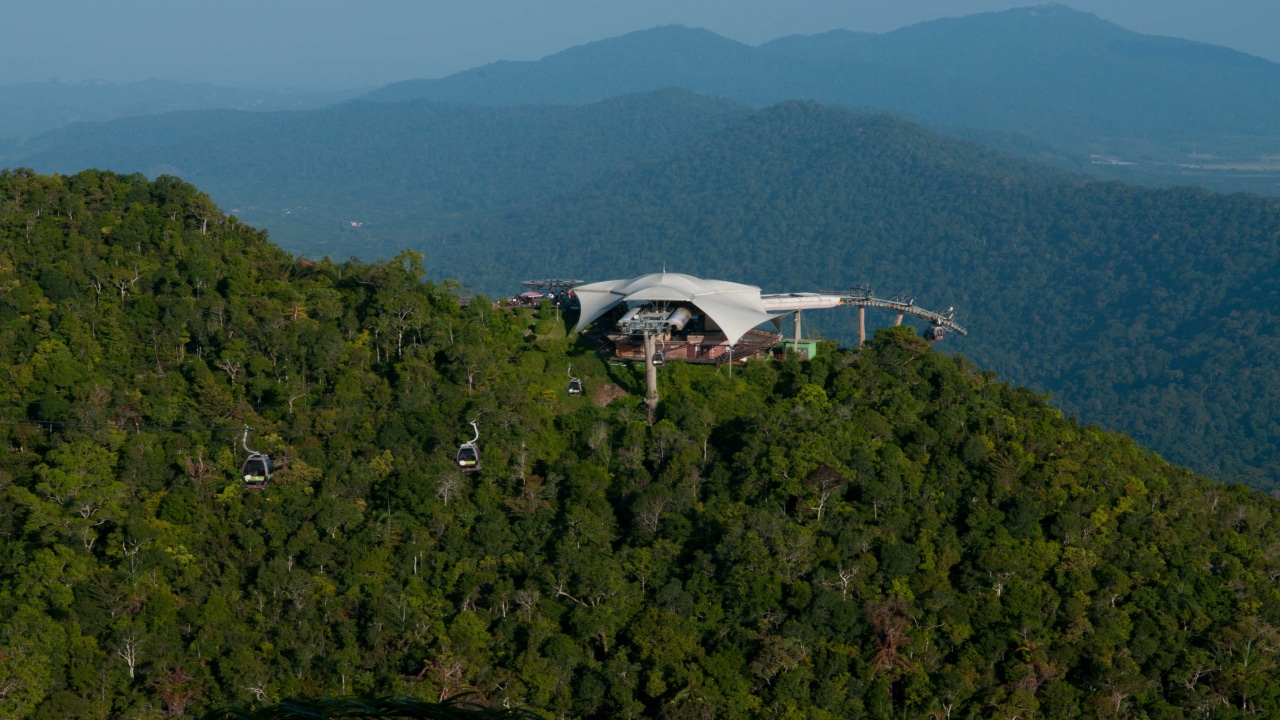 While guests are free to explore the destinations on their own, the cruise liner also draws up interesting itineraries. At Phuket, the Spectacular Phang Nga Bay tour eschews the regular beach stop; we head out to Phang Nga National Park, a ravishing landscape of gravity-defying limestone formations. The unique karst formations are the result of a massive collision between the Indian subcontinent and mainland Asia, 300 million years ago. The cruise meanders through mangroves and ancient grottoes. Options include a ramble through old China Town and Wat Chalong, a temple complex built in 1837 with several ancient Buddhist relics.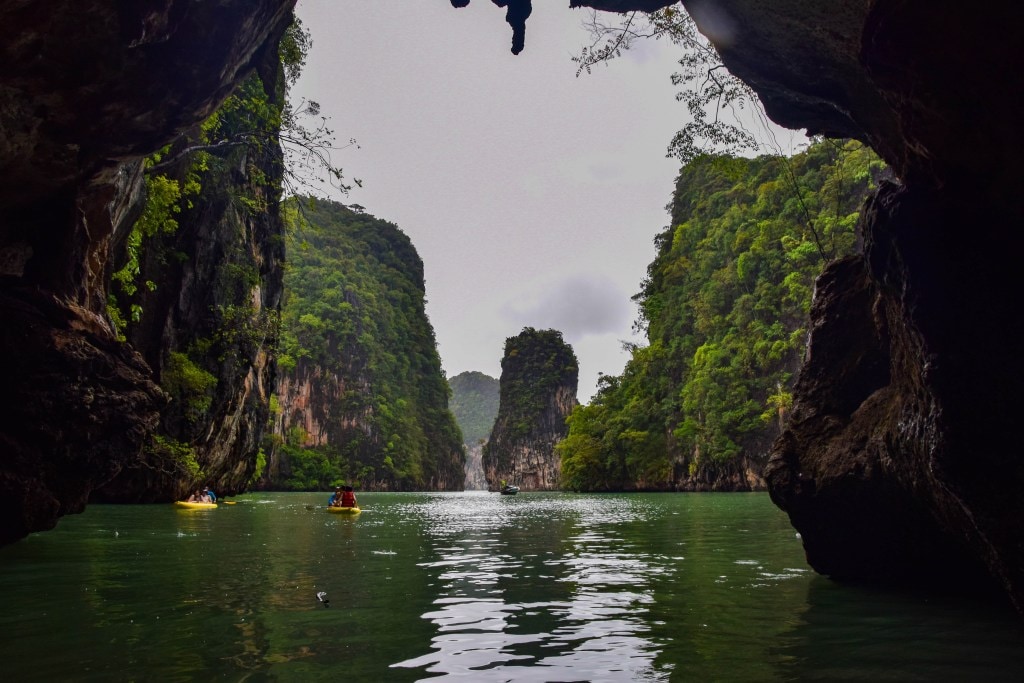 In Penang, we ride a tram up to the Penang Hill for a view of George Town and the shimmering Malacca Strait. On the hills stands the Kek Lok Si Temple, which is built in tiers and cascades down the slope. But the best view is of the enormous seven-story Pagoda of Ten Thousand Buddhas. Singapore is often described as a blend of the old and the new; Penang offers much the same, without its posh sterility. It is grittier, has massive amounts of modern street art and also the colonial-era heritage George Town. The colonialist traders that put Penang on the map in the 1700s did more than just build their mansions here. They left behind several ornate buildings and shophouses in the inner city of George Town, which is now a UNESCO World Heritage Site. This is where some of the Patels from Gujarat set up grocery stores and trading outposts, and where the Chinese established textile shops and banks. The mansions and stores have been painstakingly restored by young entrepreneurs who run boutique hotels, cafes and independent businesses.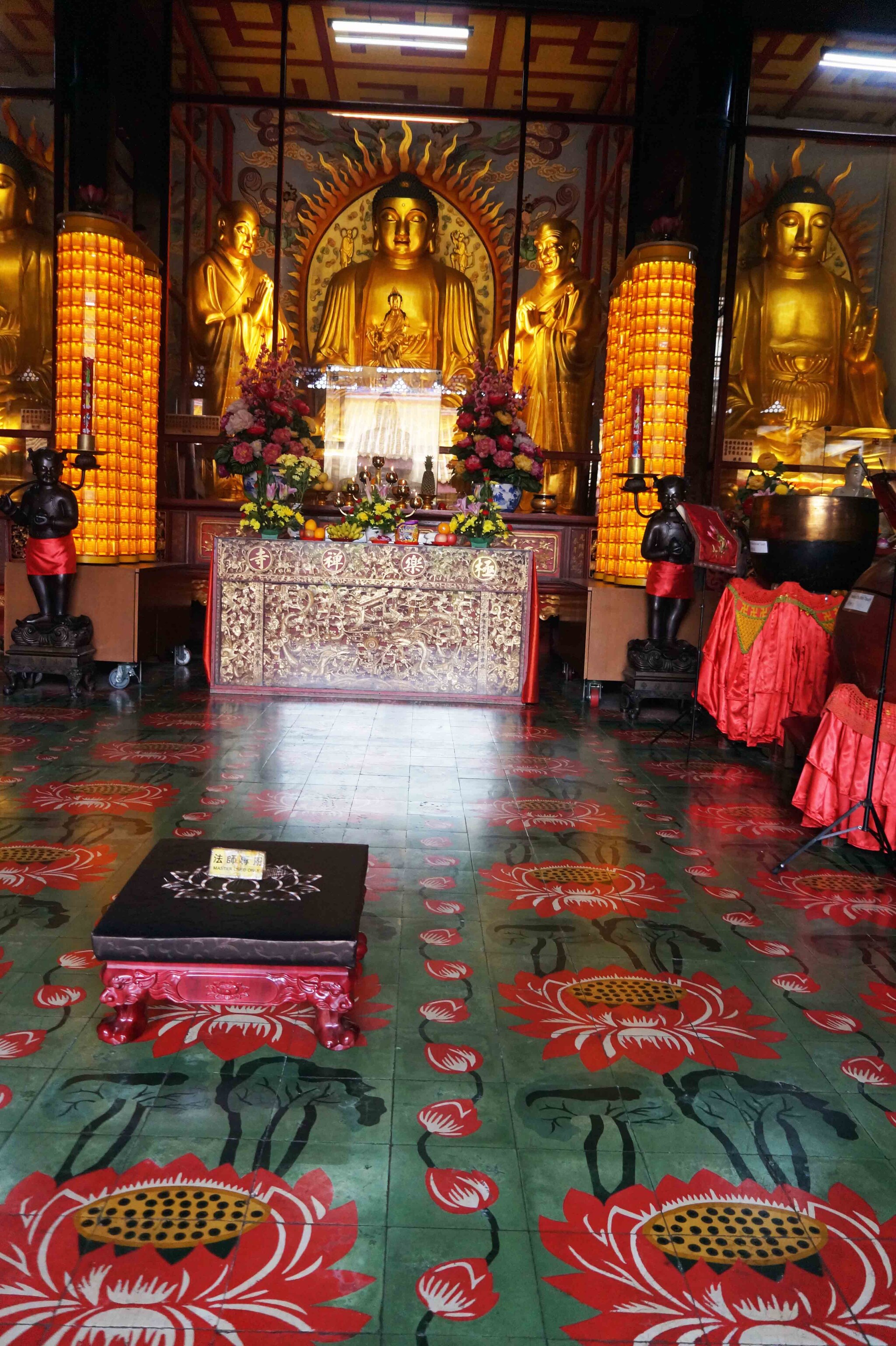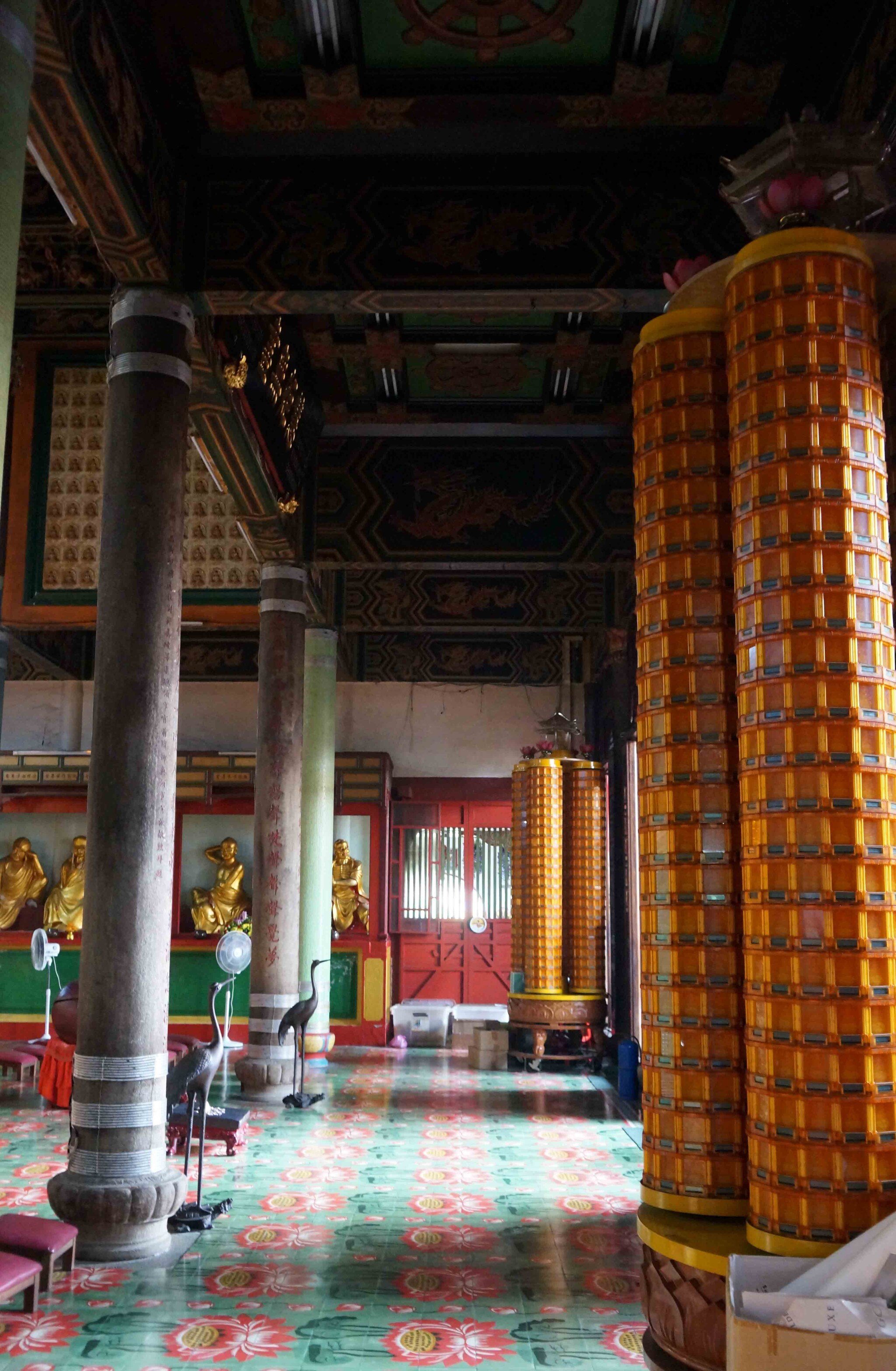 The tropical island of Langkawi is a patina of ancient rainforests and mountains. Across the islands are rubber and coconut plantations, paddy fields and old homes. A cable car over the rainforest takes travellers up to a rice museum (where the evolution in the ways rice was grown and harvested over centuries, is carefully documented) and Mount Machinchang, which has sky walkways and view of the Strait.
This seven-day sea voyage into the heart of Southeast Asia is a curated blend of luxury, adventure and exploration.