Mini
More than four in five Delhiites (82.4 percent) and about 76.2 percent of the Mumbaikars spend a portion of their monthly incomes to pursue their passion, says new survey.
Millennials in India aren't shying away from following their passion and bucking the prevailing sentiment about their demographic being risk-averse, they would even go to the extent of taking a pay cut in order to do the things they are passionate about, a new survey has revealed.
More than four in five Delhiites (82.4 percent) and about 76.2 percent of the Mumbaikars spend a portion of their monthly incomes to pursue their passion, a survey titled 'Meet India's Passionistas' commissioned by the Singapore Tourism Board and conducted across 14 cities has shown.
The respondents' passions also guide their social media activities. One-in-six Mumbaikars (15.8 percent) and one-in-eight Delhiites (12.4 percent) state their 'friends', 'likes' and 'followers' on social media are based on mutual hobbies or interests.
The millennials aren't holding back on loosening their purse strings either when it comes to pursuing their passion.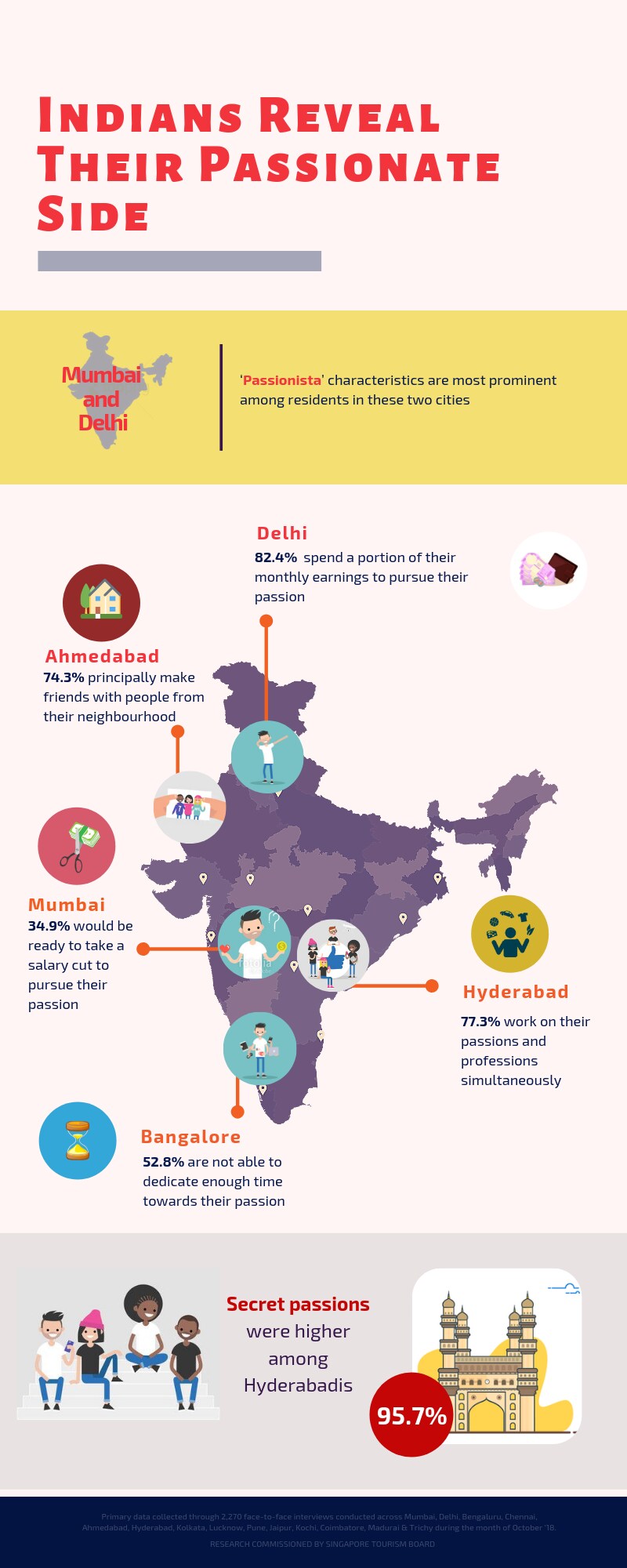 A whopping 95.2 percent of respondents in Hyderabad claim they spend more than half of their monthly earnings to pursue their passions, and 77.3 percent work on their passions daily or over the weekend.
Moreover, people are even willing to take a pay cut if it comes at the cost of pursuing their passion.
More than a third of Mumbaikars (34.9 percent) and more than a quarter of Delhiites (25.2 percent) claim they would be ready to take a salary cut to pursue their passion.
Social media websites are full of millennials on "vacay" and being foodies. It turns out, their virtual profiles are an accurate reflection of the things they feel passionate about.
The survey shows that millennials are passionate about travelling, with 59 percent of the respondents claiming they are explorers, food or adventure lovers.
About one-fourth (24 percent) of the respondents describe themselves as foodies (love eating and experiencing different tastes), while 20 percent travel for the love of discovering new places.
Passion plays an important role in defining an individual's life. Nationally, when meeting someone for the first time socially, after having introduced themselves the top choice of topic for conversation for more than a third respondents (36.5 percent) are their hobbies or interests.
And it is reflected in the relationship they form.
The proportion of respondents who claimed they made friendships based on hobbies or interests is well above the national average (17.98 percent) in Delhi (24.3 percent), Kolkata (19.2 percent) and Pune (21.4 percent).
Mumbai and Jaipur's propensity to forge friendships on the basis of their passion is even higher at 30.6 percent and 30.2 percent respectively. In contrast, Ahmedabad remains traditional in their approach to friendships and 74.3 percent make friends with people from their neighbourhood.
But not everyone is comfortable revealing their passion for the family.
A whopping 95.7 percent respondents in Hyderabad said that their friends, relatives and colleagues are not aware of their passion. The element secrecy, however, drops down significantly in other regions, with Delhi at 59.6 percent, Jaipur 62.1 percent, Pune 59.7 percent, Kochi 59.5 percent and Mumbai at 58.9 percent.