These small souvenirs brought back after travel is not just an object of possession but also tangible memory of a beautiful journey you had embarked on. These would make for not only prized possessions but also instil within you an inherent sense of belonging and oneness to these beautiful regions of the country
A wise man once remarked, "The works of all arts are forms of poetry, and their makers are all poets." That wise man was Plato.
In a country as multifaceted as India, to be surprised by the wonders it has at every new turn doesn't come as a shock and so is when you start thinking about the handicrafts hidden in the nooks of this country, the nooks that deserve being travelled to and appreciated and bringing back home the beautiful crafts along.
India rightly takes pride in its long and illustrious tradition of producing high-quality handicrafts and handlooms. All day and all night, thousands of local artists toil at their trade, slowly but surely producing works of art of the highest quality. What could be better than bringing these works of art into your homes and also feeding your hunger for travel? These handicrafts have a refined appearance and are favoured by the people as a means of decorating their dwellings or as presents for their loved ones.
For those already inspired to backpack throughout India and bring back souvenirs, this may be the spark they need to finally do it. So, come along as we take you on a tour of the locations you must see and the hidden arts and crafts you must discover on your visits to these wonderful parts of the country.
Crafts of Gujarat-the expression of its folklore & festivals
It's no secret that Gujarat is a cultural goldmine for art and design. Visiting Gujarat is rewarding in every way. Famous for its beaches, temple towns, and ancient capitals, Gujarat stretches out into the Arabian Sea and has a coastline that's almost 1600 km long with a bit of the desert thrown in. Gujarat's natural beauty, wildlife reserves, and hill resorts are among the state's many endowments. The state is also prosperous due to its sculpture, handicrafts, arts, and festivals. Traditional goods like clothing, kitchenware, cutlery, handbags, wooden picture frames, etc. are readily available across the state, making it a shoppers' paradise. Gujarat is quickly becoming a shopper's paradise because of the abundance of locally made goods available to travellers.
Gujarati handicrafts have a distinct quality; one-of-a-kind, and aesthetically pleasing.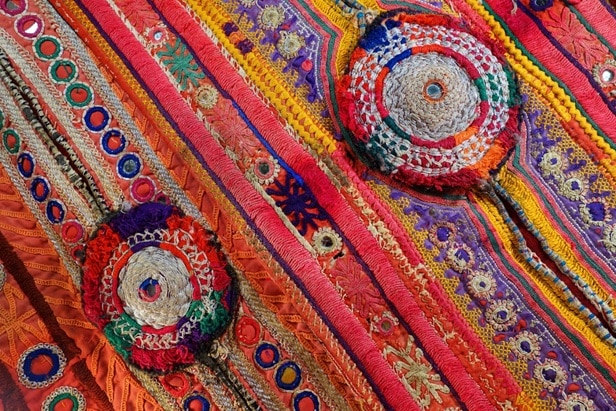 Gujarati fashion is distinct due to its opulent quality and blends of traditional and contemporary design patterns. The elegant textile designs of the state include the Rogan, zari, Tye and die, and unique Patolas. Inspired by both the past and the present, the designs include elements such as peacock motifs, geometric patterns, ikat weaving, and ajrakh work.
The people of Gujarat rely heavily on handmade goods. When viewing Gujarat's art and craft collection, it's easy to observe the state's rich cultural variety reflected in the pieces. Every Gujarati municipality has its own unique artistic focus. The stitching, colours, and designs seen in Gujarati handicrafts are stunning. There is a wide variety of lavish handicrafts to choose from in Gujarat, from bright tie-dye to refined woodwork antiques.
Gujarat is where one may locate the finest leather in the world. Footwear, handbags, batwas, mirror frames, and other leather goods are all common sights in Gujarati households. Design after design, carefully carved into a wide range of handmade goods, has a strong stamp of ancient heritage.
A journey to Gujarat, one of India's living treasures that satisfies in every sense of beauty, ought to be on the itinerary of anybody with a penchant for handmade goods and a thirst for travel.
The Prized Possessions from The Royal Land of Rajasthan
The state of Rajasthan is a cultural melting pot, and tourists go there to experience it. One of the cultural aspects that helps Rajasthan stand out and shine in comparison to other places is the textile industry. The state is home to a diverse collection of locally-developed textile styles. There is not just one but a variety of local fabric styles that may be found across the state.
When you are travelling and you come across irresistible handlooms and textiles in every city or town that you visit, it is almost hard to "keep your hands to yourself." A beginning that is already so lovely, where each stage is responsible for leaving behind traces of monarchy, and where the state as a whole is still posturing and seductive. The state of palaces and forts and deserts and rich history does not fall short when it comes to what you may bring back to your homes in addition to the pleasant memories of it, and this is especially true when it comes to what you may bring back from the state of Rajasthan.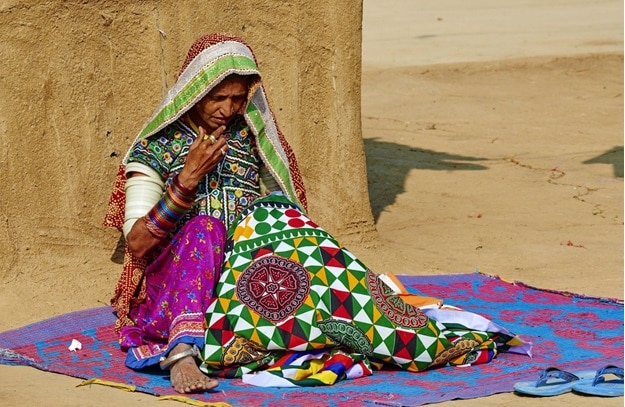 From Bandhini Fabric to Leheriya Fabric to Bagru Fabric to Kota Doria Fabric to Barmeri Prints to Sanganeri Fabric to Mothara Print, Rajasthan is a heartland to all of these, each of which is employed in the making of hand goods that, once when you possess it, you are likely to cherish and use forever. Even when the hands of the weaver shake, the cloth has not lost any of its essential qualities or its beautiful appearance. Rajasthan is the only place in the world where you may get cultural decorations that are both earthy and of world-class quality.
This contributes to the appeal and modernism of Rajasthan and the handlooms produced there, which are sold all over the globe. The next time you travel to Rajasthan, make sure to bring back these colourful pieces of handcrafted magic and make sure to showcase these beautiful items for the rest of your life since they certainly deserve it.
Woven Stories of Manipur
Manipur, in India's far northeast, is so beautiful and pristine that it seems otherworldly to those who visit. The south-facing slopes of the sub-Himalayan highlands are home to a wealth of natural wonders that you, should you be so fortunate, must experience at least once in your lifetime. Misty hills, glistening lakes, lush green valleys, flowing rivers, and deep woods are just some of the gorgeous sights in the state of Manipur, but they aren't the only reasons to visit.
The passing down of traditional skills in a matrilineal community from one generation of women to the next is a powerful symbol of the transformative power of women in society and the beauty that they may create.
Goods made from weaving kouna grass are a Manipuri speciality not to be missed on a trip to the region.
Farm communities in Manipur plant the perennial crop kouna, which is then picked, soaked, and dried to be weaved into a wide variety of useful and beautiful handcrafted goods. Residents of Kongba Nandeibam Leikai in Imphal's East Valley continue to carry out their primary cultural practice of working with kouna inside their homes.
Since Kouna is a 100% Manipuri creation, it is a strong advocate for "Vocal for Local," which promotes the retention of local revenues rather than their diversion to other states. Many households rely on it for survival.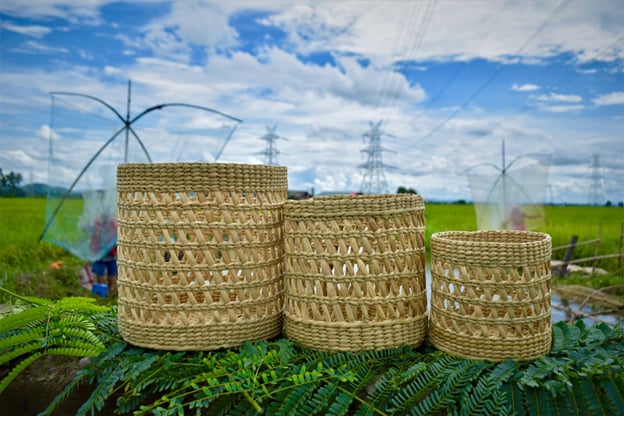 A visit to Manipur would leave you with an appreciation that you may never be able to forget, thanks to the sight of women empowered and a culture in which every woman is an entrepreneur. And also bring back sustainable home decor items, which are equally useful as beautiful.
Heavenly Gifts from the Land of Heaven on Earth---Kashmir
The tranquil scenery and soothing sounds of a Shikara cruise on the picturesque lakes of Kashmir, notably Dal and Nageen Lakes, are enough to make anybody fall hopelessly in love with this earthly paradise. Because of their magnificent beauty, these lakes are a popular tourist attraction in Kashmir.
One must visit Kashmir and experience it for themselves to really appreciate why it is sometimes referred to as 'paradise on earth.' In addition to being blown away by Kashmir's natural splendour, you should visit a paper mâché workshop in order to take home with you a piece of its exquisite artwork.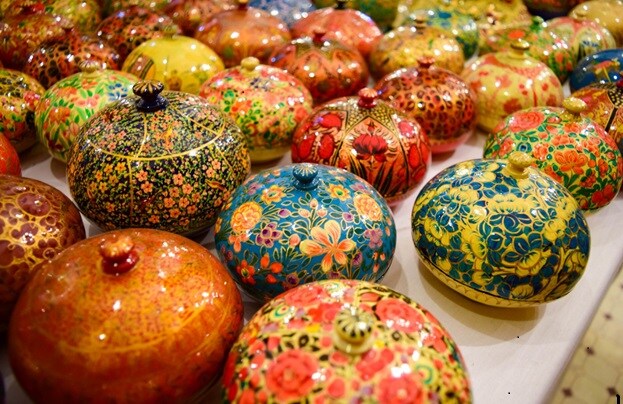 Paper mache is a fine kind of ornamental art that showcases the artistry and dedication of the maker. Paper pulp is used in this one-of-a-kind craft, and it's painted by skilled artisans to look like real things like kingfishers and maple leaves and other things. In the end, a great piece of art is produced that can't be attributed to just one person. Before it ends up on a dining room table or living room mantel, it passes through many skilled hands. Aesthetic awareness and inherited competence are the two most important qualities of these artisans.
Flowers and birds made of paper mache often have a Persian theme. Bowls and vases are lined with brass, and on special request, boxes and other things are decorated with gold and silver leaves and portray gorgeous landscapes and objects like a houseboat, which are integral to the lifestyle of the people of Kashmir.
Boxes of every conceivable size and form are just some of the paper Mache products made in Kashmir today.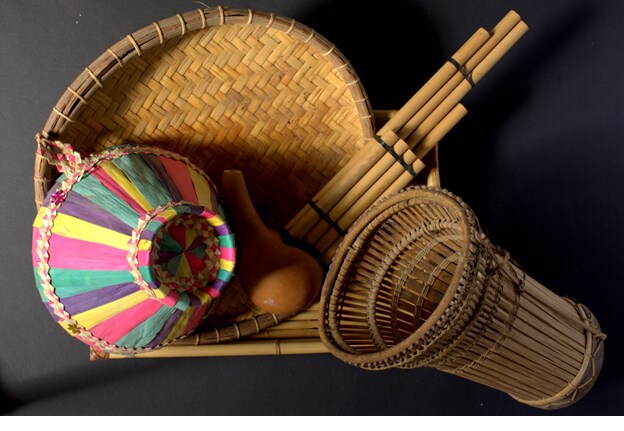 These items, despite their intricate ornamentation, are remarkably lightweight and durable. The lacquer finish prevents damage from moisture and extends its lifespan. Reason enough to pack these ornaments into your suitcase and take a bit of Kashmir home with you.
These small souvenirs brought back after travel is not just an object of possession but also tangible memory of a beautiful journey you had embarked on. These would make for not only prized possessions but also instil within you an inherent sense of belonging and oneness to these beautiful regions of the country. To bring back these are to bring back a part of India's rich heritage to your home.
(Edited by : Sudarsanan Mani)