Azerbaijan, the largest country in the South Caucasus region, has witnessed an 80 percent increase in tourism from India in 2019, thanks to a direct flight from Delhi and a simplified electronic visa procedure for Indian passport holders.
With more and more Indian travellers taking an interest in the country, Azerbaijan Tourism Board (ATB), the national agency that supports Azerbaijan's thriving tourism sector, has kicked off a three-city roadshow in India this week. Running from September 9 to 13, the roadshow will tour Delhi, Bangalore and Mumbai.
In an interview with CNBC-TV18, Azerbaijan Tourism Board CEO Florian Sengstschmid talked about the tourism and cultural attractions in his country and why the little-explored nation should be on every travellers' bucket list.
Edited excerpts from the interview
:
According to an Azerbaijan Tourism Board (ATB) report, from 2018, your country is witnessing 5.7 percent increase in tourist arrivals. What were your major steps to boost tourism? Also, explain the growth of Azerbaijan tourism sector over the last 3 years.
Opening a representative office in India has helped us a lot. We kicked off the three-city roadshow on September 9 which will visit Delhi, Bangalore and Mumbai. Having good relations with the media and trade, holding a number of press trips, specific to wedding and film industries and MICE events have also significantly increased our foreign tourist inflow.
Indubitably, the recently introduced direct flights from Delhi to Baku has helped us big time in promoting the tourism sector. The frequency of flights is twice a week for the time being, which I think might later expand to thrice a week. I also expect a kind of intermission in between, from the beginning of October.
Besides, we also plan to expand to other cities of India. After Delhi, the next would be Mumbai. Also, it's a new start, just two months old. Both sides have to learn how these operations function and can be expanded in later stages.
What is India's role in promoting Azerbaijan's tourism? What kind of travellers are you targeting in India?
India on a global scale is a very important market. I mean, India is not only important in terms of size, but also in terms of setting travel trends in a global economy. This is why we are in favour of the close proximity of India and Azerbaijan.
Tourism from India to Azerbaijan has increased by 80 percent in 2019 compared to the same period last year. In the first seven months of 2019, we have had as many as 33,000 Indian travellers. We attracted just 40,000 Indians in the previous year. I hope we reach 70,000 by the end of this year.
New Delhi and Baku had positive intergovernmental relations for many years, and now with the connectivity and hopefully more direct flights, also to the East, provides accessibility from both sides. I think this will bring India closer to Azerbaijan.
Profile:
We are looking for nice groups for corporate events and weddings. We had a great number of weddings already hosted in the city. We are also in the process of setting up a field commission in Azerbaijan, which would facilitate Indian film industry and support mechanism to carry out shoots in our amazing locations.
What are the compelling reasons to visit Azerbaijan for an Indian? Also, mention the steps taken by ATB for facilitating their travel and stay.
Azerbaijan has incredible competitive quality and price ratio. It offers extremely affordable luxury, and if you look at it from the perspective of business events, families with kids or solo travellers, it takes just four-and-a-half hours to fly to Azerbaijan.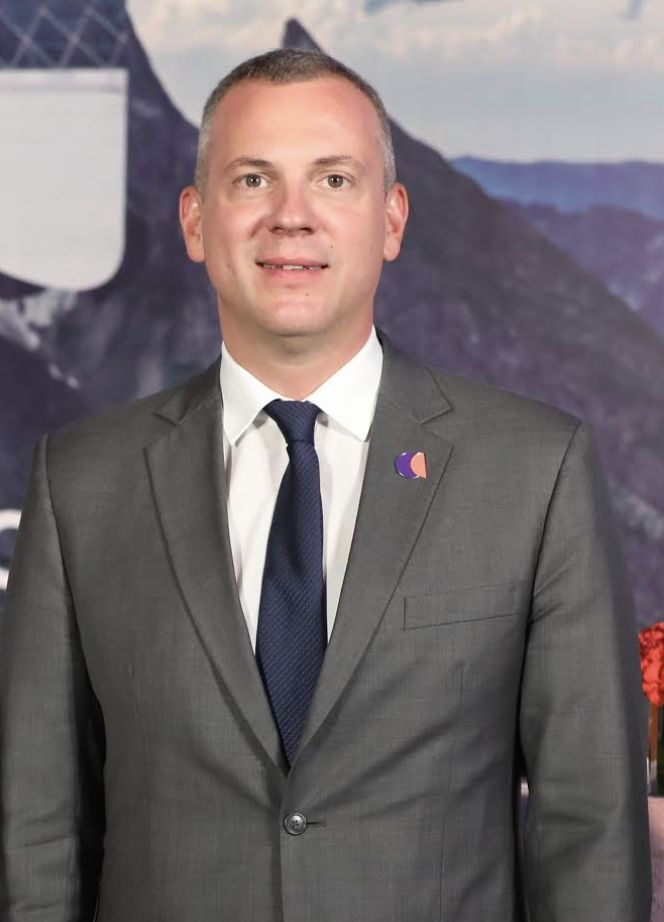 Florian Sengstschmid.
It has a combination of a European city with a touch of the Orient, something which I think is really new to Indian travellers.
Baku itself has a lot to offer. In proximity, there is a UNESCO World Heritage site of Gobustan, with beautiful, thousands of years old, really back to the beginning of civilisation, rock carvings.
Recently, we added Shaki to the list, which is a beautiful medieval city, not far from the border to Georgia. It has been included in the UNESCO World Heritage Sites, in June this year.
Azerbaijan for many years was considered the greenhouse of the Soviet empire. Culinary wise, it has delicious vegetables and fruits from the Caucasus region. We have seen an incredible increase in the number of Indian chefs working in here. I remember, seven years ago there were only one or two Indian restaurants and now you can find Indian restaurants even in the remote regions of the country. So you also see, how the development of tourism has impacted the culinary adventures.
We also see more and more Indian travellers experiencing the Azerbaijan wine culture. We have a beautiful wine route starting from Baku and leading all the way along the Caucasus mountains. So, there are wine yards and festivals, definitely making it worth to visit and taste the wine culture.
Could you tell our readers how to travel to Azerbaijan from India? Also, what will be the process to travel to the other countries in the vicinity of Azerbaijan?
It's very easy for Indians to travel to Azerbaijan. There is an electronic visa system applicable for a maximum of 30 days. It takes a minimum of 3 hours to a maximum of 5 working days to process. So if you apply for an urgent visa, you will get a PDF file within three hours printed, and you can pay by credit card and travel.
Also, we have ongoing discussions to simplify visa regulations both in terms of regulatory and in terms of costs.
There are no limitations in terms of the application. So let's say you go, for example, in the beginning of October, to Baku. You spend three days there and then you go to Turkey, and while you are in Turkey, you can apply for an e-visa which will be processed within three hours and you can go back the next day.
Details of flight:
For the time being, it's twice a week. It's a charter flight with a seasonal setup. So, we hope that it continues these operations until the end of September, where we see this strong interest.
Again, this is up to the operators.
The report provided by ABT suggests a large proportion of hospitality sectors caters to business travellers and conference attendees. What are the opportunities to support the development of individual, family and package tourism?
Azerbaijan is an extremely safe place for families and female solo travellers, with a great transportation network. We have also developed international hotels and beautiful resorts, with family friendly services.
Besides a full range of accommodation units, we also offer much-needed activities for both families and solo travellers. Yes, it's not easy to travel in the regions as you might find in Europe, but looking at the demographics in India, the youngsters here are always keen to discover new places, and Azerbaijan offers a kick of something new and adventurous.
Azerbaijan's sponsorship with Atletico Madrid proved out to be a spectacular success. So, are you planning to sponsor any such sports campaigns in India, considering the fact that India hosts and conducts many sports events annually?
It wasn't Azerbaijan, but the brand 'Land of Fire', that belongs to one of the big holdings in the country. When you look into this global elite sponsorship of soccer teams or others, it is mainly for the country that needs global visibility. And I think this definitely helped. Now, since we are already a bit more diversified, opened our representative office here, we are looking more to come to the market, work with the professionals than to sponsor for attracting eyeballs.