Reliance Jio nearly doubled the number of subscribers it added in October compared to the previous month and for the seventh consecutive month, the telco has clocked in the highest number of monthly subscribers at 14.14 lakh as against 7.24 lakh last month, according to latest data released by Telecom Regulatory Authority of India (TRAI) on Monday.
Its peer Bharti Airtel added 8.05 lakh subscribers in October compared to 4.12 lakh the previous month while Vodafone Idea continued to lose subscribers. The latter lost 35.09 lakh subscribers versus the loss of 40.11 lakh in September, TRAI data shows. This is the 19th month in a row that Vi has lost subscribers.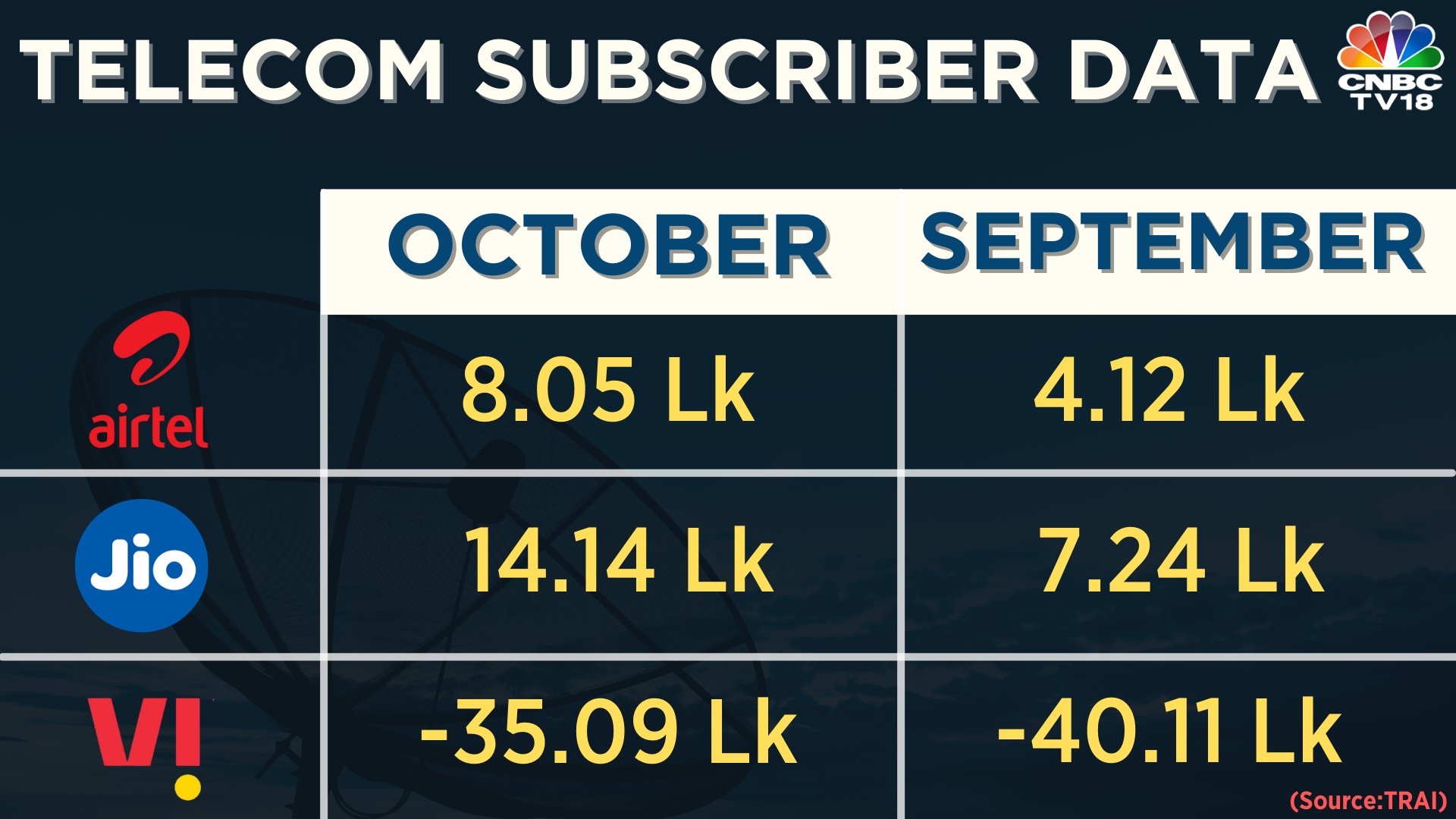 It must be noted that In the last seven months, Jio has added 1.7 crore subscribers while Bharti Airtel has added 47 lakh subscribers. Vi, on the other hand, has lost 1.5 crore subs in the first seven months of the 2022-2023 financial year.
As of October, Jio's market share stood at 36.85 percent, Bharti Airtel's 31.9 percent and Vi's slipped to 21.5 percent.
Vi's declining subscriber count comes at a time when the government's equity conversion in the company has been pending since January 2022. The telco's AGR dues stand at Rs 16,130 crore, and once the government converts the interest on AGR dues into equity, the debt on Vodafone Idea's books comes down by Rs 16,000 crore, and the government will be holding close to about a 33 percent equity stake.
While the Union Cabinet
approved the conversion of Vodafone Idea's
adjusted gross revenue (AGR) dues — and the interest thereon — to equity last September, market regulator Securities and Exchange Board of India (SEBI) approved the government's proposal to convert its pending deals into equity in October. The Union Ministry of Finance had approved the proposal in July and government officials said in October that the file is pending consideration with the Department of Telecommunications.
Vodafone Idea's net debt stands at Rs 2.2 lakh crore, the interest burden is over 90 percent of its marketcap and last 12 months' losses is in excess of Rs 28,000 crore.
It is also noteworthy that unlike, its peers Reliance Jio and Bhati Airtel, Vi is yet to announce its 5G plans.