Thanks to increased internet users and cheaper smartphones in the country, now a latest research says that ecommerce channels captured a record 38% share of the total smartphone channels during Q1 2018, driven by exclusive online launches and strong promotions.
Bengaluru-based Flipkart continues its dominance in the online smartphone market with 54% share, while Amazon holds second place with 30% followed by Mi.com with 14%, the Counterpoint Market Monitor service said on Friday.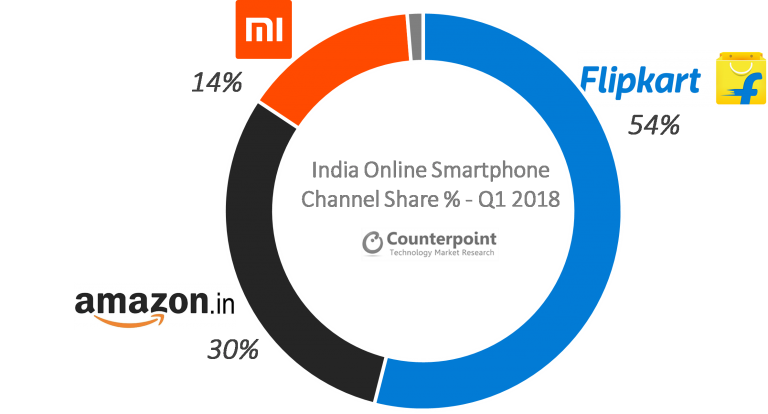 "The ecommerce segment grew faster than the offline segment during Q1 2018. While the smartphone shipments in offline segment declined by 3%, online segment grew by 4% YoY," said Karn Chauhan, Research Analyst at Counterpoint Research.
Chinese smartphone maker, Xiaomi, led online platforms with a share of 57% during Q1 2018, followed by Samsung (14%) and Huawei (Honor) (8%).
Close to 30 exclusive smartphone models were launched in Q1 2018. Attractive full-screen displays, high capacity batteries and artificial intelligence features like face recognition were key differentiators for new launches, said the report.
According to Counterpoint's Market Monitor service, entry level and premium are the fastest growing segments in the online smartphone market. Entry level shipments were driven by Xiaomi while premium was driven by OnePlus.
Xiaomi Redmi 5A, Xiaomi Redmi Note 5, Xiaomi Redmi 4, Huawei Honor 9 Lite and Redmi Y1 were the top online smartphones in Q1 2018.
"India still has one of the lowest percentage of users who are connected to the internet and shop online. This trend is changing rapidly as 4G data consumption has increased and more users beyond metro cities are geared up to browse and shop online," said Tarun Pathak, Associate Director at Counterpoint Research.
World's third largest smartphone maker, Huawei's Honor 9 Lite, was the only model in top five slowing down Xiaomi's full dominance.