The last week was all about the largcap IT names and their Q3 earnings, this week saw earnings coming from Mphasis, Persistent Systems, L&T Technology Services, Coforge, Cyient, Mindtree. Many of the smaller ones are also reporting.
However the key takeaway is that the midcap IT performance was very divergent, the largecap IT performance was consistent. HCL Tech, TCS, Infosys all met expectations, did better, but in the case of IT earnings this time, Persistent Coforge looked better than what the street was anticipating. And on the flip side, Mphasis and L&T Tech are disappointing. So the key takeaway is that the midcap IT performance is far more diverse.
L&T Tech tech downgraded its revenue guidance, but on the flip side, Coforge upgrading its guidance so that's point number one. Unlike large caps where the performance was consistent, midcap performance was far more divergent.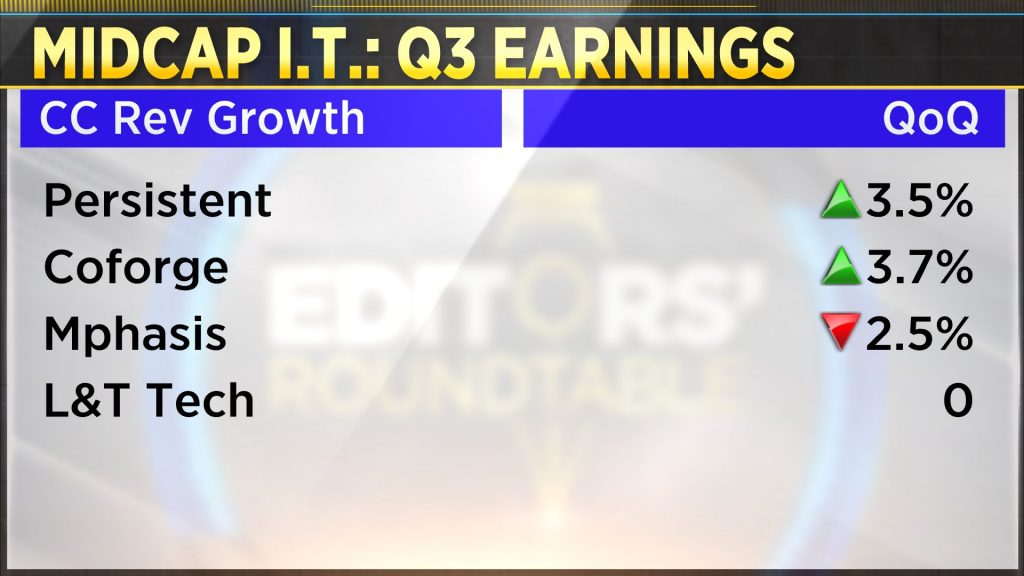 The next point is despite all the noise about macro uncertainty, slowing down on deal win, slow decision-making, the deal wins this time have been very strong even for the companies which have missed expectations.
Mphasis was a miss in Q3 numbers, it was impacted by their mortgage business. But Mphasis' new deal wins were the second highest on record. Coforge reported its highest-ever order intake in the current quarter.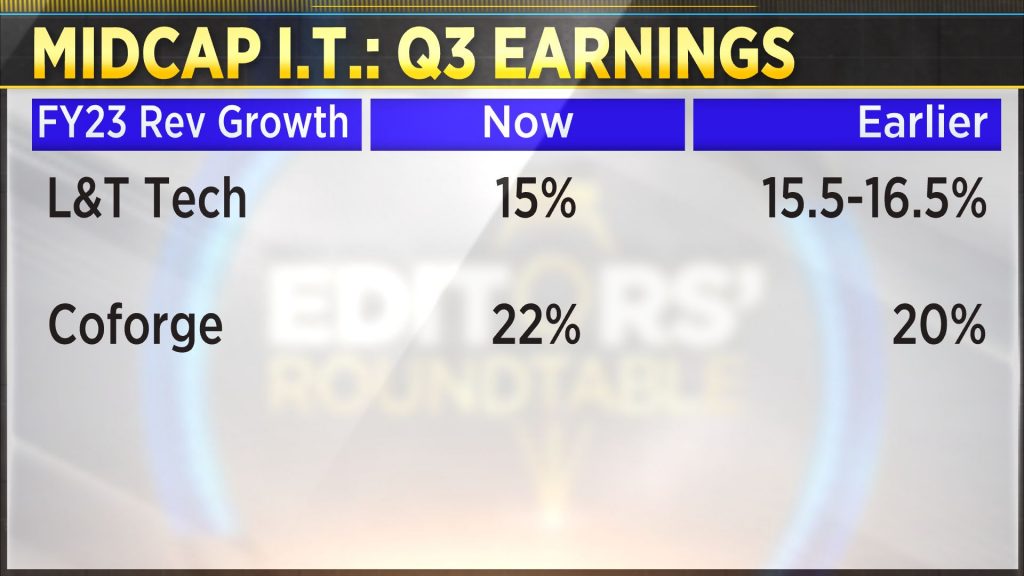 Now the point is that typically when the external environment is far more uncertain, it's the largecaps that generally have a steadier performance compared to the midcaps. And the reason is, midcaps have a greater client concentration, a geographical concentration, or a vertical concentration. So if any of the drivers hit, or if any of the legs misfire, then the stocks get impacted.
In the case of Mphasis for instance, they have a near 8- 9 percent exposure to the mortgage business. But that entire leg is not firing. In fact, it's declining for them. It's a sequential decline of 20 percent. Now that's the risk when it comes to midcap IT because they have a far higher concentration either in top clients or in terms of specific verticals, unlike largecaps, which have a more diversified base in terms of clients geography, and even the kind of services that they offer. And that helps them tide through any kind of volatility in the macro environment.
Finally, valuations of midcap IT, take a look at Persistent Systems is one of the most expensive midcap IT company, yet on the back of good numbers the street rewarded it. Persistent ends up with a gain of close to about 8 percent despite it being very expensive. So there is interest in IT despite the high valuations for some of them. If the companies can give the confidence that they can tide over this rough patch.