Microsoft CEO Satya Nadella said the world — specially the tech sector — should brace itself for two more years of struggle before it can see growth again. According to Nadella, the current downturn being experienced by the tech industry is because the demand spurred by the COVID-19 pandemic has begun to cool down, and that, coupled with a recession in several parts of the world, has resulted in a "normalisation."
That said, Nadella expects the tech industry to experience a massive growth cycle after these two years of pain.
"I would say the next two years are probably going to be the most challenging, because after all, we did have, you know, a lot of acceleration during the pandemic, and there is some amount of normalisation of that demand," Nadella told CNBC-TV18 during an interview, adding, "There is a real recession in large parts of the world. And so the combination of 'pull forward and recession' means we will have to adjust."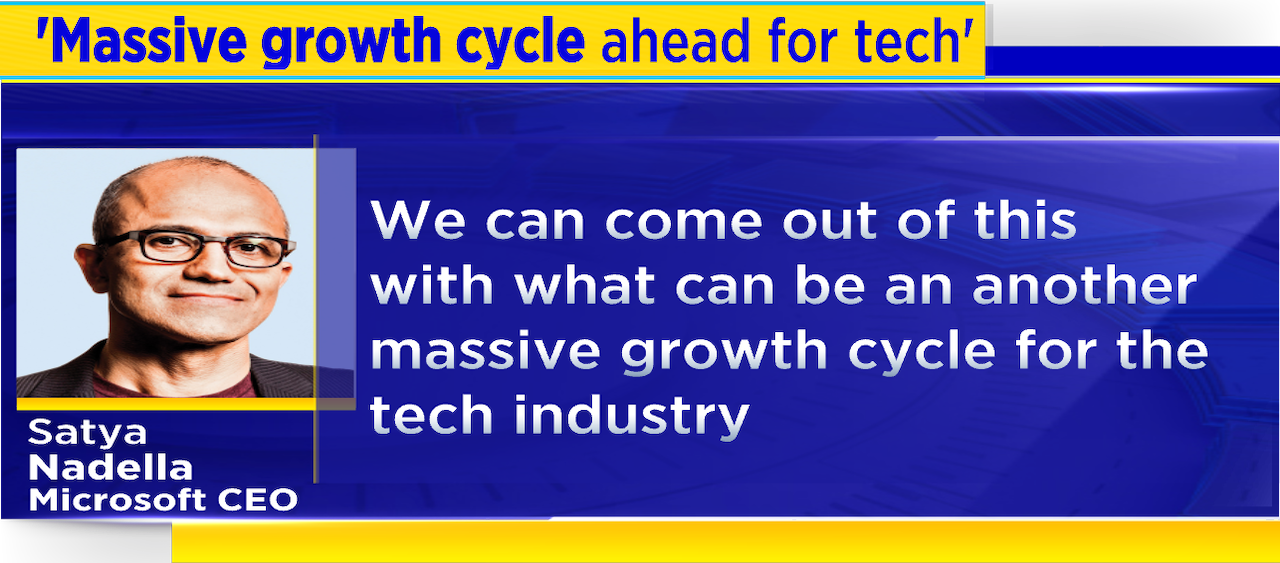 Nadella added that he is extremely optimistic about India — given its wealth of talent and opportunities.
"(If) we see all of the world's software developers, India is No. 2 already. And in fact, when it comes to AI (artificial intelligence) projects, India is No. 1. And so... this next phase is going to be an AI age (and) you have to be long on India," Nadella said during the interview.
There are three factors that add to his optimism about India, he added. "India is a hotbed for startups, I think it's No. 2 in the world in terms of startups," Nadella said.
"(Secondly), what strikes me as just phenomenal, is people upskilling themselves in India is double the global rate. And all that's translating ultimately into Indian growth, into Indian productivity," Nadella added.
And finally, the fact that India is growing at 6-7 percent is the cherry on the cake.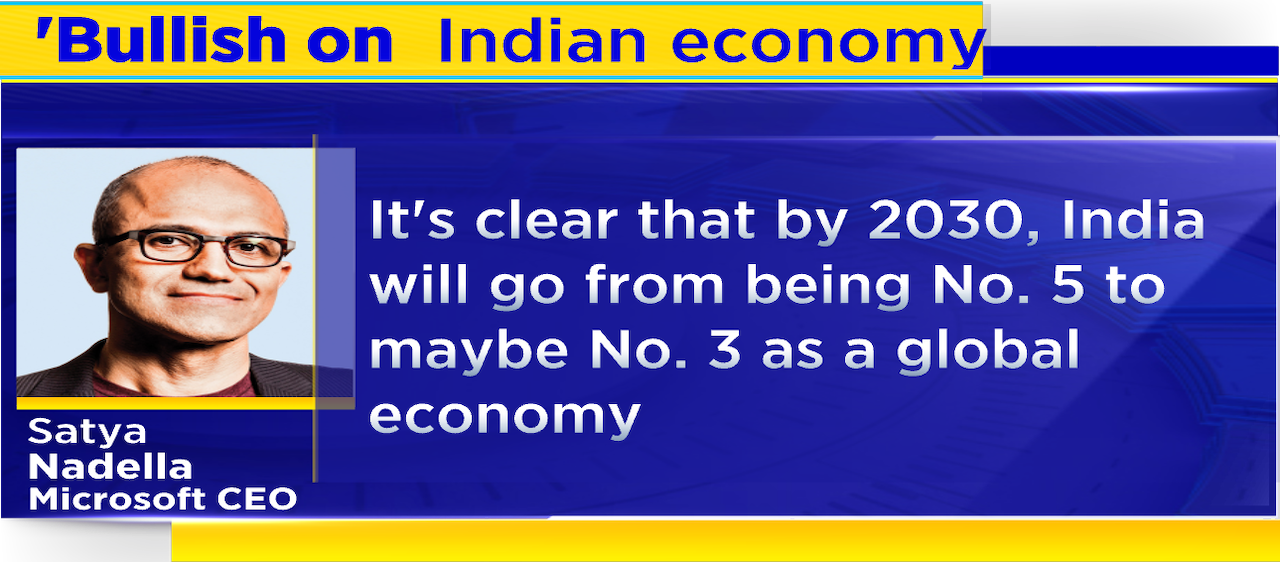 Nadella said the most exciting, fundamentally unique thing happening in India right now is that there is a recognition that the next stage is digital, and it requires both private sector innovation and public sector participation.
"In the digital ecosystem, progress is being seen in India's identity system with the payment infrastructure now scaling into e-commerce and healthcare," Nadella said.
He also touched on the government's Bhashini programme, which, as per the official portal, "aims to enable all Indians easy access to the Internet and digital services in their own language, and increase the content in Indian languages."
"The Bhashini programme is fantastic. It's basically saying every Indian company, and every Indian citizen should have access to AI models that sort of democratise language. So that means I should be able to translate from Hindi to Telugu, Tamil to Kannada, or what have you, without any impedance in any application, and that, to me, is a very enlightened set of policies by the government," the Microsoft CEO said.
Nadella feels India is one of the exceptions to the challenges assailing many countries, such as inflation, recession, et al. That said, he said it won't be all smooth sailing this year.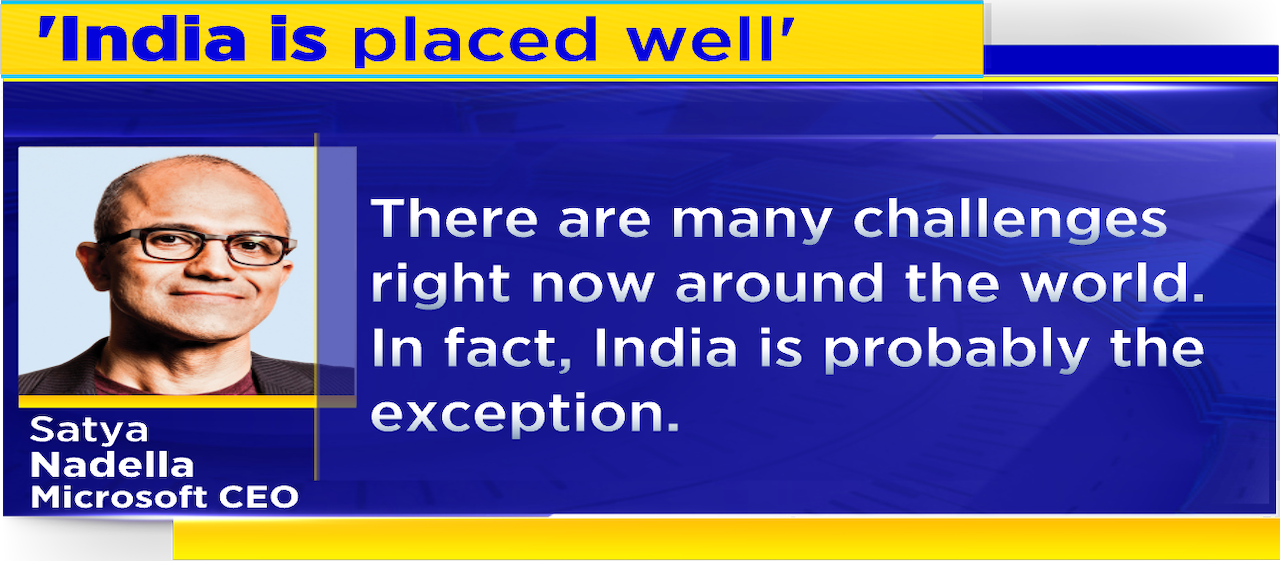 "There are parts of India, Middle East, Latin America, some of the other parts of Asia, where things that are green. But I think 2023 will be much harder. So yes, we want to be very cautious in our outlook," he said.
However, Nadella added, he was bullish right out of the gate in 2023. "I think we're going to have a supply cycle that's going to persist and a classic demand cycle; there will be some economies that will go through a recession — some deep, (others) minor — then inside of that there will be pockets of growth like India," Nadella said.
That, he said, means Microsoft will have to see to
full operational focus, making sure its expenses are in line with its revenue growth — manage the short term but make sure it's investing for the long term.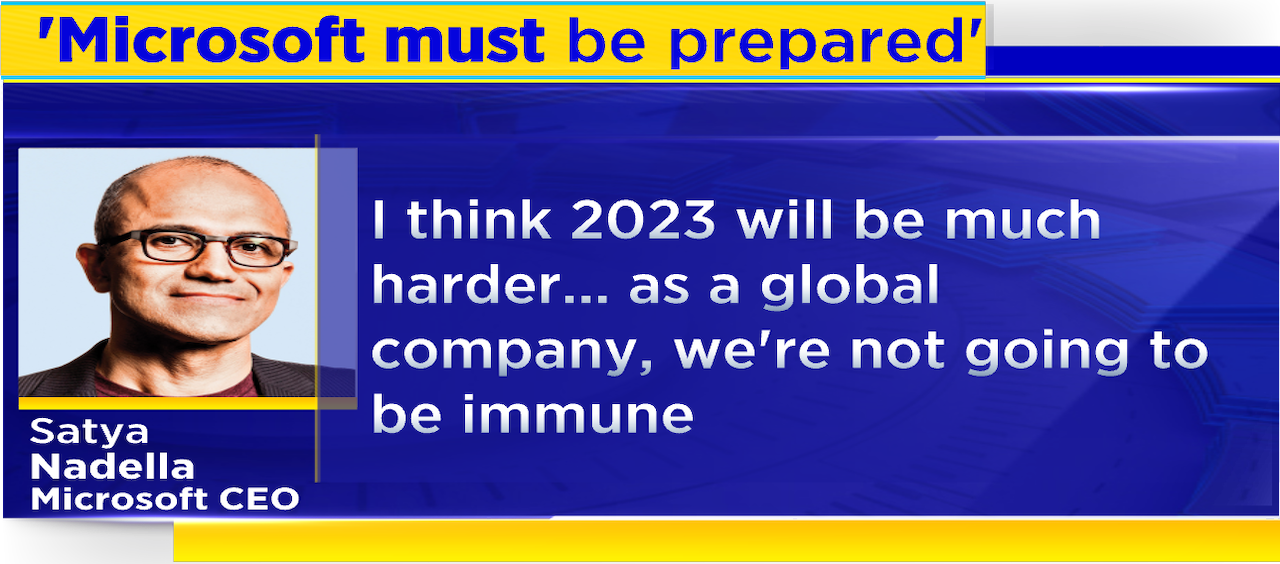 Nadella further said it is time for the tech sector — especially in the light of prevailing circumstances — to take a deep look inwards, and change with the times, respond to the new economic reality.
Referring to the recent dunking tech stocks took, Nadella said, "The markets are smarter than us all. And I think they are reflecting on where the growth is coming from."
He said while he doesn't equate stock performance with economic performance, it is imperative to keep an eye on the GDP. "If we believe software and digital infrastructure is going to be important in construction, energy and manufacturing, then long-term, you have to be long on tech industry."
That does not mean any company can ignore the short-term view and stop evolving into a more efficient, productive machine. "Will we have to go through our own cycles around productivity? Absolutely, like anybody else. But in the short run, what we have to focus on is our own productivity and making sure we are efficient," Nadella said.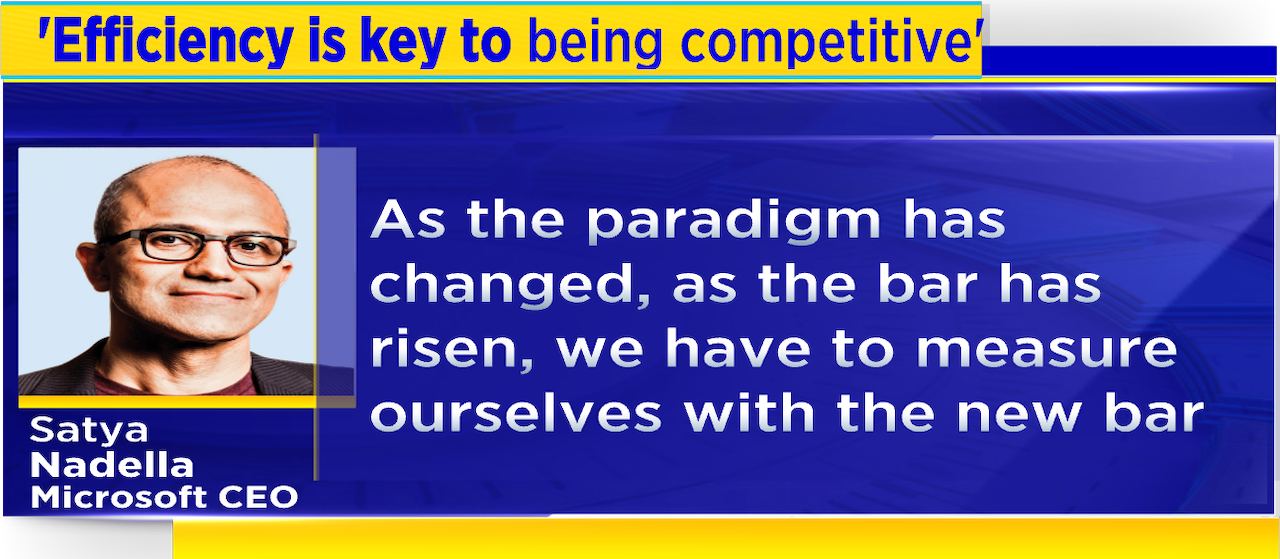 "I think overall, quite frankly, whether it's for us at Microsoft or the tech sector, it's going to be very important to look inside and say, 'Are we as efficient as we need to be to be competitive?' I mean, at the end of the day, just because we are a technology company doesn't mean that we are the most efficient at what we do," Nadella said.
Further, Nadella said, it is important to distinguish between what he terms as tech industry employment and tech employment. "Overall, tech jobs actually increased. Tech jobs now are coming in financial services, in energy companies, in retail, even in manufacturing and that's healthy, because in the long run, all those employees are going to consume more tech infrastructure," Nadella said, adding, "When we think about our cloud business, long-term, we're bullish, because of the fact that there's more employment outside of the tech industry. That's what we're banking on."