The announcement raised initial shock waves from analysts and industry watchers which in turn reflected in the stock. The questions are very evident- why such a huge payout for seven software products? Does the product business really have revenue scalability potential? Is HCL Tech paying too much and getting too little in the process? Will this impact dividends?
While there are lot of risks, as is the case in any acquisition, the management seems to have a long term strategy in play.
First the deal value
The company will be paying IBM $1.775 billion for seven products, which are across marketing, security and commerce. 48-50 percent of the amount will be paid when the deal is closed, between April and June 2019, while the remaining a year later.
It will pay a majority of the amount in cash via its internal accruals and about $300 million of debt will be taken to fund the deal.
As of September 30, 2018, HCL Tech had $1.59 billion net cash in its books. The payout of cash via internal accruals has been done keeping in mind its dividend distribution strategy as well as its commitment to scale business and invest in digital technologies. This means that HCL Tech will not take the entire cash on books, but a significant portion of it but at the same time it expects a good quarterly cash generation.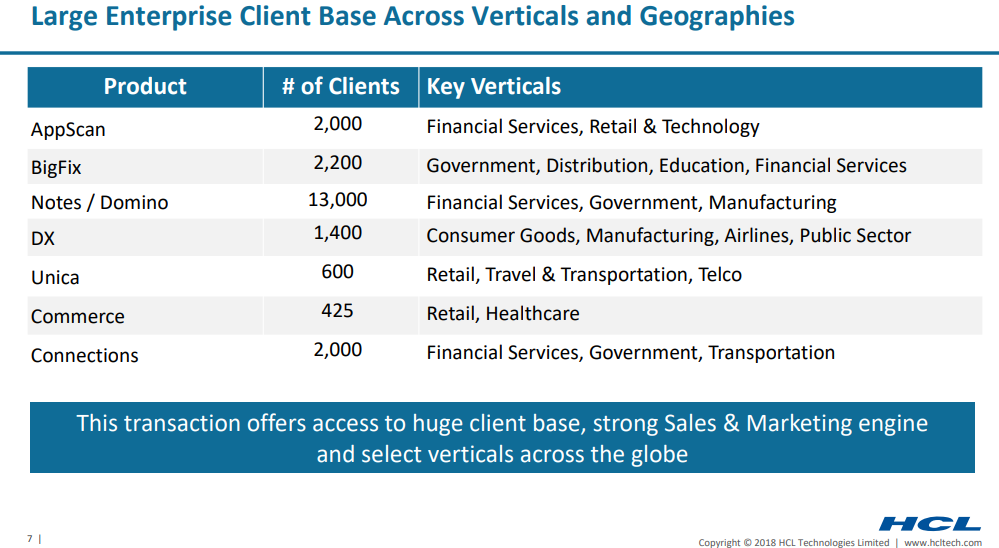 The company also reiterated that five of the seven products were already a part of an IP deal with IBM, where HCL Tech received a revenue share. While these five products have been acquired, HCL continues to work on an IP model with IBM for other products. So the $650 million is the incremental amount that will come in as a result of the acquisition.
The long term play
Once the deal is completed, HCL Tech expects an annual incremental revenue of $650 million from the acquired business. HCL Tech divides its businesses into Mode 1 (Core services), Mode 2 (next generation services) and Mode 3 (Products & platforms). The acquisition falls under the Mode 3 segment. Mode 3 recently hit a revenue run rate of $1 billion. Once the deal is done, the management expects to cross $1.66 billion of revenue run from the Mode 3 business alone.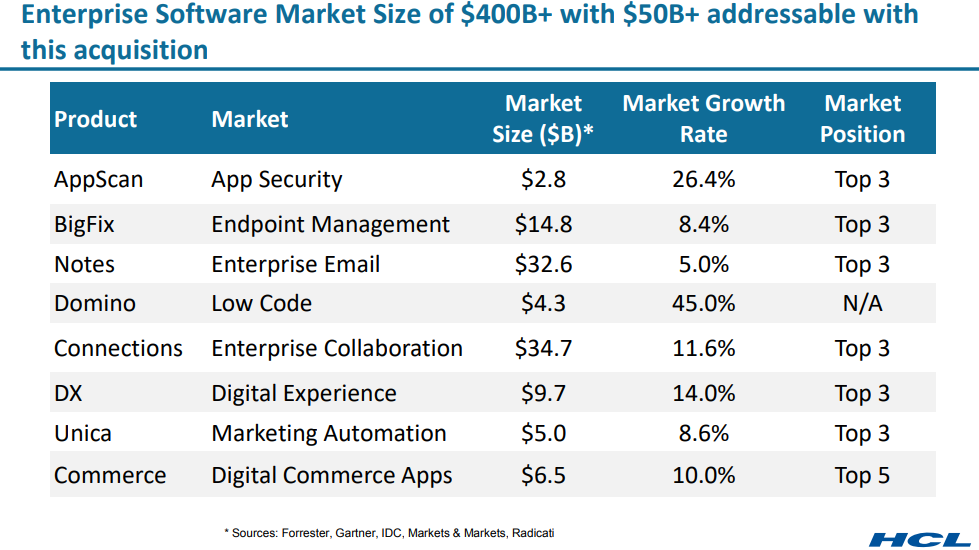 Mode 1, which is the core services business, still forms a bulk of its revenues with a 72 percent contribution (as of September 30, 2018), Mode 2 forms 16 percent and Mode 3 is the smallest at 11.9 percent. With clients tightening spending in core services, all IT companies have started reducing dependence on core IT services. The spends lie largely in the new technologies and the products and platform space. That's what explains HCL Tech's demarcation of these businesses.
The company has been trying to scale up in Mode 2 and Mode 3 since that's where the long term client spending lies. As of September 30, 2018, Mode 3 seemed to be churning the most in terms of margins at a 24.4 percent EBITDA, Mode 1 at 21.2 percent and mode 2 at 10.8 percent.
The company, in its investor presentation said it expects EBITDA margin from the current business to be more than 50 percent on a run rate basis (slightly lower in the first year). This means that the margin of Mode 3 will expand. But this could be offset with Mode 1 margins.
Currently, the management has been guiding for 19.5 percent to 20 percent margin band. On the queries of CNBC-TV18, the management clarified that there will be no negative impact of margins, in fact, the deal will be EPS positive to the company and can even mean scaling up of margins by FY20 beyond the target range.
Hence, with a payout of $1.7 billion, the company is getting an annual revenue addition of $650 million and margin expansion.
The only issue would be if HCL Tech makes any mistakes in transition or if the products don't perform as well as they have been so far or lose business by CY19. The company it its presentation also clarified that cash EPS accretion of 15 percent was expected via this deal and that they plan to continue pay.
But it's not always about the numbers. The seven products that have been acquired are used by 5,000 customers. This means that HCL Tech now gets access to 5,000 direct customers. This will not only give them direct access to revenue from these customers but also open doors for other transformational deals.
At a time of severe client crunch and pressures across the board, access to 5,000 clients across financial services, consumer, retail and transformation, gives HCL Tech the edge it needed to climb the pecking order against its direct peers TCS, Cognizant and Infosys.
The management, in an interview with CNBC-TV18, said that while some clients will be retained by IBM, a bulk of the clients will be coming on the board. The risk here is if clients who want products from other vendors, end up distancing themselves from the company. The company has already spent $1.65 billion on IP partnerships and products so far. With this, the amount increases to $3.4 billion on product related deals. The concern would be what if HCL Tech, which doesn't have a track record of selling software product, isn't able to fully commit to the strategy, which is unlikely given the investment attached to it.
The company said that the product software market size is $50 billion. In its release, the company has given a breakup of the market size that each of these products address. The market growth rate goes up from 5 percent to 45 percent for these products.
So far HCL Tech has spent $2.3 billion on 20 plus acquisitions over the past three years. With this, the number goes up to $4 billion. However, the amount paid doesn't matter as long as the return commitment is held. The company's management has always been conservative or very precise in giving out estimates. So, an incremental $650 million revenue run rate, access to 5,000 clients, margin expansion and one of the largest Indian investments in the products market, are good enough reasons for HCL Tech to justify the massive investment made.