Are you caught in the dilemma of following your passion or earning a living to secure your pension? We all know the lure of the latter option is not easy to avoid. But are there ways of staying connected to what you truly love while tending to the key necessities of life? If these questions have been troubling you, read on. You may not have to choose between 'Passion' and 'Pension' after all.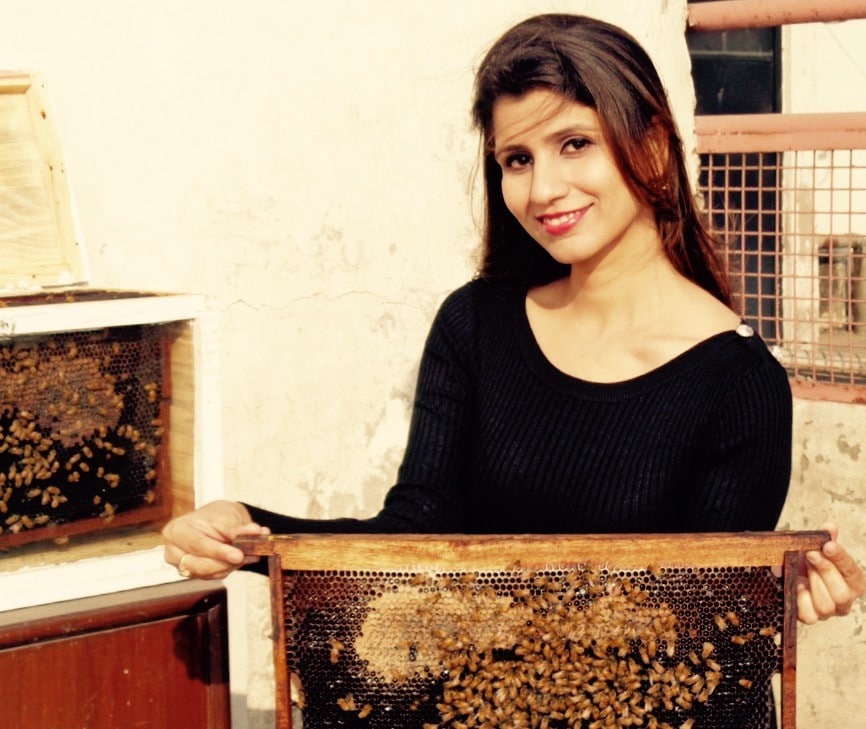 With the observation beehive made of glass on the rooftop.
Look at the image above. That is me with honeybees — the passion of my life.
Left to my own devices, I would spend all my time with them — rearing them, creating awareness about the pivotal role they play in agriculture and the environment, develop innovative means to harvest the valuable products they give and live my life as a satisfied beekeeper.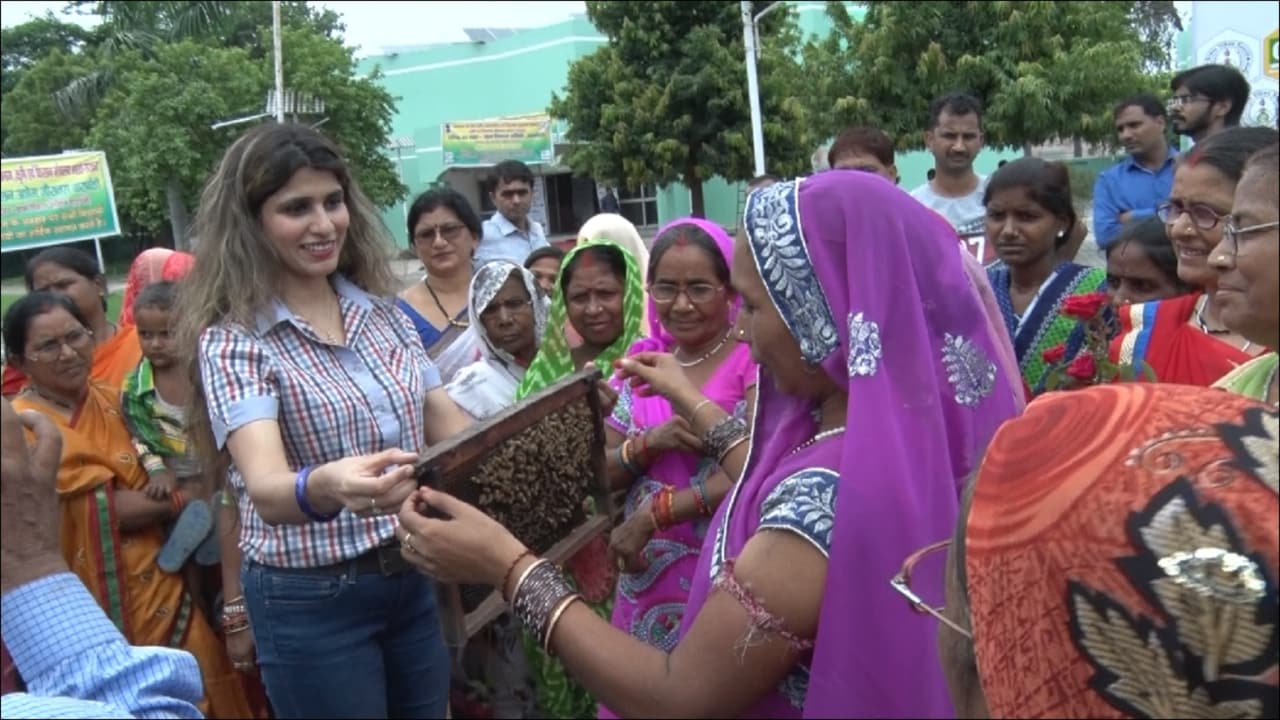 Empowering rural women through beekeeping: Teaching women from Malik Mau Chaubara village, Rae Bareli District, Uttar Pradesh, the finer aspects of apiculture.
I once gave up a flourishing career to pursue this passion because I was convinced that I could create a sustainable cooperative of beekeepers on the lines of Amul and harness beehive products like honey, bee pollen, propolis and beeswax. In the process, I knew that I could help empower rural women and make the village ecosystem richer.
BeePositive was born out of this conviction.
The concept was created by the BeePositive team at IIT Delhi, which made our startup a part of their special entrepreneurship programme. The Department of Science and Technology's award of excellence for our successful proof of concept was a boost. But alas, I had to return to doing a regular job.
At Hisar, Haryana at an apiary.
Why? Because though we created enough of a buzz, we didn't get the honey (read investment) for the initiative to take off. Agri-startups often face this scenario, as more and more investors focus on ideas linked to e-commerce and on creating more wealth where it already exists.
I could have wallowed in self-pity — I admit I did for sometime — on giving up my passion. But I had learnt a very important lesson from the bees, which tap 2 million flowers and fly 55,000 miles to produce just one pound of honey.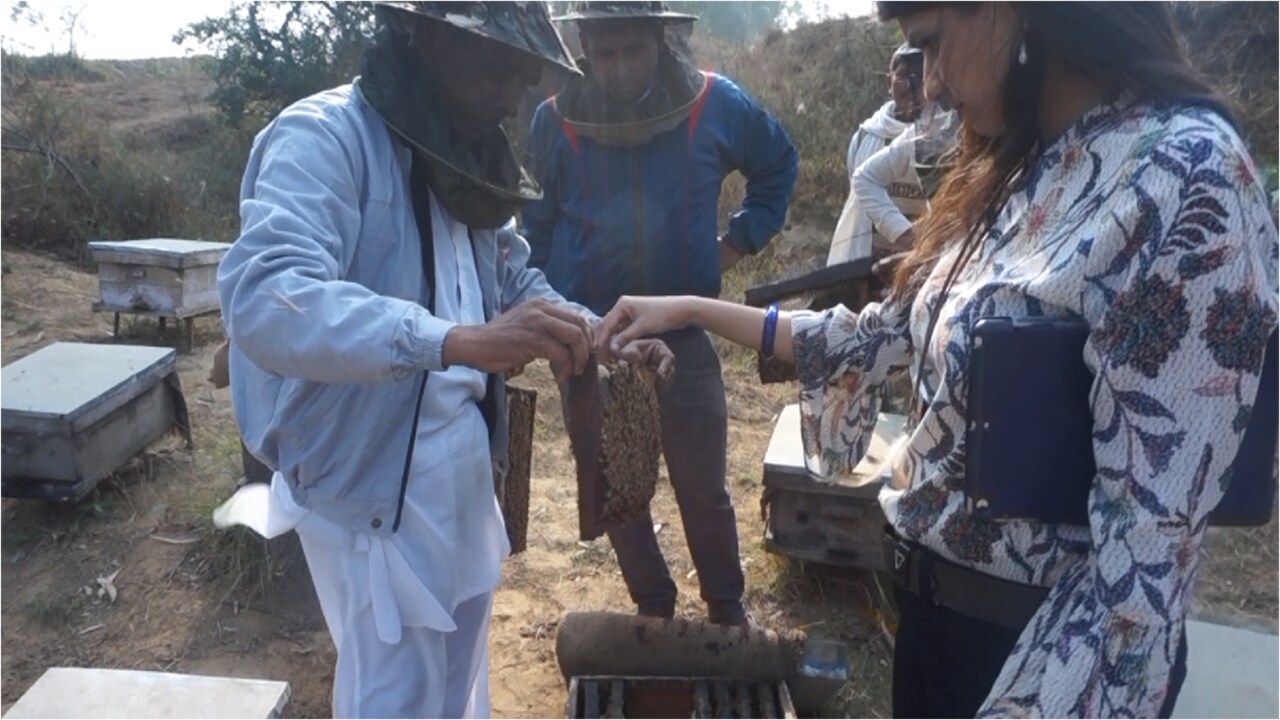 "Going through the bees": Opening the hive to examine the condition of the brood and food stores and looking for signs of disease, swarming, or anything else that needs attention.
The lesson was that passion aside, the important things had to be dealt with in life. Though everyone may not be lucky enough to pursue their passion full-time, there are ways of staying connected to what you truly love. I now have a regular job, but I haven't forsaken my passion.
So let me share some of those strategies on how I do it with you. If you too are caught in the dilemma of following your passion or earning a living to secure your pension, this should help you.
Rule number 1! Never take a job that cuts you off from the audience you are meant to impact. Look for a profession that is in some way connected to your chosen field of interest. For example, if your passion is agriculture, you can change companies and roles but don't venture very far from the sector so that you stay connected to the farming heartland and keep abreast of the latest developments and technologies in the field. You will also be able to work more dedicatedly in a job if the sector interests you.
Make the money you earn fund your interest. The job will give you a financial base that can help you sustain your passion, regardless of whether the latter gives a financial support or not. You may not be free to pursue your prized project during the week, but your salary will surely help you do whatever you like on the weekends. So if you are the next Coco Chanel, you might not be able to launch your luxury outlet today, but the money from your job will help you translate your ideas into reality in sometime.
Figure out adjacency between what you do and what you love. A friend developed an app that helps you decide whether you are being paid right by your job, through the practical knowledge he had gathered over many years spent working at recruitment firms. He was passionate about innovation and he used a drab job to make something innovative.
Don't complain about the lack of time! The fact is having work and a stable job is a blessing. Also, when you are working, you end up meeting many more people than you would normally. So why not try to educate them about your interest? It would be a good topic for small talk too. My meeting with key stakeholders has often resulted in a paradigm shift into their understanding of beekeeping and its tremendous significance for agriculture.
Let the boss know. Workplaces are very accommodating nowadays and they respect the fact that you are committed to a cause or have an outside interest. One of my earlier bosses used to introduce me in many meetings as a certified beekeeper and as someone who was attempting the AMUL for honey. Not only did this piece of information earn us brownie points with key people in power, it also helped me further my interest. No wonder I became a more grateful and committed employee for the boss too.
You can always go back. Nothing in life is final. The beauty is that the only thing constant is change. So design a strategic plan and map out your vision, mission and goals. Wait for your time and prepare yourself. It helps to have a unique approach to life — "interest-money-interest". Keep the interest alive, work towards earning money from a consistent source and when you see an opportunity, go back to your interest! But definitely have a financial plan in place that will fund your transition. Never do professional hara-kiri!
Mark Twain once said, "Plan for the future because that's where you're going to spend the rest of your life".
If things work out then you could be the next Steve Jobs and if they don't then at least you will have a pension to fall back on.
PS: No wonder the bees fly out tirelessly everyday to gather nectar and convert it to honey, just as you trudge off to work, in the hope that one day your passion will certainly materialise into reality. In fact, I have learnt most of the best management lessons of life from the bees.
Keep Buzzing!
Kanupriya Saigal is the founder of the Socially Sustainable Startup BeePositiv. The views are personal.