To get a sense of how startups can survive and thrive in 2023, CNBC-TV18 spoke to some of the country's top VCs. Read on to know what's on The Investor Watchlist in 2023:
Fears of recession, onset of a funding winter, piling up of losses and agony of layoffs — 2022 tested the tenacity of the Indian startup ecosystem. Venture capital investments slumped to $24 billion in 2022 from a record $35 billion in 2021, which we can all agree, was an aberration. Therefore, one might say, 2022 called for a reset.
The rout of newly-listed tech companies has made investors demand a path to profitability as they rethink valuations. Unicorn after unicorn has been reporting staggering losses from BYJU'S and BharatPe to Swiggy and Meesho — the list is long. It is quite evident that growth at any cost is now passé! As a result, India saw fewer unicorns (21 in 2022 vs 44 in 2021), fewer $100 million rounds, and fewer "Leapfrogging" valuation stories.
The ultimatums to focus on conserving cash and bettering unit economics forced some of the most-funded, most-valued startups to cut jobs. Indian startups laid off over 18,000 employees in 2022.
If last year was mostly about the funding winter and the slippery ice upon which growth and late stage startups are skating on, by most estimates, 2023 is also going to be a tough one for the global economy and Indian startups will not be immune to the chills. But, if there's anyone who has stayed warm and could keep the fire burning in the hearth as we enter 2023, it's the early-stage startups.
Seed stage startups raised a historic $1 billion in funding and series A funding surged to $4.2 billion in 2022. This is 50 percent more than what was raised even in the record-setting 2021, according to data from Venture Intelligence. What's more? The average deal size for these early rounds has gone up —which offers comfort when tightening the belts is the call for what could be an 18-month-long, difficult fundraising period. Lower burn, sharper focus and leaner operations have turned early-stage startups into investor darlings.
Also, as VCs rushed to refill their coffers in 2022, there is at least $15-20 billion worth of dry powder — most of it dedicated to early-to-growth stage startups. There is a spurt of new funds with special focus areas — climatetech, agritech, cleantech, healthtech and more. And, as it is rightly said, problems that need to be solved don't go away in a bear market.
To get a sense of how startups can survive and thrive in 2023, CNBC-TV18 spoke to some of the country's top VCs. Here's what's on The Investor Watchlist in 2023: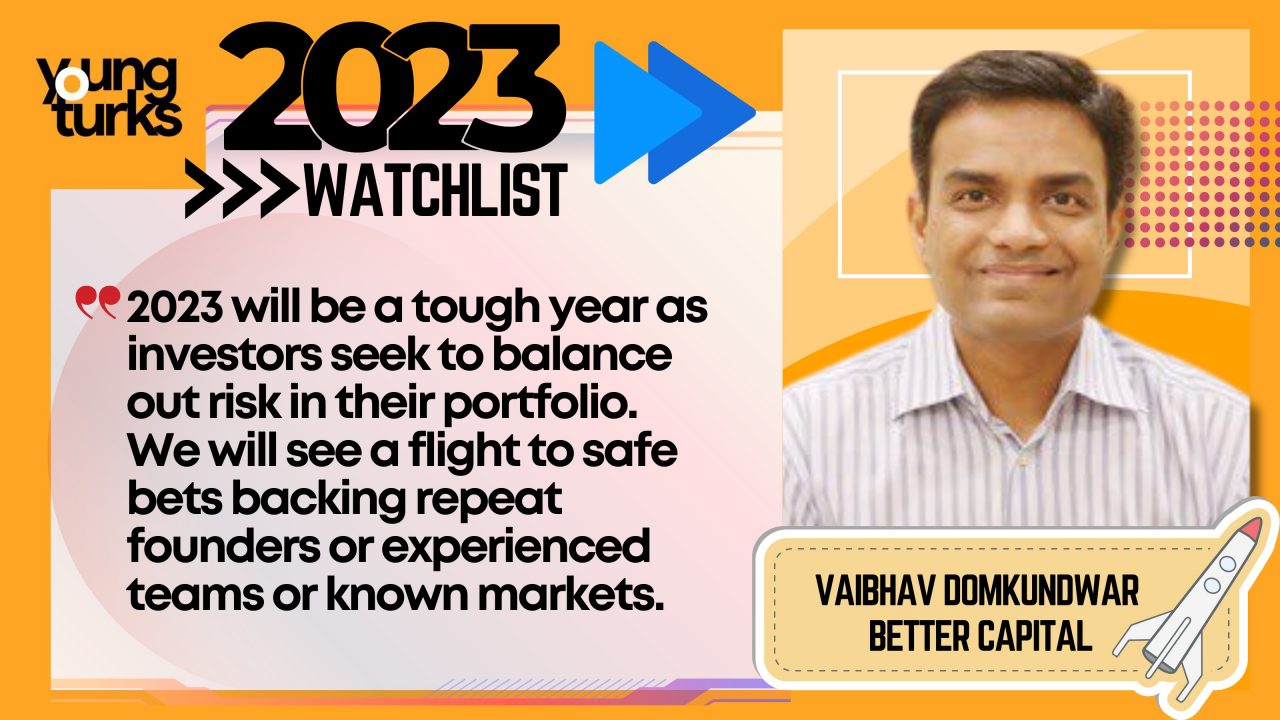 Vaibhav Domkundwar, CEO & Founder, Better Capital
HOT TAKE: "I believe 2023 will be a tough year for venture overall as investors seek to balance out risk in their portfolio. Investors will wait it out and want to see greater traction and better numbers before committing to rounds at all stages. In India, I suspect we will see a flight to safe bets — backing repeat founders or experienced teams or known markets. At Better, we are factoring in a muted 2023 as it is really hard to predict when sentiments turn when we are dealing with a wide range of macro and micro issues."
IN FOCUS: "We are likely to continue our focus on SaaS and software in general in 2023 along with climate and health as other two sectors. We are carefully watching how crypto evolves from the series of bad events and have several investments in the segment who we will learn the ground situation from. The "real" companies will shine in 2023."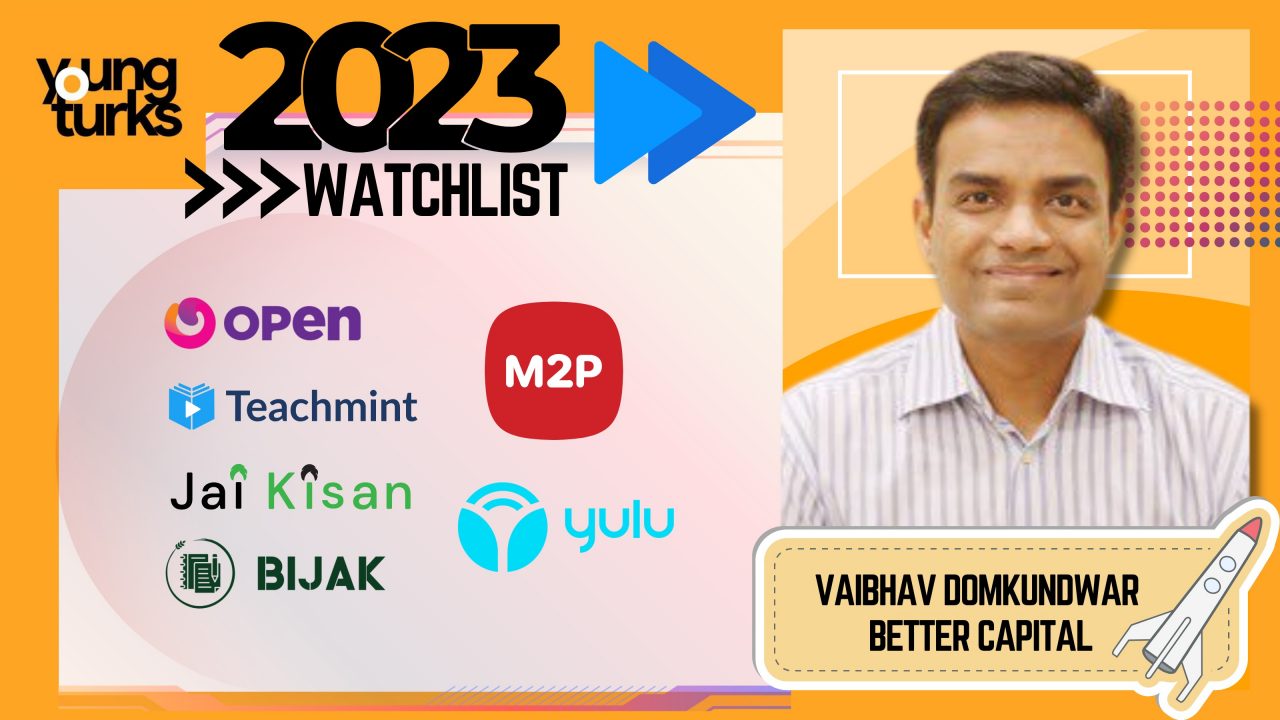 Vaibhav Domkundwar's 2023 Growth-Stage Watchlist
Open
Digital banking platform for SMEs, startups, and freelancers, Open services more than 2.3 million customers and processes over $30 billion in annualised transactions. The unicorn startup's investors include IIFL, Temasek, Tiger Global, BEENEXT, Better Capital, Unicorn India Ventures and 3one4 Capital.
M2P Fintech
An API infrastructure company, M2P Fintech enables businesses to embed financial services. M2P Fintech is an omni-channel platform that operates in over 20 markets across the Asia Pacific, MENA, and Oceania regions. M2P works with over 30 banks and has clocked over 600+ fintech engagements across a varied set of industries.
Teachmint
Founded in 2020, Teachmint is an Education infrastructure SaaS platform that enables educators digitise classrooms. The edtech startup claims to have on boarded over four million classrooms. Over 10 million users across 30 countries use Teachmint's platform, which is available in more than 20 languages. Investors: Rocketship.vc, Lightspeed India, Learn Capital, Goodwater Capital, Vulcan Capital, Better Capital, CM Ventures, Epiq Capital and Titan Capital.
Jai Kisan
Fintech platform with a focus on credit and financial products for the rural economy, Jai Kisan partners with equipment dealers, agriculture retailers, collection centres and market linkage platforms to provide credit to farmers. Its app Bharat Khata is available in 9 languages and over 100,000 businesses use the platform. Jai Kisan aids over $1 billion worth of rural commerce for over 5 million individuals. Investors include GMO Venture Partners, Yara Growth Ventures, Better Capital, DG Daiwa Ventures, Blume, Arkam Ventures, Mirae Asset, Snow Leopard Ventures, Northern Arc, Alteria and others.
Bijak
Founded in 2019, Bijak is a B2B marketplace for agricultural commodities that connects buyers, sellers, traders, wholesalers, food processors, retailers and farmers. It also offers loans for buyers and working capital for producers. Currently, the startup is present in over 1,200 regions across 28 states and deals in more than 200 commodities. It claims to process monthly transactions worth over Rs 300 crore for 75,000 buyers and sellers on its platform. Investors: Omnivore, Omidyar Network, Sequoia Capital India, Better Capital and Bertelsmann.
Yulu
A shared EV mobility and battery swapping startup, Yulu provides urban Mobility-as-a-Service in Bengaluru, Mumbai and Delhi NCR with 10,000 bikes on the streets. The startup now aims to expand its fleet in six to seven cities with plans to deploy 100,000 bikes by the middle of 2023. Till date, Yulu claims to have completed more than 3.5 million battery swaps. Investors: Bajaj Auto, Magna, Rocketship.VC, Better Capital and US International Development Finance Corporation (U.S. DFC).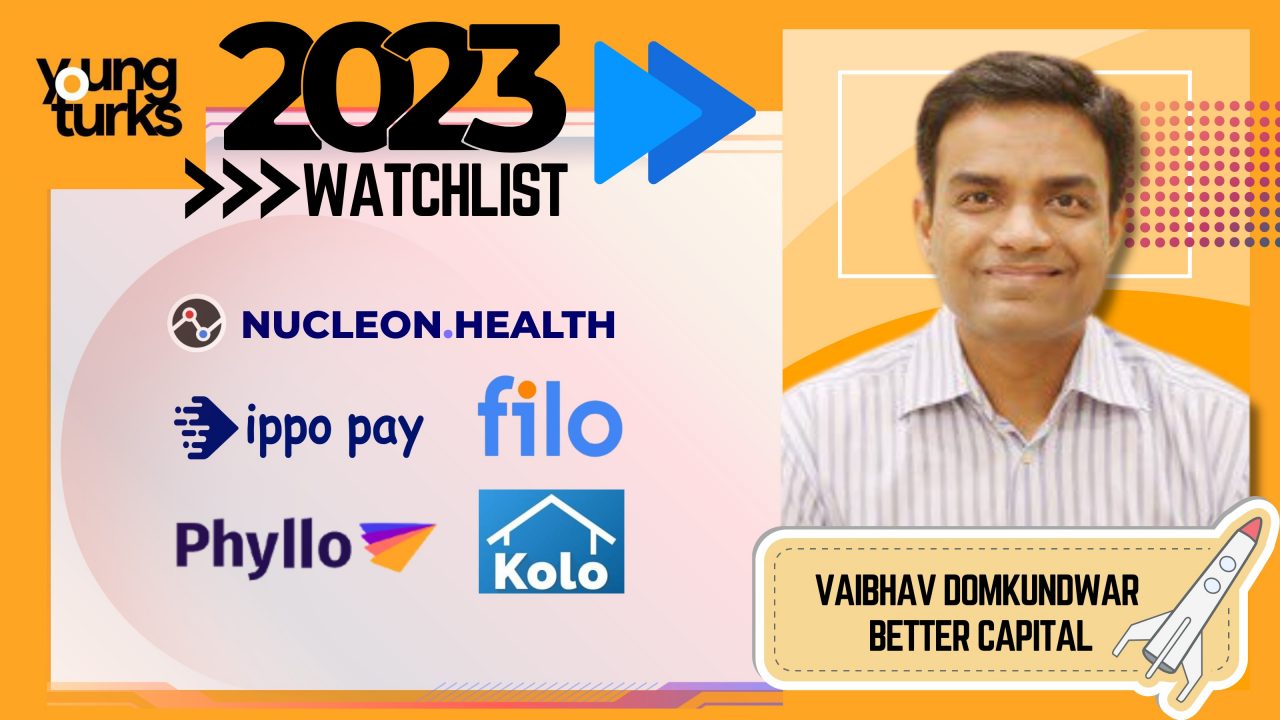 Vaibhav Domkundwar's Early-Stage Watchlist
Nucleon
Founded in 2021, Nucleon aims to simplify insurance claims with a software that assists with claims assessment, patent engagement, hospitalisation process and more. Better Capital led the seed round for the startup.
IppoPay
A fintech startup providing payment infrastructure, IppoPay enables small businesses to collect and distribute payments seamlessly. The startup claims to have helped more than 50,000 offline merchants and daily income wagers in small towns and rural markets. It also acquired risk management startup Tutelar for an undisclosed amount in Sep 2021. Investors: Coinbase Ventures, Better Capital and Blume Founders Fund.
Filo
An on-demand edtech platform, Filo was founded in 2020. The startup connects students to expert tutors in less than 60 seconds at any time. Present in 15 countries with 350,000 monthly active users and 40,000+ tutors on board as of March 2021, the edtech platform claims to be clocking more than 5 million minutes of live video classes. every month. Investors include Anthos Capital, Better Capital, GSV and Sapling Capital.
Kolo
Founded by Southeast Asian unicorn GoJek's former executives, Kolo is a home construction marketplace. The startup offers a content-community mobile app for homeowners to build their homes and enable construction providers and brands to create a digital presence. Investors include Better Capital, Singularity Ventures and RTP Global.
Phyllo
Founded in 2021, Phyllo is a creator economy API platform that helps businesses and developers get continuous access to verified creator data directly from platforms such as YouTube, Instagram, Twitch, TikTok, Patreon, Discord, and Spotify etc. The startup claims that data on its platform is sourced with permission of creators. Investors include Nexus Venture Partners, Better Capital, iSeed and RTP Global.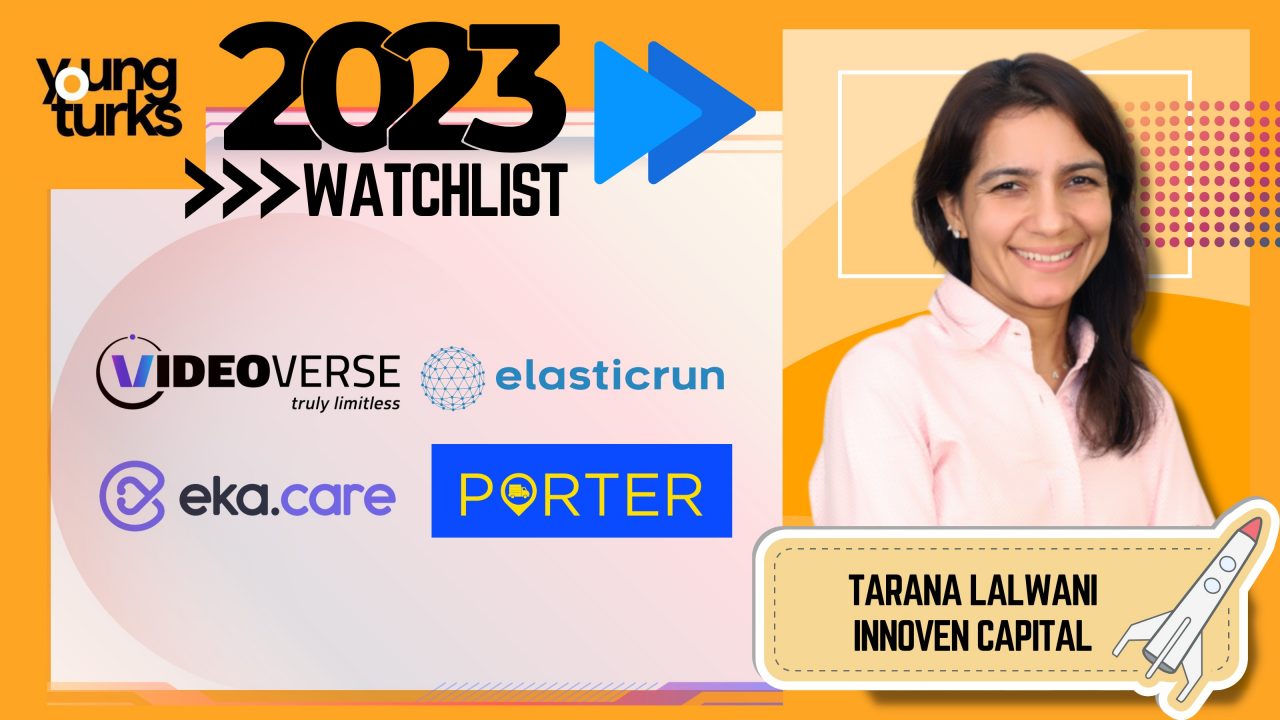 Tarana Lalwani, InnoVen Capital
HOT TAKE: "2023 will be tough (in terms of the funding climate, inflation, etc). However, I do believe it will be India's decade and tough times means the tough and worthy will win. The world is in turmoil — US-China tensions, no end in sight for the Russia-Ukraine conflict…makes South Asia a very attractive investment destination and in particular, India given our demographics and strong fundamentals. Capital will be tight this year. However, I believe companies with strong business models will be backed. Therefore, making me long on the Indian startup ecosystem."
Tarana Lalwani's 2023 Watchlist
Video Verse
A video-editing SaaS platform, previously known as Toch.ai, Video Verse offers an ecosystem of AI-based video editing suite for enterprise and individual content creators. The startup works with OTT players, broadcasters, sports clubs and leagues, marketing agencies, e-gaming platforms, schools, colleges and more. Operational in the U.S., Europe, Israel and India, Video Verse is now expanding into Singapore and the Middle East. Investors include A91 Partners, Alpha Wave Global, Innoven Capital, Pacific Western Bank and Stride Ventures, with Binny Bansal, Tennis superstar Naomi Osaka, Rich Paul (Klutch) as angel investors.
Eka Care
A technology company for managing health profiles, Eka Care was founded in 2020. The healthtech startup allows users to digitise their health records. Its platform has over 30 million registered users and 5,000 doctors. Some of the investors include Hummingbird Ventures, 3one4Capital, Mirae Assets, Verlinvest, Aditya Birla Ventures, Binny Bansal and Rohit MA, among others.
ElasticRun
A B2B online commerce unicorn focussed on rural markets, ElasticRun offers merchants goods directly from brands. It also offers logistics and warehousing support to clients, working with 400 brands in over 80,000 villages across 26 states. Investors: SoftBank Group, Prosus Ventures, Goldman Sachs, Chimera and InnoVen Capital.
Porter
Founded in 2014, Porter offers a last-mile, intra-city logistics platform. The startup works with over 3 lakh owner-drivers and claims to have serviced over 70 lakh customers across 15 cities in India. Some of its services include on-demand marketplace for LCVs and bikes, Porter for Enterprise and Packers & Movers. Investors: Tiger Global Management, Vitruvian Partners, Sequoia Capital, InnoVen Capital and Lightrock India.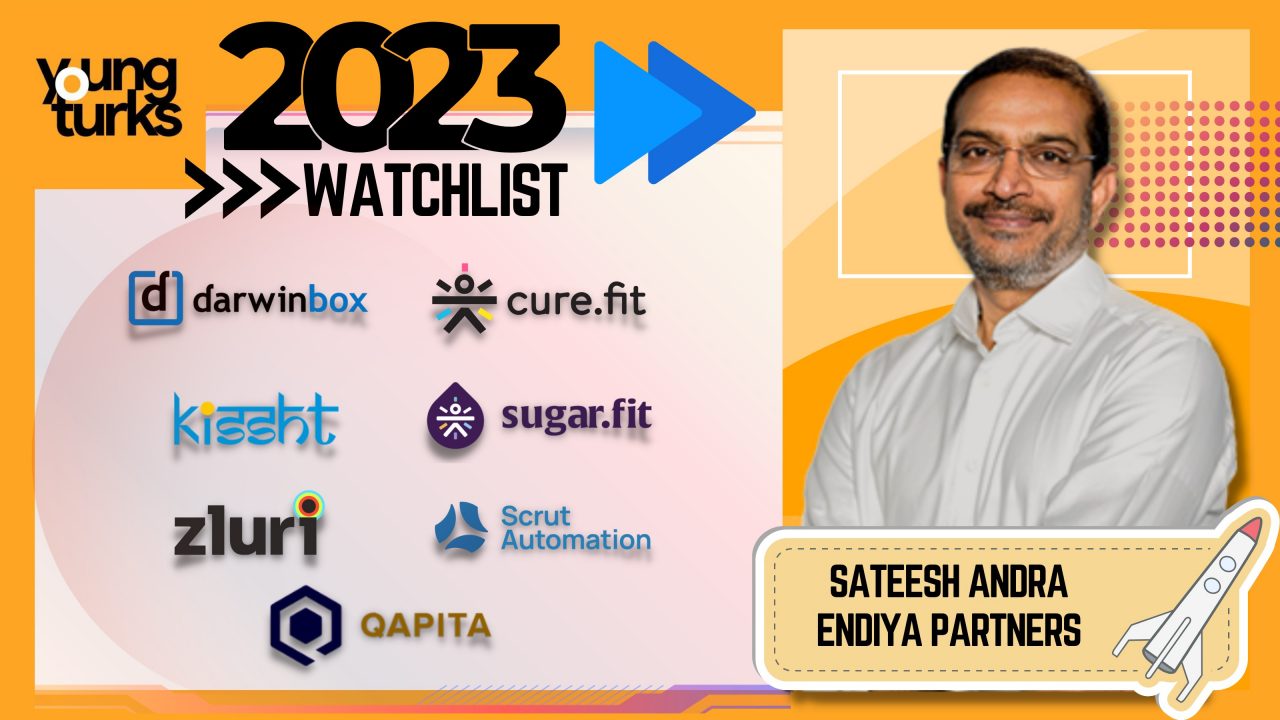 Sateesh Andra, Managing Director, Endiya Partners
HOT TAKE: "Funding environment will get tougher especially for late stage startups (Series C onwards). Many of them have to earn significantly more revenue to sustain even their current valuations. Companies with ridiculous valuations, high burn and with not a lot of cash will find it difficult to survive. Lot of consolidation (M&As) will happen as the IPO bar would be very high. Early Stage (Seed/Series A) deals will continue to happen at a decent pace."
IN FOCUS: "Bullish on SaaS with a focus on Asia as well as global markets, cyber security & compliance, Digital Health especially point of care diagnostics and wellness and deeptech (including climate tech)."
Sateesh Andra's 2023 Watchlist
Darwinbox
Founded in 2015, Darwinbox is a cloud-based HR technology platform that caters to an organisation's human resource needs across the employee lifecycle. The unicorn startup claims to have two million users and 700 clients, including JSW, Adani, Vedanta, Mahindra, Kotak, NSE, Ujjivan, Makemytrip, Swiggy, Nivea, Starbucks, and Dominos. Earlier in 2021, Tata Digital invested $75 million and some of the other investors on the cap table include TCV, Salesforce Ventures, Sequoia, Lightspeed, Endiya Partners, 3One4Capital, SCB 10X and JGDE.
Cure.fit
Founded in 2016, the Tata and Zomato-backed company operates premium gyms, offers online training and runs CultSport — a D2C ecommerce platform for sports goods and at-home fitness equipment. The unicorn company says its fitness business has turned operationally profitable after moving to an asset-light, franchisee model during the pandemic. Currently, one out of four centres are operated by franchisees. The company is aiming to hit 1,000 centres in 2023. With CultSport, Cult.fit is also targeting company-level EBITDA profitability in FY24.
Kissht
Kissht runs an instant-line-of-credit platform that enables 'Buy Now, Pay Later' for consumers to make digital purchases. The startup aims to issue 10 million millennial-focussed BNPL cards called Ring by the end of 2023. The startup's investors include Brunei Investment Agency, Vertex Growth Fund, Northern Arc, Trifecta Capital, Sistema Asia Capital, Vertex Ventures, Endiya Partners and VenturEast. For FY22, Kissht reported a 3x growth in revenue to Rs 513 crore and a consolidated profit of Rs 62 crore.
Sugar.fit
Founded in 2021 by Cure.fit, the healthtech startup helps users manage and reverse diabetes. Currently operational in Bengaluru and Delhi-NCR, the startup plans to expand its presence to 10 cities. Investors include Cure.fit, Endiya Partners and Tanglin Venture Partners.
Zluri
An enterprise SaaS management platform for IT teams, Zluri helps organisations discover, manage, optimise and automate their SaaS applications from a single dashboard. Zluri claims to have over 100 clients across North American and Asian markets. Investors include MassMutual Ventures, Endiya Partners and Kalaari Capital.
Scrut
Founded in 2021, Scrut is a full-stack information security compliance platform that automates bulk of labour-intensive compliance tasks by integrating with cloud and SaaS tools. With investors such as Lightspeed and Endiya Partners backing it, the startup aims to create a marketplace for information security resources.
Qapita
Qapita is a digital equity management platform, which enables capitalisation table management and employee stock ownership plan (ESOP) management, among other services. The startup aims to build a network of startups, employees and investors to digitally enable private capital market transactions. Investors include Vulcan Capital, East Ventures, MassMutual Ventures, Endiya Partners, Citibank and NYCA Capital.
Sushma Kaushik, Aavishkaar Capital
HOT TAKE: "As much as I would like to believe that 2023 will be a good year, I think we will continue to see some more pain as some big economies go into recession. India continues to enjoy strong macros, but the VC/Startup ecosystem will face some liquidity challenges. Hence, the irrational spends that startups saw in 2019-21 will reduce. Startups will need to start focusing on better unit economics and not just growth metrics. VCs will start asking difficult questions around financial metrics."
IN FOCUS: "We are an impact investor and will continue to focus and double down on our key sectors: Agri/Agritech, Financial Inclusion and Climatetech. Impact sectors have repeatedly demonstrated strong resilience and discipline. Many of our portfolio companies continue to demonstrate healthy growth with positive unit economics and profitability. We will double down on those sectors and startups."
Sushma Kaushik's 2023 Wishlist
Agrostar
An end-to-end agri ecommerce platform, Agrostar is a multilingual app for farmers to interact with others, troubleshoot farming issues and buy agricultural inputs. The startup leverages data and technology to solve farmers' problems of access to good quality inputs. Investors: Evolvence, Schroders Capital, Hero Enterprise, CDC, Aavishkaar Capital, Accel, Bertelsmann, Chiratae Ventures and Rabo Frontier Ventures.
Chqbook
A neo-bank for small business owners, Chqbook offers financial services to kiranas, merchants, chemists, and all others running proprietorship businesses. Chqbook seeks to empower the massively underserved segment of MSMEs to drive financial inclusion. It offers small business owners a digital current account, instant business loans and insurance. Investors: Aavishkaar Capital, Innoven Capital, Rajiv Dadlani Group, Earlsfield Capital U.K., and others.
Let's Recycle
Founded in 2006, Let's Recycle is a city-based waste management company. The platform integrates all the stakeholders of the waste management ecosystem with a value chain for both recyclables and non-recyclables. Let's Recycle claims to process over 500 tonnes of waste per day across Ahmedabad, Indore and Pune. Investors: Aavishkaar Capital and Circulate Capital.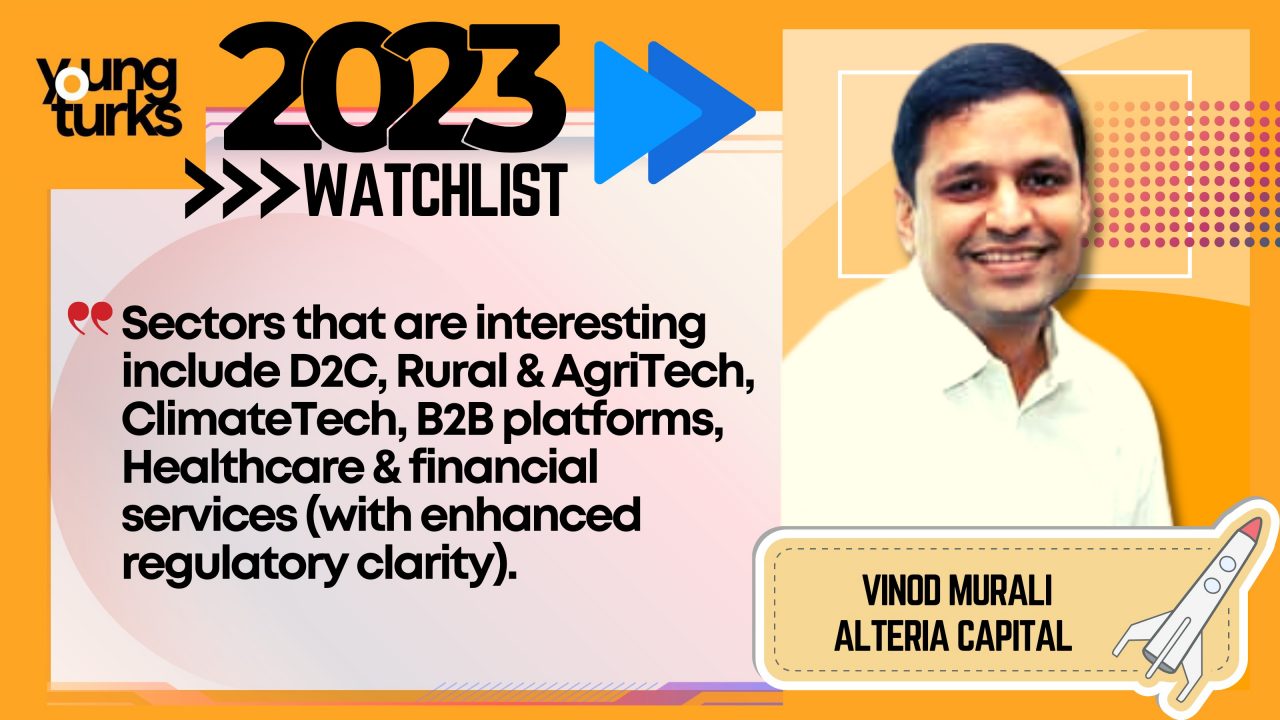 Vinod Murali, Managing Partner, Alteria Capital
HOT TAKE: "In my view, 2023 should be better than 2022 overall from an ecosystem perspective. We are already seeing momentum come back into early-stage deals but valuations are still depressed which is quite inevitable. H1 2023 will likely see an increased pace of activity and as companies show healthy growth with better unit economics, capital should also find its natural destinations. We also expect to see more existing investor-led bridge rounds as well as convertible structures to help tide through valuation mismatches. Category leaders in deep segments continue to attract growth capital even in these difficult conditions."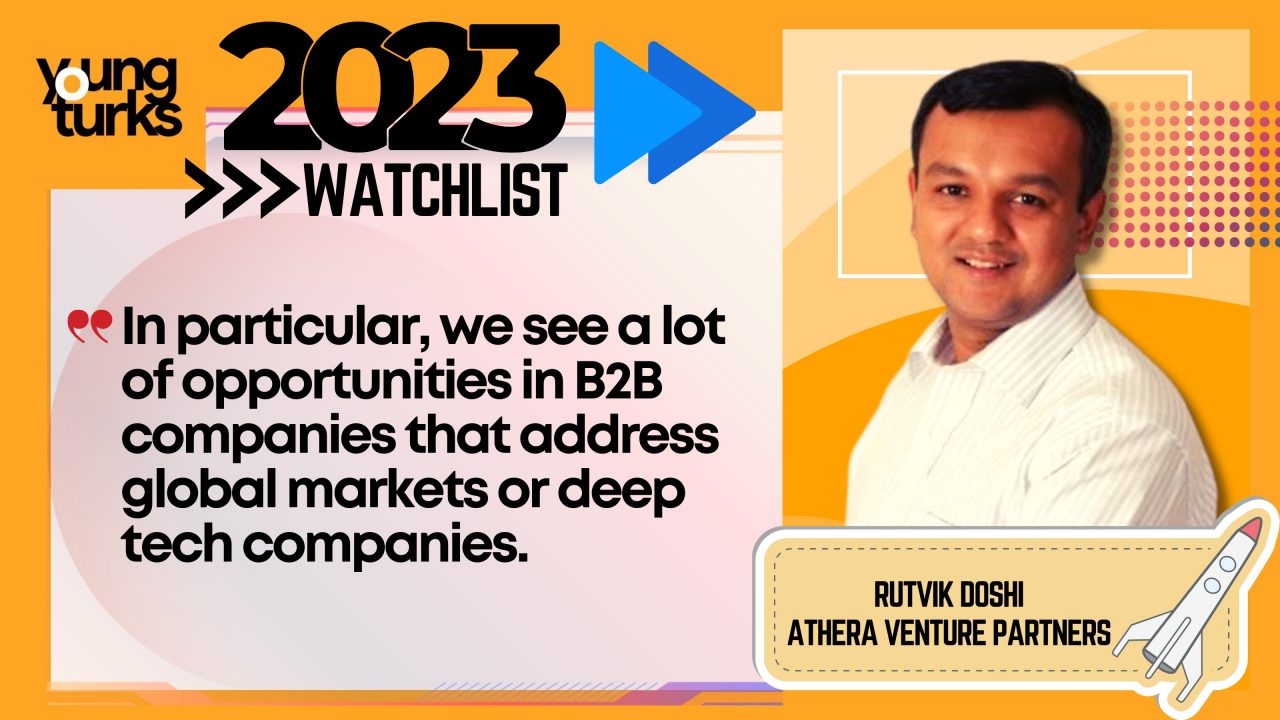 Rutvik Doshi, MD & General Partner, Athera Venture Partners
HOT TAKE: "2023 will not be an easy year for startups to raise capital. However, the good news is that there is still significant dry powder in the market and good companies will get funded. The startups will be subject to stronger scrutiny and will have to demonstrate positive unit economics and a sustainable business model will be important for investors. Good entrepreneurs understand the constrained nature of funding and are able to improve productivity and steer the companies toward sustainable growth and attract investments."
"We at Athera Venture Partners believe that 2023 will be a great year for investing for those with dry powder. When we look back at our history some of our best investments were made during downturns (redBus in 2009 just after the financial crisis and PolicyBazaar in 2013). We will continue to look for stellar entrepreneurs building long-lasting businesses and continue to fund them."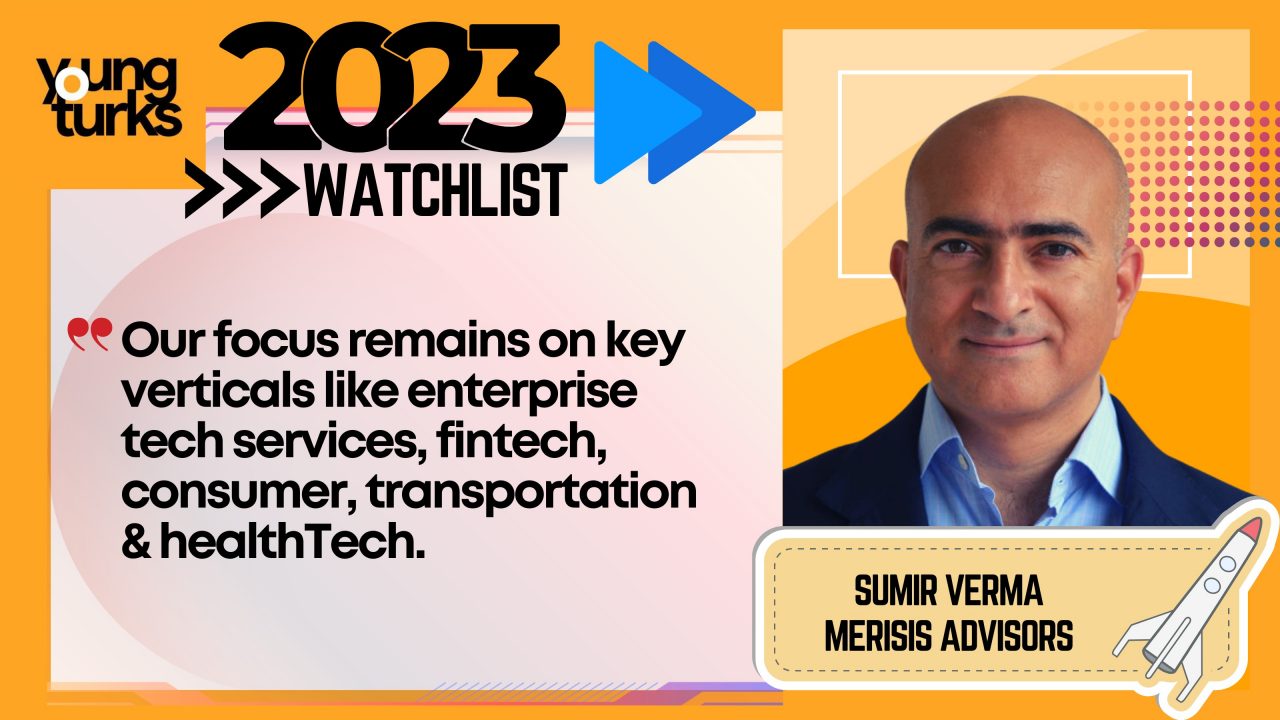 Sumir Verma, Managing Director, Merisis Advisors
HOT TAKE: "The VC-level funding has considerably dried up in the back half of 2022, but this doesn't mean that all funding activity has ceased. The ecosystem has changed along two dimensions, though:
1) The filters and evaluation have become much tighter and only the top-performing companies and themes are being picked up.
2) Valuations have softened at every stage of fundraising.
"We anticipate that the first half of 2023 will continue seeing tighter purse strings from VCs, and from our conversations with founders, it seems most of them have hunkered down to weather H1CY23. In terms of the clouds settling, we anticipate a mean reversion of the first dimension but foresee the trend of price correction sticking around beyond it. Our view: funding activity will resume post Q1FY24 — albeit not to the levels of 2020-21."
(Edited by : Anushka Sharma)
First Published: Jan 6, 2023 9:52 PM IST