Sukhinder Singh does not remember details of the last whisky he bought to further embellish his over 12,000-strong collection. But he can tell you what to pick up right now. "Chichibu, a peated 2018 release. It's exceptional," he says. That must indeed be the case, because Singh knows what he is talking about. Along with his brother Rajbir, he runs the London-based The Whisky Exchange (TWE), which is the world's biggest online drinks retailer, and especially a champion of old and rare whiskies and single cask bottlings. Singh co-founded the marketplace in 1999 at the dawn of the internet age, "an exceedingly lonely time". Today, TWE, which has a turnover of over 50 million pounds, sells about 40,000 to 50,000 bottles per month to customers in 55 countries, and the customer profile is unlike anything he had expected when he set up TWE.
"Twenty years ago, whisky was something your father drank, at least in England. Now, people who drink it are much younger, more clued in," says Singh. He summons the example of the Black Bowmore 1964, which he sold in the late 1990s for about 60 pounds and which now sells for 10,000 pounds.
Sukhinder Singh, 51, has always been around spirits. His parents were the first Asians to be granted a licence to sell alcohol, in 1971, and Singh and Rajbir grew up helping their parents turn their off-licence, The Nest, in Hanwell, west London, into an award-winning establishment. As a young man, Singh even had a miniature collection of over 7,000 bottles, but all that changed when he encountered a bottle, a large one, of Kirkliston Pure Malt in Scotland. "I had never heard of it. It was a distillery that had shut down in the 1930s, and I found that fascinating," says Singh. He bought the bottle right there. With that serendipitous discovery, he plunged into the world of old and rare whiskies, and that affinity is clearly reflected on the TWE website. "It was a specialist market back then, even for single malt. There was not much information going around about these whiskys." But, over time, Singh established supply lines with both large and little known distilleries, and kept feeding the market, which included himself and his friends, and later via TWE.
If you are the collecting sort, Singh suggests picking up some good, aged stock. "Their prices are only going to go up. But pick something you like drinking. In case, things don't go according to plan, you can always drink the whiskies," he says.
The Whisky Exchange does not ship to India for obvious reasons, and Singh finds that to be a pity. "We get an immense amount of web traffic — the fourth largest — from India, which means there is a lot of curiosity about whisky, but I don't think I should be expecting customs duties to be lowered anytime soon."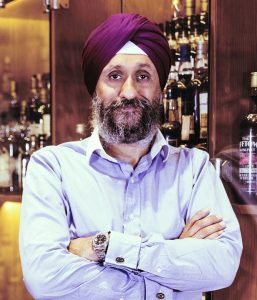 Sukhinder Singh has always been around spirits.
The Whisky Exchange, which also has two massive physical outlets in London, has an inventory of over 4,000 whiskies, 500 cognacs and armagnacs, and as many gins, bourbons and tequilas, but Singh's latest project is a classification of rums. "Rum is an exceedingly fine spirit. It has history and great stories, but there is no regulation. Distilleries add sugar, add colour, caramel, but don't necessarily provide accurate information. That's what we are trying to set right," says Singh. TWE has classified rums into single and 'multi-distillery' blends; divided them into flavour camps; and has also introduced technical classifications (taking into account distillation in column stills and pot stills and so on).
Singh's favourite rum is Foursquare, from Barbados, and if you are into rum, he wants to keep an eye out for its Criterion expression. "It's a pure rum, no colour, no additives, and it's been aged for 10 years in a combination of ex-bourbon and ex-madiera casks," he says. Singh is also a great fan of several other Caribbean and South American rums, but for all his effusiveness about rums, he knows he will always be a whisky man. "There are just so many different expressions, styles, methods… nothing comes close to it. Not gin, not cognac, definitely not vodka. This is the only drink that always has people coming back to it."
The writer works on content strategy at Haymarket SAC.
Read Murali K. Menon's columns here.