There is one thing the first Indian Ceramics Triennale is likely to achieve by the time it ends in November: change the perception of ceramics as a form used to create coffee mugs and fancy dinnerware you may indulge yourself with, and give it a status of fine and conceptual art.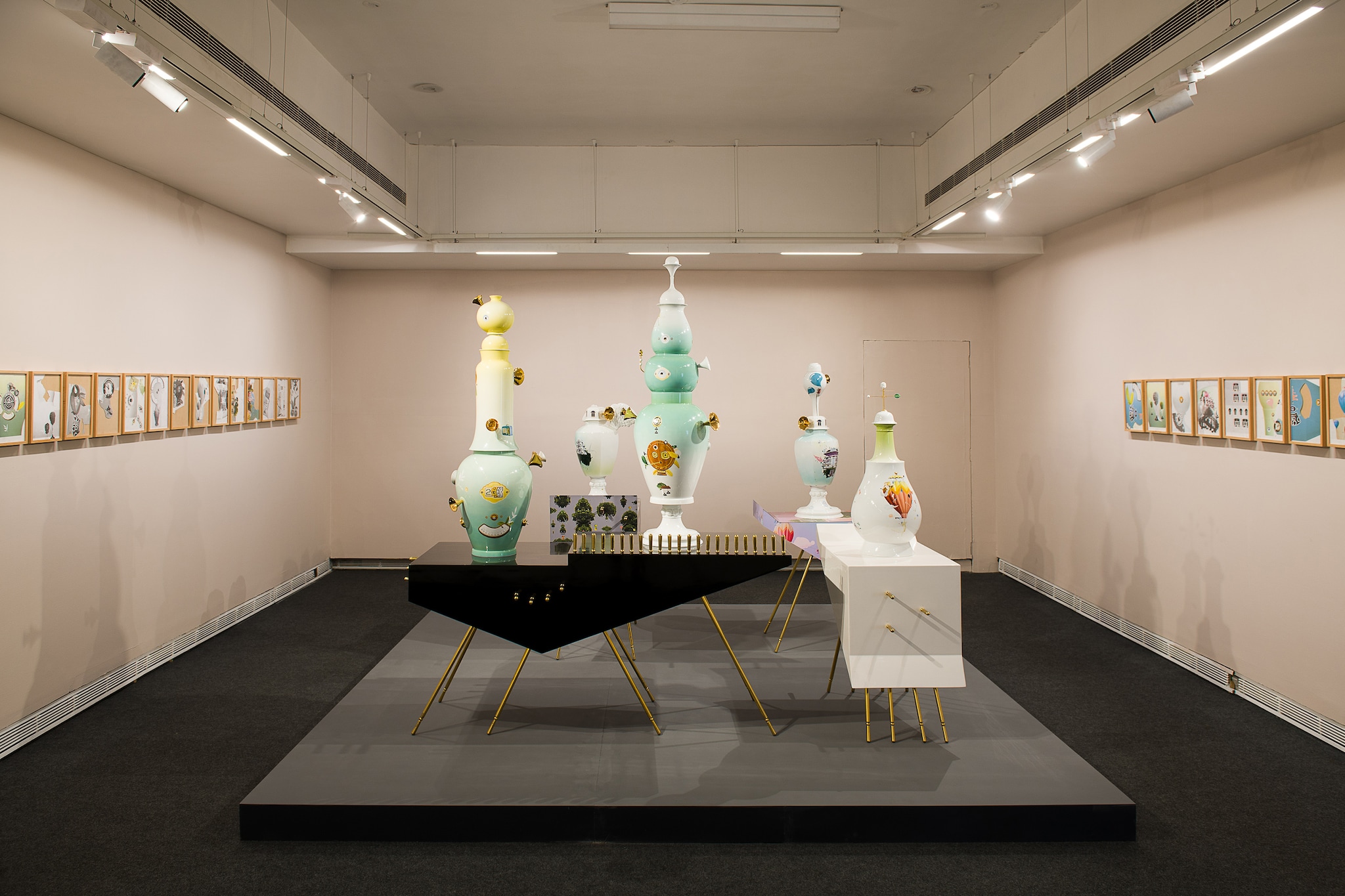 The Triennale called 'Breaking Ground', being hosted at Jaipur's Jawahar Kala Kendra,
The Triennale called 'Breaking Ground', being hosted at Jaipur's Jawahar Kala Kendra, has 47 artists and ceramics presenting their idea of what new-age ceramic art looks like, and it has definitely evolved beyond mere pottery. The Indian pottery tradition dates back to the Mohenjo-daro Civilization and our museums display the magic we have created with pottery and ceramics. Even global museums such as the Victoria & Albert Museum in London and Museum of Modern Art in New York have an extensive collection of Indian pottery and ceramic art.
What the Triennale hopes to bring to the fore at this recently revitalised cultural centre in Jaipur, is the contemporary artists who are revitalising the art form with their quirky, eclectic work. From monumental pieces that will be fired in-situ, at the site, to 3D printing on clay, a large range of experimental and experiential ceramic art works are fuelling conversations about the coming-of-age of this ancient art form.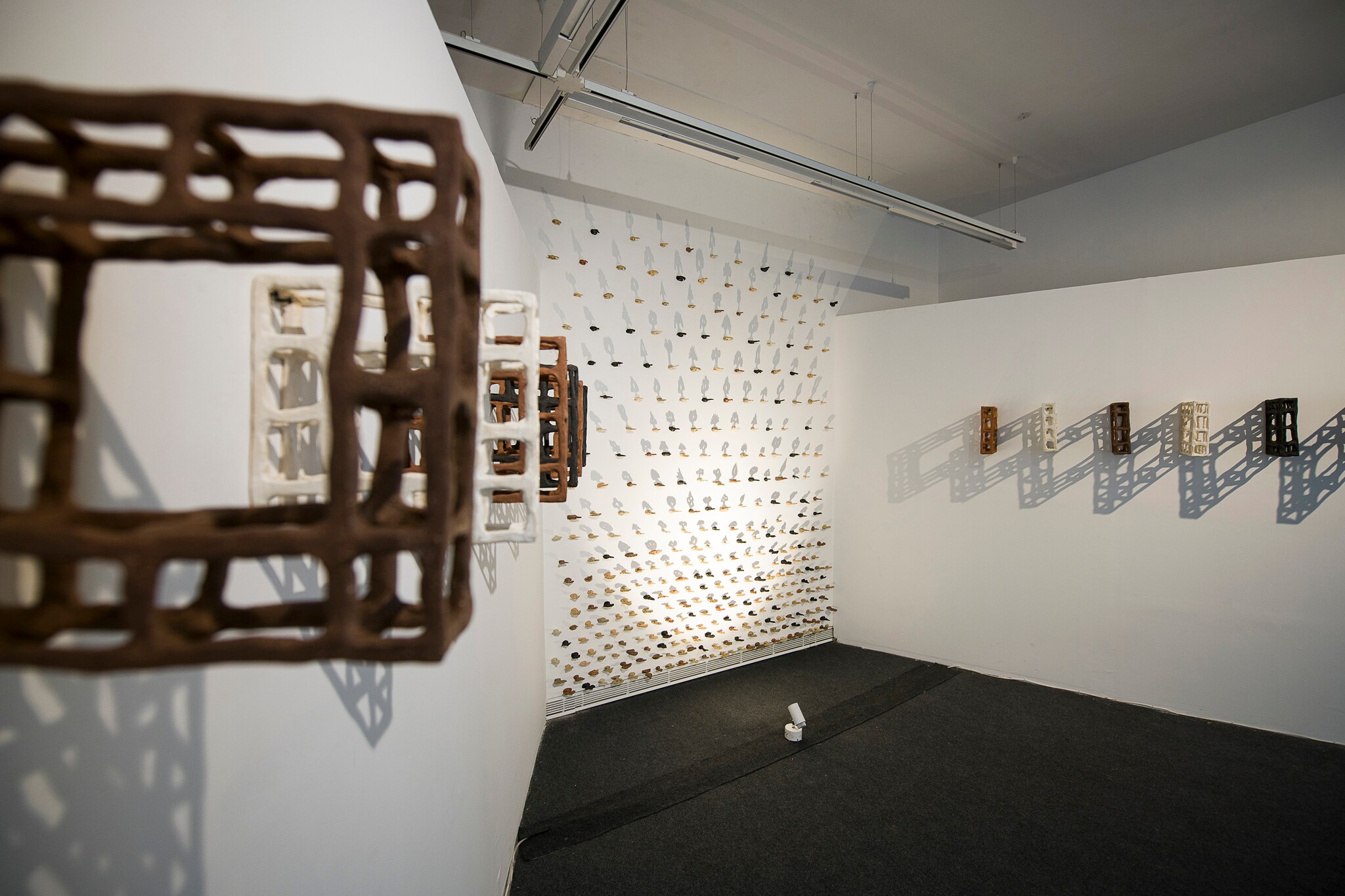 The art at the Triennale is as interesting as it is varied. Shampa Shah's Prithvi Sukta references animals, plants and people to create objects that point to the oneness of things on earth. Rakhee Kane draws inspiration from the traditional jaali or perforated screens from Rajasthan to create their 3D representations in fired and unfired clay. L N Tallur's Man Exhibiting Holes is his take on urban living and how we react to the stressful situations it throws up. Dipalee Daroz has fired objects at very high temperatures, using unpredictable materials such as metal flakes and wires to create other objects that are abstract and challenge how you perceive reality.
Among the ceramicists showing at the Triennale is also Sharbani DasGupta, whose work X-ing? Look both ways references life conflict-ridden borders between countries: India and China, Israel and Palestine, and the US and Mexico. A maze of brick walls has dozens of eyes embedded in them and visitors will be able to see what lies on the other side of the wall, through these eyes. Talk about seeing the world from a different perspective!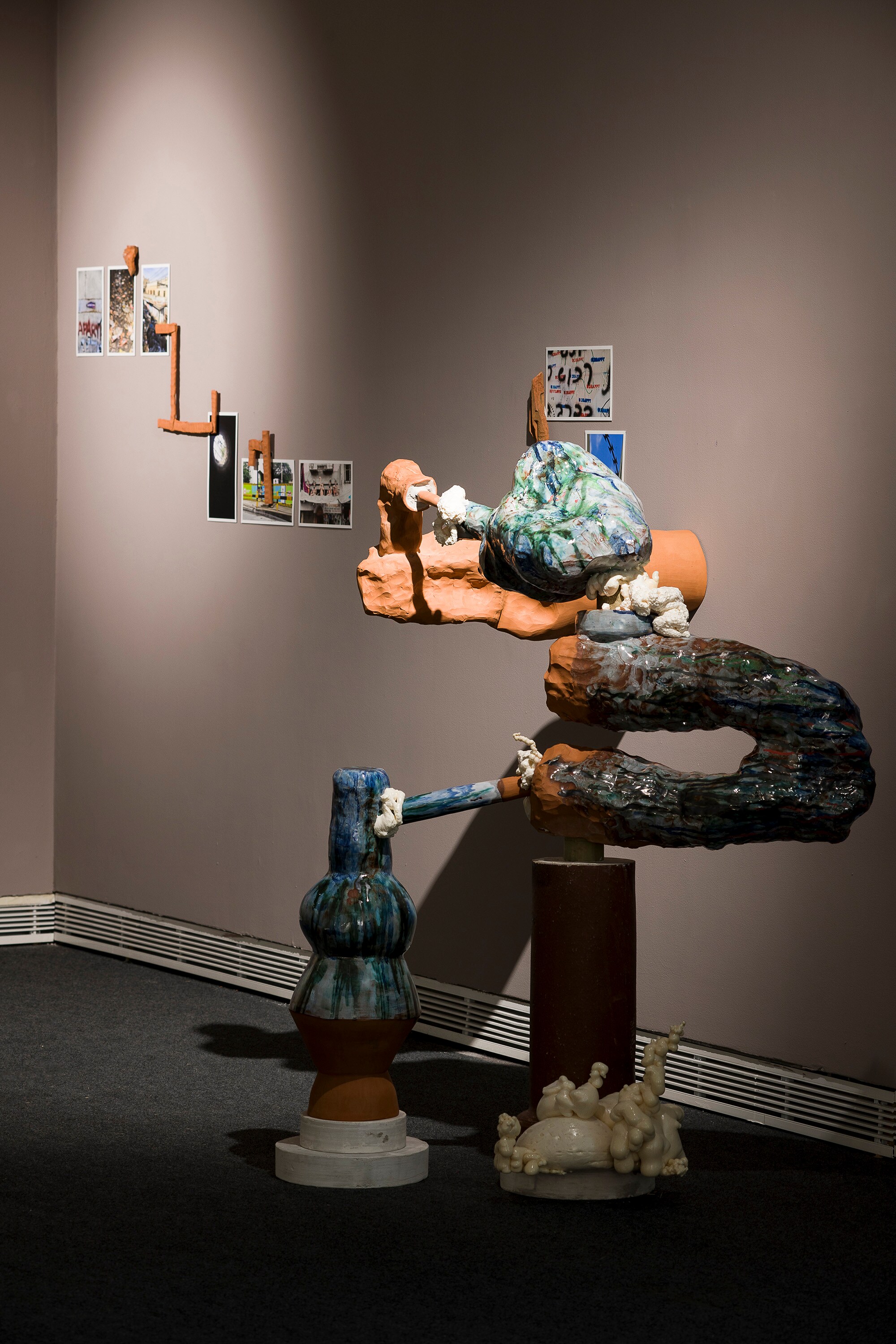 Ray Meeker, who has also mentored a generation of Indian potters and ceramicists, counts X-ing as a very significant work since the context is political and references borders. "Ceramics have been seen, for generations, as an ornamental form of art. The work helps break that perception in interesting new ways. The walls are studded with eyes and the pupils are made of lenses recovered from obsolete projection televisions that invert the image on the opposite side."
Meeker, the famous Pondicherry-based potter, set up the iconic Golden Bridge Pottery with his wife Deborah Smith. Over the years, the two have created several massive ceramic sculptures, such as the one at the entrance of Hyatt Regency, Chennai, in colours of burnt orange and grey blue. It is accentuated by ancient scripts and symbols from the local culture, is created from 17 tonnes of clay, and rises to 21ft height.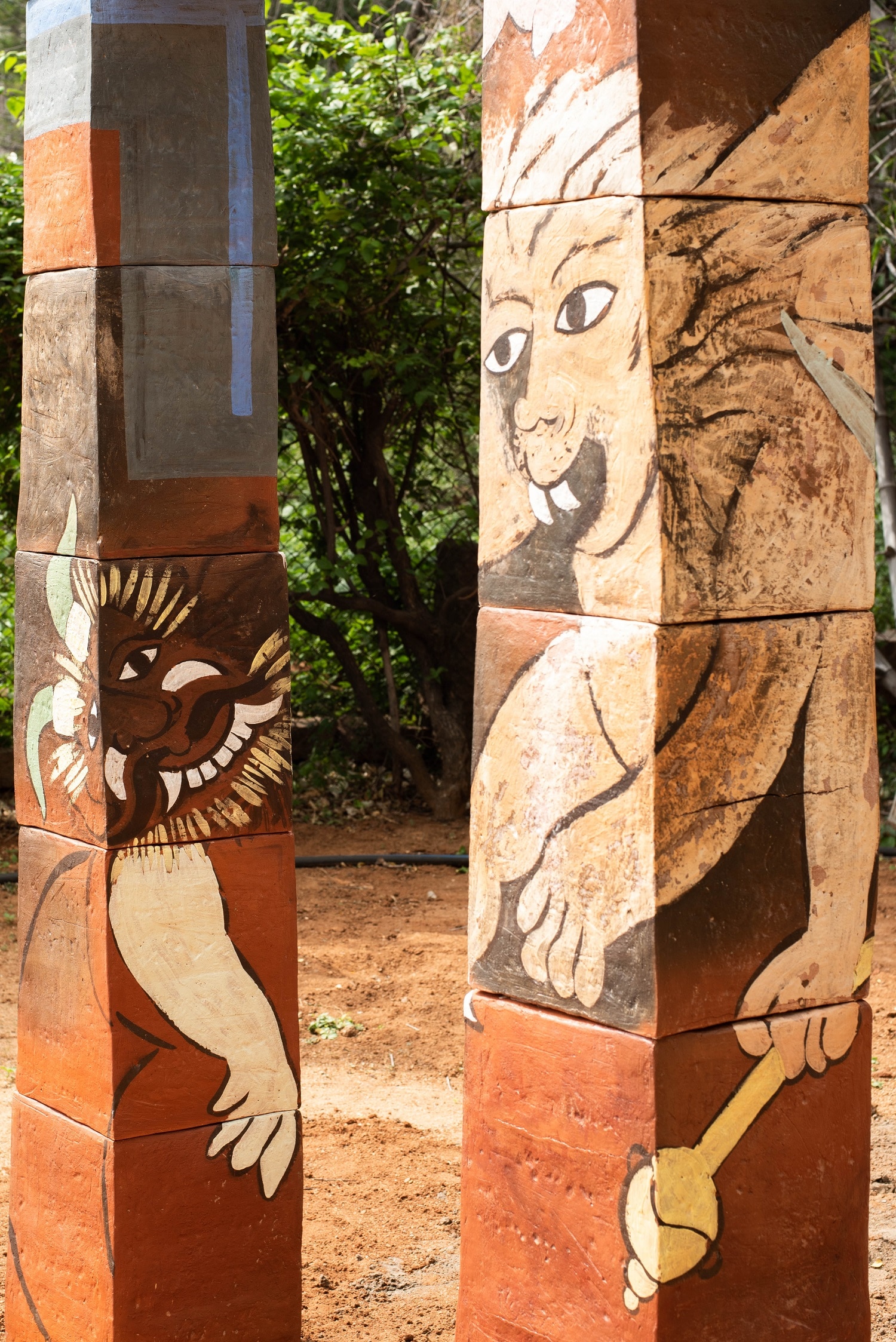 Aarti Vir, Shadow Crossing
Meeker Deborah set up the Golden Bridge Pottery Studio almost 43 years ago. From beautifully designed functional ware and vases to monumental sculptures, their work has taken several forms. The two came to Pondicherry in 1970, attracted by the Ashram. "I always wanted to go back home but one thing led to another, and by the time we realised we have invested a lot here, it was too late to go back," he says. The two began their ceramic career in the mid-1960s at the University of Southern California. "It stood around the corner from the Otis Art Institute where a revolution was underway, led by Peter Voulkos. They challenged age-old tradition-bound pottery to create work that made it to fine art galleries," he says. Fortunately for ceramics and pottery art in India, over the last four decades the couple has infused this dying art with new energy. The two have trained several Indian ceramic artists through their academy.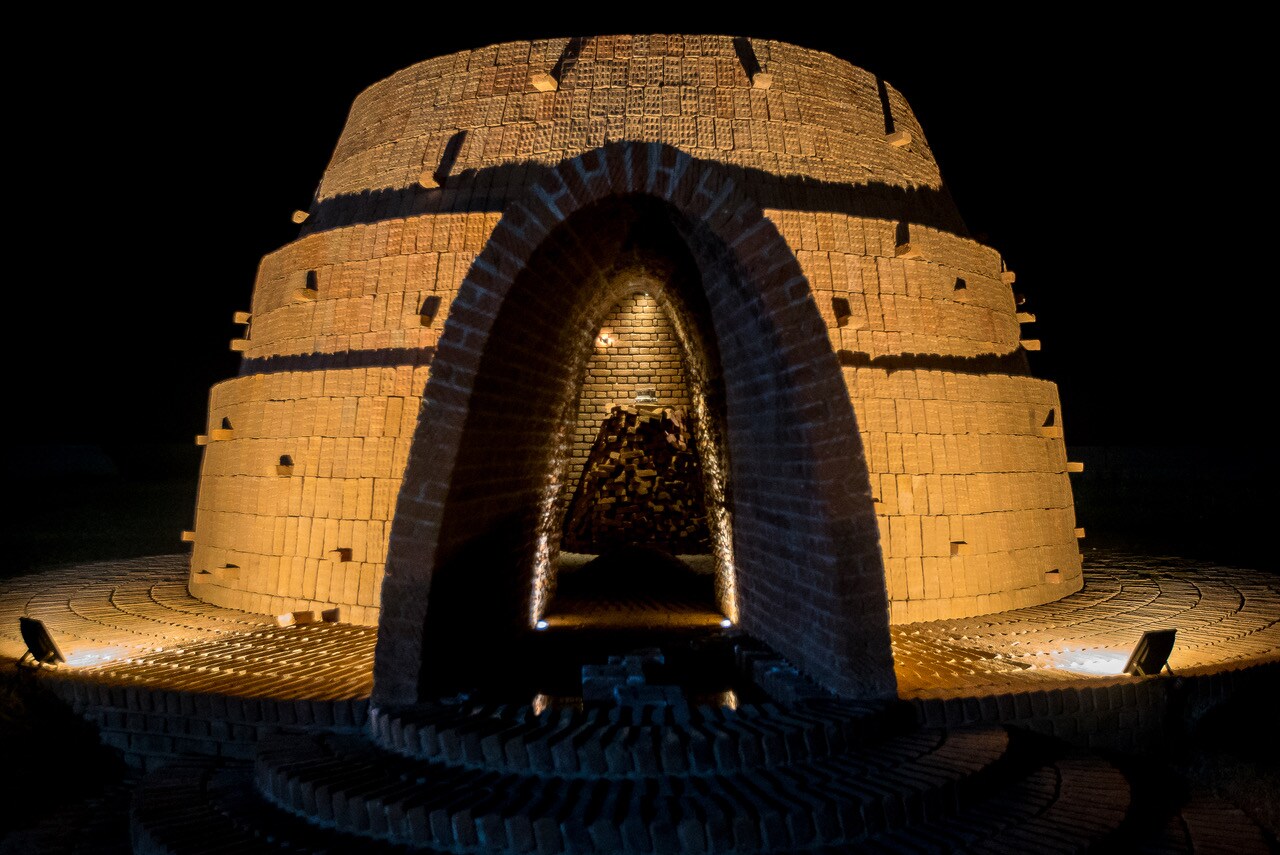 Jaques Kaufman's Ichol at Maihar
The artist-led Triennale, developed in association with Contemporary Clay Foundation (an organisation dedicated to promoting modern form of ceramics), is presenting 35 Indian and 12 international artist projects, 10 collaborations, and a host of speakers. It is curated by Peter Nagy, Director, Nature Morte. "Stalwarts such as P Daroz and (Ray) Meeker, along with a diverse group of both emerging or mid-career Indian artists have taken advantage of the unique spatial possibilities offered by the Jawahar Kala Kendra to produce an array of stimulating, thought-provoking works," he says. "From raw, unfired clay manifestations to interactions with digital technologies, there is enough here to tell you how much the art has evolved." According to Nagy, Indian ceramic artists have been showing their groundbreaking work in shows across the world. "But we felt the need to introduce India to the work being done here through this Triennale."
Among international artists showing at Jaipur, I would recommend the work of British artist Kate Malone, co-presenter of the BBC's popular Great Pottery Throwdown. Her eccentric hand-made pots and intricately ornamented sculptures fall more in the realm of fantasy and surreal art. Jane Perryman's collaborative project of ceramic and sound with Jacques Kaufmann, the president of the UNESCO-affiliated International Academy of Ceramics, has resulted in an architecturally scaled work – an igloo-like structure comprising bricks, bamboo and mirrors, a habitant of sort created by using fired clay.
Deepali Nandwani is a journalist who keeps a close watch on the world of luxury.