In a letter reportedly written by Cafe Coffee Day (CCD) founder VG Siddhartha to the board, which was accessed by CNN-News18, the businessman has said that he failed to create the right profitable business model despite taking best efforts.
"After 37 years, with strong commitment to hard work, having directly created 30,000 jobs in our companies and their subsidiaries, as well as another 20,000 jobs in technology company where I have been a large shareholder since its founding, I have failed to create the right profitable business model despite my best efforts," he said in the letter reportedly written by him on July 27.
According to reports, he got off from his car near a bridge across the river Nethravathi near Mangalore, about 375 KMs from Bengaluru, but did not return even after an hour.
"I fought for a long time but today I gave up as I could not take any more pressure from one of the private equity partners forcing me to buy back shares, a transaction I had partially completed six months ago by borrowing a large sum of money from a friend," he wrote in the letter to the CCD board. "I would like to say I gave it all, I am very sorry to let down all the people that put their trust in me."
CCD is backed by KKR, which owns a 6.07 percent stake in the company, Rivendell PE, which owns 10.61 percent and Affirma Capital, which owns 5.67 percent.
"We have seen the statement that Coffee Day Enterprises has made to the stock exchanges. We are deeply saddened by the developments and our thoughts are with his family at this time. We believe in VG Siddhartha and had invested in the company about 9 years ago. We sold approximately 4.25 percent (of our total holding of approximately 10.3 percent in the company) in February, 2018 on the stock exchange and have not sold any shares before or after," a KKR spokesperson said.
Siddharth further added that tremendous pressure from other lenders led to "me succumbing to the situation."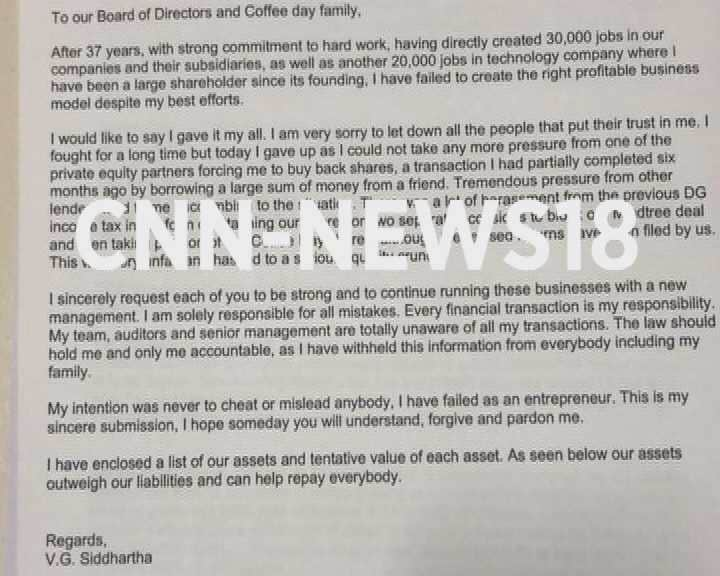 According to his driver, Siddhartha, known as the Coffee king of India, was talking to someone on his mobile phone when he got off from the car near Kotekar.
"There was a lot of harassment from the previous DG-Income Tax in the form of attaching our shares on two separate occasions to block our Mindtree deal and then taking position of our Coffee Day shares, although the revised returns have been filed by us. This was very unfair and has led to a serious liquidity crunch," Siddhartha has written in the letter.
"I am solely responsible for all mistakes. Every financial transaction is my responsibility. My team, auditors and senior management are totally unaware of all my transactions," he added. "My intention was never to cheat or mislead anybody, I have failed as an entrepreneur."
Shares of
Coffee Day Enterprises
hit a 20 percent lower circuit on Tuesday on reports of the founder going missing. The shares traded at Rs 153.40 per share on the NSE.