When the history of Indian modern trade is written, 2018 will be remembered as the year in which this channel breached the double digit mark in terms of contribution to total FMCG sales.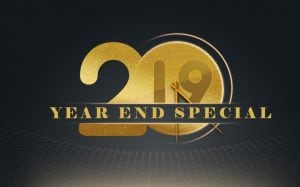 While 10 percent is still much below other Asian peers like Indonesia, China, Thailand, Malaysia and Philippines, it's the recent pace of growth and the imminent promise it holds for the future that has all the stakeholders excited.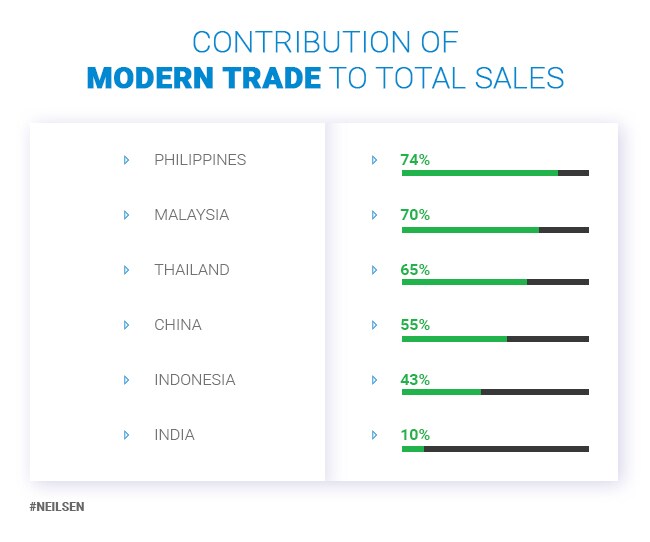 Demonitisation and GST
In the last two years, growth in modern trade (MT) sales (include including brick and mortar retail banners, standalone MT outlets, and eCommerce) has increased substantially with multiple changes in trade and policy environment.
Demonetisation and GST were important policy factors that contributed to the modern trade in the last few years. This, coupled with new stores being added along with the companies' focus on improving same store sales growth has led to sustained growth in MT. The Street has definitely taken note of that and we've seen a manifold increase in the listed retail stocks since 2017.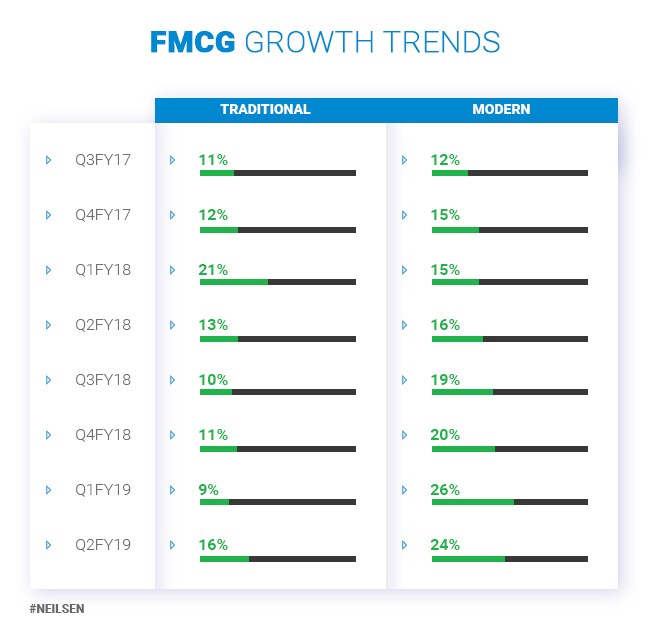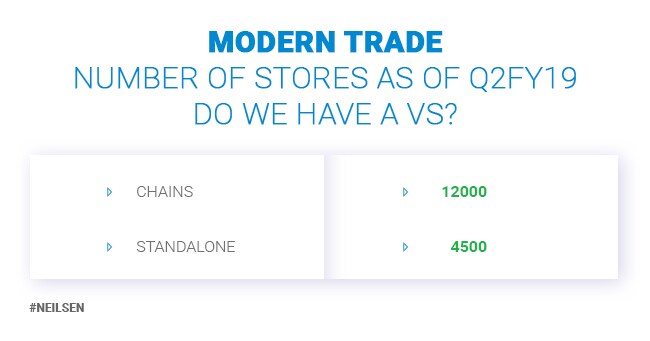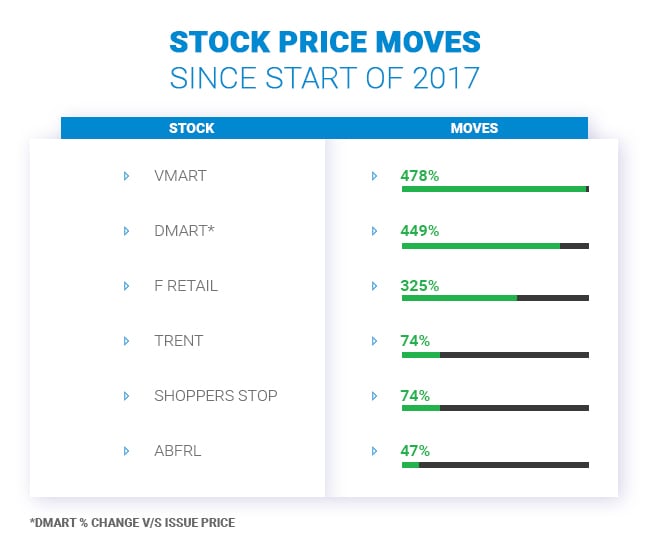 The Evolution Of The Customer
With increasing universe along with favorable policy changes, consumer preference itself has witnessed a slight tilt towards modern trade. A small nudge but a giant leap, as consumer behaviour experts would say, because among the most difficult things to change in the world is consumer behaviour.
The only thing stickier than the way consumers shop for household goods is "Fevi-Kwick." People are buying more, people are buying more on important days, and people are buying more than ever before, on big days.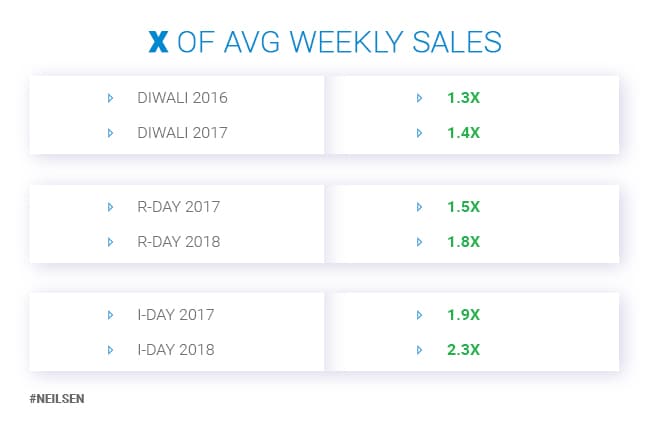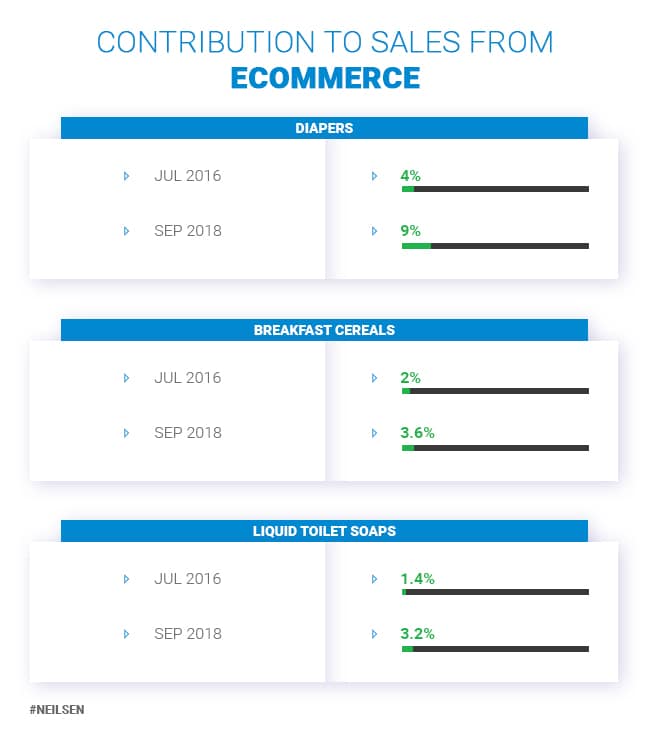 Omni Channel: The Way To Go
Another trend that has become increasingly clear in 2018 is that while the popularity of ecommerce is growing, offline sales haven't dropped. The market is converging. Both ends of the spectrum have understood that their meeting place is somewhere midway at Click and Mortar.
Amazon indicated its interest in offline retail by purchasing Whole Foods in the US in 2017, and further underlined the importance of the same by buying 5 percent stake in Shoppers Stop India. In 2018, Amazon purchased Aditya Birla Group's retail chain 'More' with Samara Capital and reports suggest, it's now in talks with Kishore Biyani's Future Retail for a sub 10 percent stake.
The Big Deal Of 2018
Walmart's $16 billion acquisition of Flipkart was the biggest deal in the ecommerce-retail space ever. This deal is a testament to all that I've mentioned above – accelerating pace of modern trade, huge potential for modern trade in India, expanding universe, evolving customer habits and the future of omni-channel retail, this deal is it. The world's biggest offline modern retailer buying India's largest online retailer is just a trailer of India's modern trade potential.
What People Have Said
Through the course of this year, I also had the opportunity to speak to some eminent experts in the field of modern trade, Damodar Mall, the CEO of Reliance Retail (India's largest retail company) and Neville Noronha, the CEO of DMART (India's most profitable retail company) and they sounded very optimistic about this space too.
"The correct way to look at modern trade is, it is servicing 60 million consumers in India. These 60 million consumers have 2.5x per capita income. This makes Indian modern trade as big a market as Thailand," Damodar Mall told CNBC-TV18 on August 18.
"Indian retail as an opportunity is phenomenal. It is unique in terms of three things constantly working and intersecting with each other. A) Large populations and phenomenal urbanisation/agglomeration towards large cities. B) A deep, vibrant and well entrenched entrepreneurial spirit among Indian traders. C) A strong affinity towards MRP understanding even among the least literate masses of the country," Neville Norohna told CNBC-TV18 on October 29.
What To Look For In 2019
As 2018 draws to a close, the big data points to watch out for in 2019 would be:
Increasing store additions by incumbents and new players.
More products on offer as FMCG companies ramp up innovation.
Another listed player (Spencers) on our courses.
Another deal in Indian retail space (Amazon-Future).
Big Question: Will regulations with respect to foreign ownership in multi-brand retail ease?
Is Their Value?
That's a multi-million dollar question for more than a billion dollar opportunity. For listed stocks, valuations are high, expectations for earnings are higher, so let's see how 2019 turns out.