Let's not get so technical and understand how grave is this plastic problem and where do we stand as a country in terms of plastic consumption and production?
An expert chemist or specialist in
plastics
will be able to list various plastics and the way their properties differ. A layman knows no such distinction. For him, everything and anything that is "plasticky" is plastic. This understanding is mostly derived via elimination, "If it is not made of metal, wood, glass or paper, it is plastic."
The father of plastics, Leo Baekeland once said, "I was trying to make something really hard, but then I thought I should make something really soft instead, that could be moulded into different shapes. That was how I came up with the first plastic. So basically, plastics are polymers: a long chain of molecules joined to one another. Any formless material that can be shaped under heat and circumstances."
Let's not get so technical and understand how grave is this plastic problem and where do we stand as a country in terms of plastic consumption and production?
The
Indian plastic industry
comprises of 30,000 processing units, 85-90 percent of which are small and medium enterprises, employing 4 million people. The market share of unorganised players remains high at 44 percent.
As per the latest available data, India consumes 15 million tonne of plastic every year with per-capita of 11 kilograms, which is well below the world average at 28 kilograms – the USA consumes a whopping 109 kilograms per-capita. Of course, the per capita comparison is not absolutely apt because of the high population that India has, but it is expected to increase by 2022.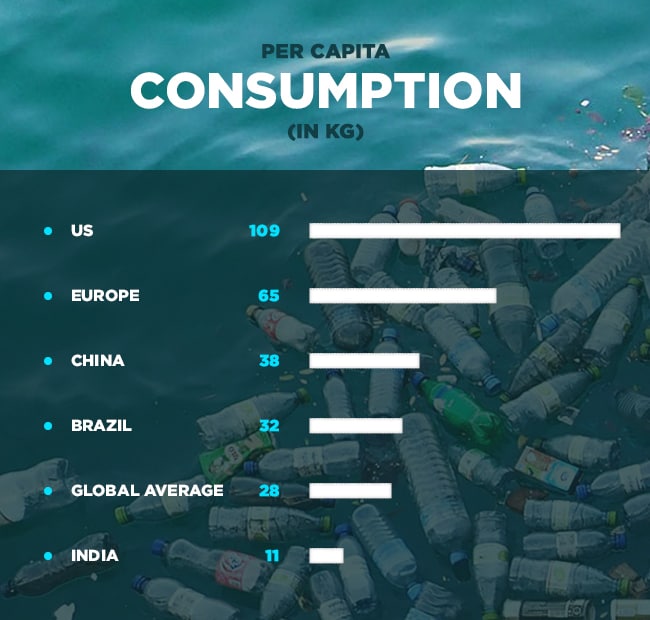 An estimate by the ministry of petroleum and natural gas suggested that the annual per capita consumption in India would be 20 kilograms by 2022. Top plastic users in India are packaging (43 percent), infrastructure (21 percent) and autos (16 percent). India generates 26 kilograms of plastic waste every day, of which 16.5 kilograms is just bags.
Just 15 percent of urban plastic is processed, while rest is dumped in landfills or reaches the ocean. Around 0.6 million tonne of plastic waste ends up in the sea pa, impacting the ocean ecosystem.
According to a September 2017 report by the Central Pollution Control Board (CPCB), which extrapolated data from 60 major cities, the country generates around 25,940 tonne of plastic waste a day, "About 94 percent of this comprises thermoplastic, such as PET (polyethylene terephthalate) and PVC (polyvinyl chloride), which is recyclable. The remaining belongs to thermoset and other categories of plastics, such as sheet moulding compound (SMC), fibre reinforced plastic (FRP) and multi-layer thermocol, which are non-recyclable."
India's metros generate more than 1,670 tonne of plastic waste per day which is over 40 percent of the plastic waste produced in India's major cities. Average plastic generation in India is 4,059 tonnes per day and average plastic waste share in municipal solid waste in India is 6.92 percent.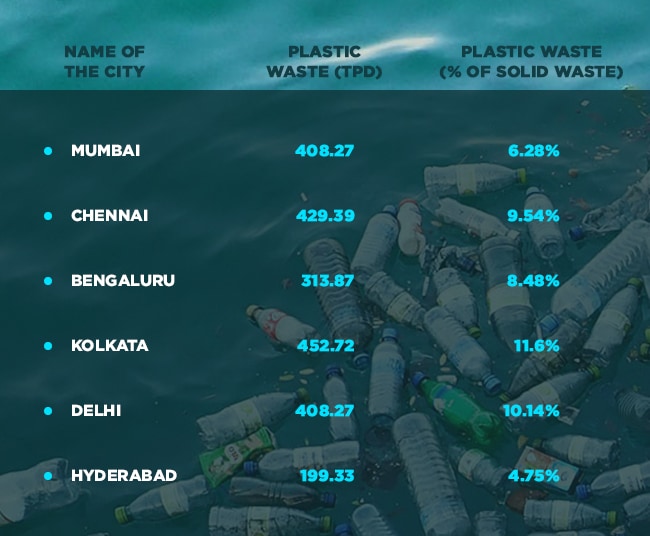 Plastic reportedly takes at least 500 years to breakdown in landfills. As per Ocean Conservancy's International Cleanup report, cigarette butts were the most common pick-up at 1.9 billion, while takeaway containers stood 10th (0.4 million pick-ups). Out of 10 most polluted rivers in the Asia Pacific, two are from India namely Ganges and Indus.
First Published: Sept 21, 2019 2:05 PM IST