Mini
Traditional yardsticks of success like marrying at a certain age, having children, buying a house or a fixed retirement age do not apply to this group.
As you drive through any Indian metropolis, you are bound to come across giant billboards selling the dream of living in swanky high-rises with all modern amenities, but millennials, of late, are not too keen on buying a home.
There are several reasons for this behaviour and that include personal preference and economic considerations.
The millennial mindset
Interestingly, with a new generation comes a shift in value and culture. Millennials are not so keen on home ownership like the previous generations. Typically, millennials or Generation Y include people born between early 80s and 2000s. Traditional yardsticks of success like marrying at a certain age, having children, buying a house and a fixed retirement age do not apply to this group. Instead they are more focussed on their jobs, give themselves time to find a life partner and look for financial freedom rather than ownership of assets. This paradigm shift in mindset compared to previous generations has also meant that millennials shy away from long-term financial obligations which come with buying a home. Connectivity to the workplace, convenience and security is important, but owning their own home, not that much so.
Due to the nature of their jobs, millennials seek mobility and don't want to stick to one geography. Renting offers more flexibility and freedom of moving base when a more exciting job opportunity presents itself. Millennials also prefer staying close to business districts on rent as residential apartments there are relatively costlier to buy.
The EMI-to-rent ratio
One of the considerations when buying a property is of course affordability. The rent of a certain property is always less than the EMI one would be paying. But when the difference between EMI and rent is not very much, there is a case for buying as unlike rent, EMIs help in building an asset. In India due to relatively higher price, the EMI-to-rental ratio is very high.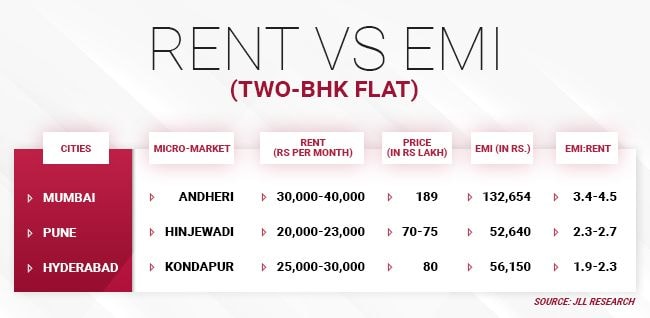 Let us take an example of Andheri West, a posh suburban locality in Mumbai. A two BHK apartment would cost around Rs 1.8 crore. Assuming a down payment of 20 percent (Rs 36 lakh), one has to take a loan of Rs 1.44 crore. If we consider a tenure of 20 years and an interest rate of 9 percent per annum, the EMI comes out to be Rs 132,654. The monthly rent for a similar property would be in a range of Rs 30,000-Rs 40,000.
That is a pretty high EMI-to-rent ratio greater than 3. The ratio in similar localities in other major cities would be relatively less, but still very high. Further millennials prefer to stay near their workplace as it decreases commute time and improves quality of life, but property prices in upmarket areas are well beyond reach making renting the only option.
This is a definite reason why millennials prefer renting instead of buying. JLL Research estimates the demand for rental housing in three major cities -- Delhi NCR, Bengaluru and Mumbai -- to grow to 4.4 million in 2021, up from 2.9 million in 2011, at CAGR of 4.3 percent.
Co-living spaces -- a new trend
While rental housing is getting more organised, the fact that millennials prefer sharing to ownership and are shying away from home ownership in favour of renting has also given rise to the concept of co-living spaces. Based on the 'plug-and-play' model, co-living helps the residents share amenities like wi-fi, phone, housekeeping, laundry, water, entertainment. Also, they share kitchen, bathroom, living areas and pantry. It's like a home away from a home.
With property prices rising in gateway cities, co-living offers residents shorter and more flexible lease terms compared to condominiums, as well as ready-to-move-in convenience. Along with that comes the convenience of surplus benefits like electricity, water, gas, all-inclusive with the rent. Hence, millennials are willing to pay a premium for their stay in an organised set-up as this saves them from chores like separate bill payments.
Players in co-living space such as Zolostays, CoLive, Stanza Living and CoHo have operations in cities such as Delhi NCR, Bengaluru, Pune and Hyderabad. Investors have also showed interest in these startups, sensing a growth in demand. While in a traditional rental set-up investors get a yield of around 2-3.5 percent, in case of co-living, the yields can almost double or even increase to 2.5-3 times in case of customised co-living spaces.
Given that demand is increasing and there is relevant supply too, we at JLL India believe that co-living space is set to grow significantly in the future.
'Generation rent' is thus a phrase that is apt for millennials and the real estate industry needs to be well equipped to adjust to this new paradigm.
Samantak Das is Chief Economist and Head of Research and REIS at JLL India.