An exit poll from the first phase of the
Lok Sabha elections
predicted on Sunday the DMK-Congress alliance winning 22-24 seats in Tamil Nadu, beating the AIADMK-BJP coalition's 14-16 seats.
The News18-Ipsos exit poll showed the DMK triumphing in 12-14 seats and Congress securing 3-5 seats. The ruling AIADMK was tipped to win 8-10 seats and the BJP 1-2 seats.
Ipsos is the world's top international pollster that boasts a solid track record of predicting the electoral outcomes of several elections around the world with accuracy.
The AIDMK tally will be crucial to the BJP-led
National Democratic Alliance
retaining power, handing Prime Minister Narendra Modi another five-year term.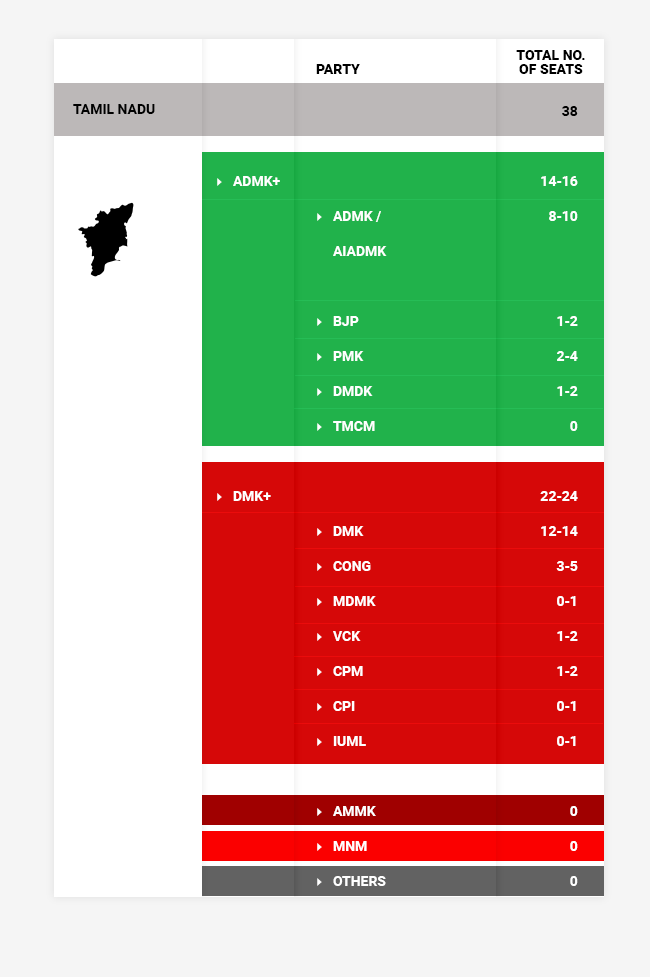 The RepublicTV-CVoter predicts 27 seats in favour of the UPA and 11 to NDA.
To envisage the number of seats
likely to be won by each of the political parties (or alliances) contesting the general election, a total of 199 parliamentary constituencies were selected out of 543 across 28 states of India. Within the parliamentary constituencies, 796 assembly constituencies were selected, and then 4,776 individual polling station areas were selected for conducting interviews. In each polling station, around 25 voters were randomly selected depending on the terrain and voter turnouts in that particular polling station. A total of 1,21,542 voters were interviewed from the 199 constituencies.
India's parliament has a total of 545 seats, out of which the BJP won 282 in the previous general election in 2014 to secure a single-party majority for the first time in around three decades.
Indians voted in the seventh and final phase of national elections on Sunday, wrapping up a roughly six-week-long punishing and a bitterly-fought election campaign that often turned ugly with politicians hurling personal insults at each other.
Counting of votes is scheduled for May 23.