Sushma Swaraj, former foreign minister and a popular senior BJP leader, passed away at the age of 67 on Tuesday night following a cardiac arrest. Leaders from across the political spectrum condoled the
death of Swaraj
. The mortal remains of BJP leader Sushma Swaraj are being shifted to the party headquarters. President Ram Nath Kovind, Prime Minister Narendra Modi and top party leaders, including UPA chairperson Sonia Gandhi, were among the hundreds of people who paid their last respects to former external affairs minister Sushma Swaraj at her residence.
Follow the latest updates here:
Actor-politician Shatrughan Sinha on Wednesday said he was deeply saddened by the sudden demise of "dear family friend" Sushma Swaraj with whom he had a long association. Sinha, who quit BJP to join Congress on the eve of 2019 general elections, fondly remembered his relationship with
Swaraj, former external affairs minister, who passed away Tuesday night in Delhi.
6:46 PM: Sports fraternity condoles death of Sushma Swaraj
India's sporting fraternity, led by cricket captain Virat Kohli, mourned the demise of former External Affairs Minister Sushma Swaraj, on Wednesday.
Swaraj passed away at the All India Institute of Medical Sciences (AIIMS) in New Delhi on Tuesday night after suffering a cardiac arrest. She was 67.
"Deeply saddened by the news of Sushma Ji's demise, may her soul rest in peace," Kohli wrote on his twitter page.
Sports Minister Kiren Rijiju said Swaraj will always live in the hearts and minds of the people.
"I have no words left with me at this point of time. She truly lived for the motherland INDIA. Sushma ji, you will forever live in our heart and mind," he said.
2.55 PM: Bansuri Swaraj and Swaraj Kaushal pay salute as state honours are accorded to Sushma Swaraj
2.30 PM: BJP workers gather outside HQ
BJP workers and mourners on Wednesday gathered in large numbers at the party headquarters on Wednesday to pay their last respects to Sushma Swaraj, veteran leader, former external affairs minister and also "didi" to many of them.
Some cried inconsolably and others fought back their tears as top party leaders, including BJP president Amit Shah and working president J P Nadda, covered Swaraj's body with the national flag and paid their tributes.
Crowds chanted "Jab tak suraj chand rahega didi tera naam rahega" (Her name will endure till as long as the Sun and the Moon), bidding her goodbye after the hearse carrying her left her home.
2.01 PM: Amit Sha, JP Nadda pay tribute to Swaraj
1.14 PM: Amit Shah says Sushma Swaraj enhanced India's reputation
Speaking to reporters after paying his last respects to Swaraj at her residence, Amit Shah said, "Her untimely demise is not a big loss for the BJP alone, but also for national politics," he said. Shah added that Swaraj zoomed across the political firmament like a bright star and made valuable contributions, whether as the Delhi chief minister or the leader of the opposition in the Lok Sabha or a minister in the first Atal Bihari Vajpayee government and then, in the Modi dispensation. "The country will always remember her services," he said.
12.46 PM: Sushma Swaraj's body being shifted to BJP headquarters
The mortal remains of BJP leader Sushma Swaraj are being shifted to the party headquarters, after being kept at her residence since the previous night.
According to sources close to the family, the body will be kept at the Bharatiya Janata Party (BJP) headquarters in the heart of the capital for the public to pay homage till 2 p.m. It will be later taken to the Lodhi crematorium for the last rites.
12.29 PM: Singapore foreign minister statement on Sushma Swaraj
Singapore Foreign Affairs Minister Vivian Balakrishnan said, "I met her countless times, and will always recall her warm friendship and wise counsel. Our hearts are broken by her loss."
"Sushma Swaraj was a wonderful lady, always full of life, as she represented India on the world stage and fought tirelessly for her citizens," wrote the Singapore minister.
12.17 PM: Gujarat government cancels events
The Gujarat government and the ruling BJP have cancelled all their programmes scheduled for Wednesday in view of the death of senior party leader and former external affairs minister Sushma Swaraj. The state government was supposed to organise a grand event in Gandhinagar on Wednesday to celebrate chief minister Vijay Rupani's three years in office.
12.15 PM: Leaders from Odisha, Assam pay tributes
Odisha Chief Minister Naveen Patnaik and Union ministers Dharmendra Pradhan and Pratap Sarangi have condoled the demise of former external affairs minister Sushma Swaraj, describing her as a "tall leader and an icon for millions of women".
"As a self-made public persona, she (Swaraj) was always eager to help stranded Indians anywhere in the world. She was at the forefront when it came to using social media for providing instant assistance to people in distress," the chief minister said.
Assam Chief Minister Sarbananda Sonowal and Finance Minister Himanta Biswa Sarma have condoled the demise of former external affairs minister and senior BJP leader Sushma Swaraj, hailing her as "one of India's tallest leaders and an epitome of integrity".
11.28AM: Sushma Swaraj Timeline: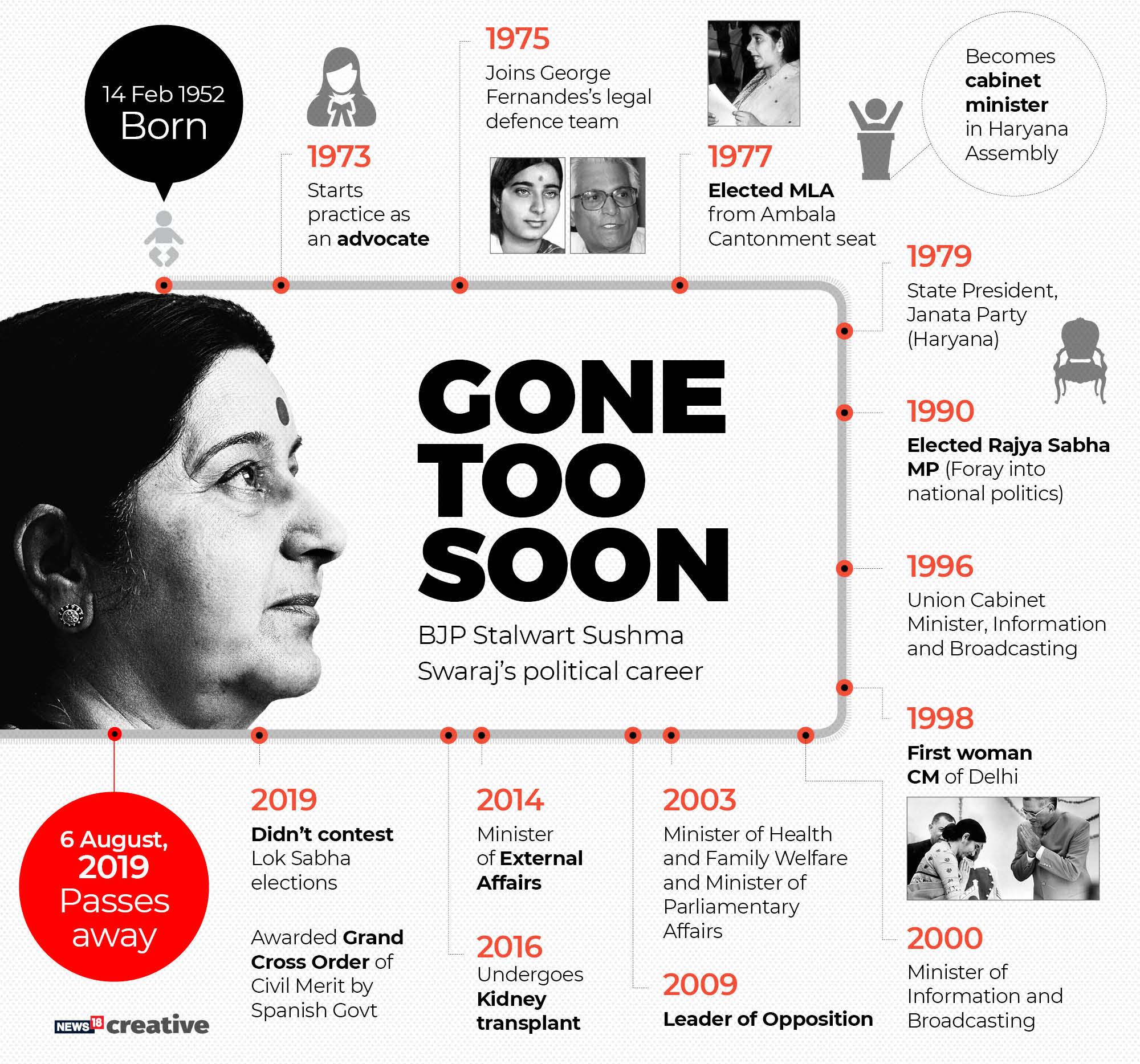 11:25 AM: Senior Congress leaders Rahul Gandhi, Sonia Gandhi pay tribute
Senior Congress leaders including Sonia Gandhi, Rahul Gandhi, Manmohan Singh arrived at the former external affairs minister Sushma Swaraj's residence to pay their tributes and offer condolences to the bereaved family.
11:22 AM: Rajya Sabha pays tribute to late Sushma Swaraj
Rajya Sabha Chairman M Venkaiah Naidu and members of the House pay tribute to former EAM Sushma Swaraj. M Venkaiah Naidu says, "In her untimely demise, the nation has lost an able administrator, an effective parliamentarian and a true voice of people." pic.twitter.com/Z8AFGxtop9

— ANI (@ANI) August 7, 2019
11:19 AM: Haryana Government will observe a 2-day state mourning
"The state government has decided to observe a two-day state mourning as a mark of respect to the departed dignitary," an order issued by chief secretary's office said.
People in Haryana are in a state of shock at the demise of their illustrious daughter, Sushma Swaraj, with the residents of Ambala Cantonment, where the former external affairs minister spent her childhood days, recalling her affectionate and caring nature.
Swaraj was a member of the Haryana legislative assembly from 1977-82 and 1987-90 during the days of the then state governments headed by Chaudhary Devi Lal.
11.03 AM: Swaraj was an extraordinary woman, leader, says UNGA President
UN General Assembly President Maria Fernanda Espinosa has expressed condolences at the demise of India's former External Affairs Minister Sushma Swaraj, describing her as an "extraordinary" woman and leader who devoted her life to public service.
"Saddened by the news of the passing of @SushmaSwaraj, an extraordinary woman & leader who devoted her life to public service. I had the honour of meeting her in my visits to #India, & will always remember her fondly," Espinosa tweeted.
She added in her tweet that she sends her "deepest condolences to all of her loved ones @IndiaUNNewYork," tagging India's Permanent Mission to the UN in her message.
10.53 AM: Indian diaspora in US condoled the demise of Sushma Swaraj
"She will be remembered for her leadership in opening up the external affairs ministry and consulates across the globe to any Indian who needed help," the Indo-American Chamber of Commerce of Greater Houston's founding secretary Jagdip Ahluwalia said.
"I first met her when she was health minister. She attended a rotary immunisation event in Delhi and I found her very approachable," he said, adding that she will be always remembered for being a "charismatic and caring minister".
Recalling Swaraj's efforts to get relief for 200 Indian students who were stranded at the University of Houston in floods triggered by Hurricane Harvey in 2017, he said it was commendable how involved she got to rescue them with the help of the Consulate General of India, Houston.
10.48 AM: Home minister Amit Shah pays tribute to Sushma Swaraj at her resident
10.30 AM: WATCH: Emotional PM pay tribute to Sushma Swaraj
10.15 AM: The Union Cabinet could also meet during the day to pass a resolution condoling the demise of Swaraj.
9.57 AM:
PM Narendra Modi pays last respects to former external affairs minister
Sushma Swaraj
.
9.50 AM: Senior BJP leader LK Advani said the nation has lost a remarkable leader. "To me, it is an irreparable loss." "A brilliant orator, I was often amazed at her ability to recall incidents, events and present them with utmost clarity and eloquence."
9.45 AM: Prime Minister Narendra Modi to pay last respect to former External Affairs Minister and BJP leader
Sushma Swaraj
at her residence, shortly. He will later attend her last rites in the evening.
9.43 AM: Prime Minister Modi said, "A glorious chapter in Indian politics comes to an end. India grieves the demise of a remarkable leader who devoted her life to public service and bettering lives of the poor. Sushma Swaraj ji was one of her kind, who was a source of inspiration for crores of people."
9.40 AM: The APP government in Delhi has announced a two-day state mourning on account of Swaraj's death. Swaraj was the first woman chief minister of Delhi. There will be no cultural events during this period in the state. All other govt business and programmes, including the Anganwadi programme at Indira Gandhi Indoor Stadium, will continue as scheduled.