The intervening night of June 25 and 26, 1975 had woken up a generation of our people to whatever could be done to our Constitution and the rights it guaranteed. Morarji Desai, along with leaders of various opposition parties, had retired to bed after addressing a couple of lakhs people that gathered on the Ramlila Maidan that evening, served an ultimatum to the then Prime Minister Indira Gandhi to quit or be confined to her official residence.
A journalist had asked Desai what if Indira Gandhi sent all those who opposed her to jail; Desai replied that she will rather kill herself than that. A couple of hours passed since Desai saw off the Italian journalist from his Dupleix Road bungalow before policemen picked him up, put him in a car and drove him to a guest house in neighbouring Haryana. Desai remained detained there, all alone, for 19 months since then.
Indira Gandhi waited until early morning the day after to inform her cabinet colleagues that the Emergency was proclaimed and that a whole lot of leaders who opposed her were now in jail. Many more were picked up in the few days since then and the number of arrested was estimated by Amnesty International at over ten lakhs across the country. The newspapers were told not to publish anything that those in government did not want published.
To recall the Emergency, proclaimed 44 years ago to this day, is important as much as it is to remember that men, women and children, just because they were Jews were put to death by a government in Germany, headed by Adolf Hitler, in gas chambers. After all the gory deaths and a war that killed many more and destroyed nations across Europe, those Germans who survived went about setting up museums that reminded all that was bad.
The Auschwitz exhibition, important among those, welcomes visitors with this note: It happened, therefore it can happen again: This is the core of what we have to say. It can happen, and it can happen everywhere. This statement by Auschwitz survivor Prima Levi perhaps will help us give a purpose behind remembering the Emergency too.
More than four decades after the proclamation means many things. Among them is that the generation that came of age in 1975-77 are now past their prime. A large number of those who resisted the Emergency were in the colleges and universities then; and they are touching seventy years of age or even more now. Those in colleges and universities now were not even thought of in 1975-77.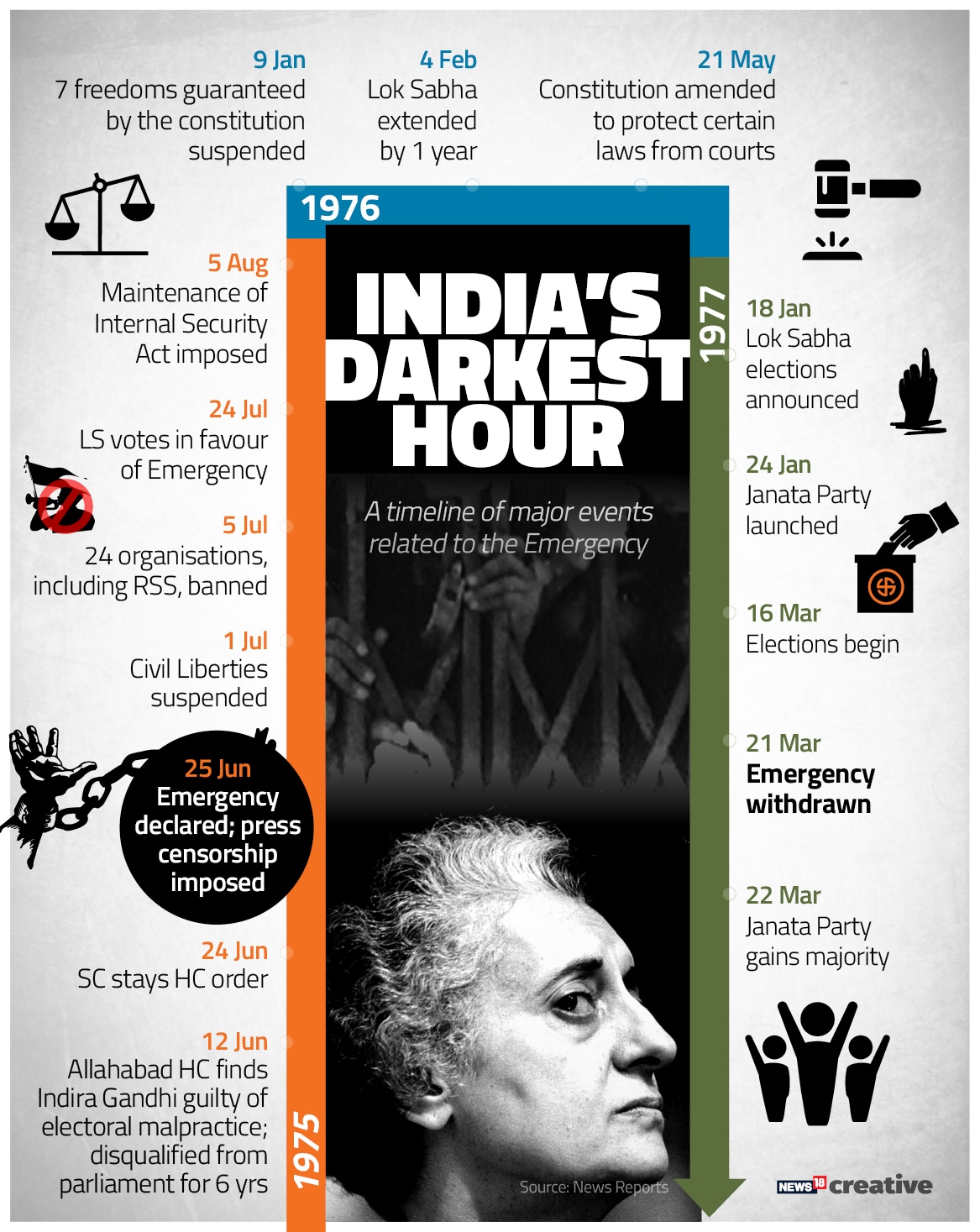 I did ask those in a class of mine, whom I happened to teach politics in India after independence as to what do they make of the word 'Emergency' and the refrain was something they were taught as part of the course in their Masters Programme. Otherwise, one said, they think of the Emergency ward in the hospital! It does not come to them that the Emergency meant annulment of the Constitution for a generation and a lesson that all the guarantees in terms of rights are so fragile that a regime could simply deny them to the people by a mere proclamation.
It is true that lessons were learnt by those who suffered the Emergency. The people, most of whom hardly went to school and learnt about the Constitution and the rights it guaranteed, learnt the lesson and defeated Indira Gandhi and her party in the elections in March 1977. Those who wrested power, being those who spent months in jail and including one, George Fernandes, who was charged with criminal conspiracy and would have been sent to the gallows if the charges were proved, went on to amend the Constitution and render invoking Article 352 a bit more difficult than it was for Indira Gandhi and also laid down an armed rebellion as condition precedent for declaring an Emergency.
They also changed the statute so that the right to life and legal remedy shall not be suspended, as it was until 1977, even during an Emergency. The Constitution (Forty Fourth) Amendment Act, 1978 ensured these. But then, Article 352 remains in the Constitution and thus it is possible that people can be jailed and free speech restricted as much as there can be Hitlers who emerge and lead the world into disasters that met with ours between 1939 and 1945.
The Emergency, as we opt to remember today, 44 years to this day in 1975, ought to be recalled as the culmination of acts by a regime desperate to stay on in power without responding to the demands of the people. It is to be stressed here that the early stirrings of protest against the Indira Gandhi regime were in Gujarat when students protested against steep hikes in the mess charges in an engineering college in Ahmedabad.
This, they perceived, was due to the rise in prices of commodities and the crisis compounded by a regime in Gujarat, headed by Chimanbhai Patel, that was also seen as corrupt. The Nav Nirman Andolan left the regime illegitimate. And soon came the Railway general strike of May 4, 1974; the brutal repression it was met with caused historians hold that the regime conducted a dress rehearsal for the Emergency to come. JP's call for a Total Revolution, gathering forces in Bihar and Uttar Pradesh added to the challenge that Indira Gandhi was faced with and then came the Allahabad High Court verdict on June 12, 1975, that rendered her disqualified as MP.
We may not be witnessing such organised protests of the scale that was witnessed in the couple of years before June 25, 1975. But then, it is necessary to recall that Indira Gandhi too did not foresee things going the way it did when the first of the processions began from the KE Engineering College in 1973. India is certainly not on a combustible condition now; though it is sad that more than 100 children died due to a syndrome caused by malnutrition in Muzafarpur. Incidentally, it was from Muzafarpur that George Fernandes, who symbolised the resistance to the Emergency, won elections with the largest margin in March 1977.
But then, it is important to keep telling ourselves that the Emergency happened and it can happen again. The point is to ensure that it does not happen again and hence important to tell another generation that it happened and it can happen again; lest we forget.
V Krishna Ananth teaches History at Sikkim University, Gangtok.
Read Krishna Ananth's columns
here
.