Take a look at some important Tamil Nadu seats, candidates and what could swing the votes in this Lok Sabha election:
Constituency: Chennai South
1. J Jayavardhan: AIADMK candidate and sitting MP. Son of influential state minister, Jayakumar.
2. Thamizhachi Thangapandian: Newbie, not a local candidate. Sister of DMK strongman Thangam Thennarasu.
3. Isakki Subbaiah: A former state minister of the AIADMK. Is now with the TTV Dhinakaran faction. Drawback – no party cadre strength.
4. Electorate: Urban cosmopolitan, interspersed with large slums.
5. Key issues: Civic issues, lack of drinking water and employment.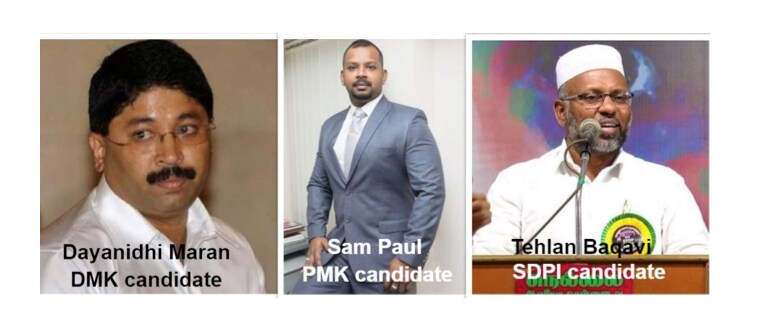 Image Source: The Lede
Constituency: Chennai Central
1. Dayanidhi Maran: Won thrice from this seat. Carries the weight of the DMK's cadre strength. Large Christian pockets and Church has openly asked parishes to vote for the DMK combine.
2. Sam Paul: First-timer. The odds – he is a Christian candidate, contesting on a PMK ticket. PMK is allied with AIADMK and BJP.
3. Kameela Nasser: First-time candidate, wife of famous Tamil actor Nasser, representing Kamal Haasan's party MNM. She could well be an alternate vote.
4. Constituency: Ethically diverse with sizeable Muslim population. Muslim votes could be split by Tehlan Baqavi, the SDPI candidate allied with TTV Dhinakaran.
5. Key issues: Small businesses and traders facing serious issues post demonetization and GST. Lack of employment.
Constituency: Coimbatore
1. Coimbatore's MSME and textile industries are upset with the BJP over GST imposition. CPM's PR Natarajan is likely to gain from this disenchantment.
2. CP Radhakrishnan: Two-time MP from Coimbatore. He won the polls on the back of the Coimbatore bomb blasts in 1998. He has lost twice since then, in 2004 and 2014.
3. Mahendran: Vice President of Kamal Haasan's Makkal Needhi Maiam. A known face in the area, despite being a first-timer. Whether MNM eats into DMK's votes or AIADMK combine's votes, will need to be seen.
4. Constituency: Part of the Gounder-dominated belt of the state. The Gounders are largely supporting the AIADMK. This will be a boon for the BJP which is allied with the ruling party.
5. Narendra Modi and Amit Shah have campaigned in Coimbatore. Showed voters how seriously the party takes the seat.
Constituency: Kanyakumari
1. Pon Radhakrishnan: BJP, Union Minister of State for Finance and Shipping.
2. H Vasanthakumar: Congress, sitting Nanguneri MLA.
3. Constituency: Kanyakumari tops in literacy rate in the state, but unemployment is high due to lack of development of cottage or agro-based industries.
4. Water scarcity and frequent power cuts also a factor in this election.
5. Key issues: Fishermen resentment against the proposed establishment of Colachel commercial port project at Enayam. Fragile eco-system of the district was destroyed for the Highway Project. Many water bodies affected due to the project.
Constituency: Krishnagiri
1. KP Munusamy: One of the first to mutiny against Sasikala post Jayalalithaa's death. A powerful and well-known politician in the area. Has been a state minister as well.
2. Chellakumar: Belongs to the Congress party. Is not a local, but stands to gain from the sizeable minority community votes in the constituency.
3. Constituency: Largely rural. Agricultural distress is likely to have a negative impact on the AIADMK combine.
4. Small-scale industries in the area have been badly affected due to GST and are struggling to survive. This could again have a negative Impact on the AIADMK combine.
5. The Hosur assembly seat also goes to by-polls simultaneously. The AIADMK is working very hard to ensure a win in order to safeguard its government.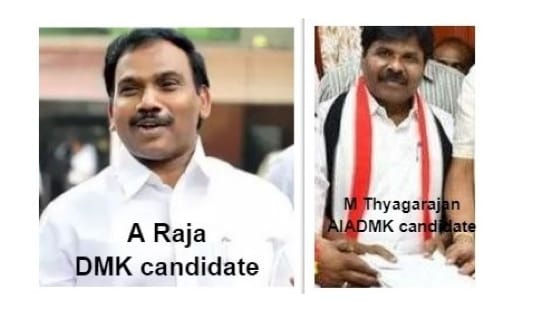 Image Source: The Lede
Constituency: Nilgiris
1. A Raja: Contesting for the third consecutive time. Has been MP thrice for the DMK. With the 2G saga behind him, Raja is expected to ride a wave of popularity.
2. The AIADMK won Nilgiris in 2014. The weight of a number of state ministers is behind candidate Thyagarajan.
3. Ramasami: AMMK candidate who is likely to eat into AIADMK votes and thereby help Raja.
4. One of the 8 constituencies where AIADMK is facing off directly with the DMK.
5. Sizeable tribal population. Hilly constituency with poor road infrastructure. Forests are being destroyed and man-animal conflict is on the rise.

Image Source: The Lede
Constituency: Sivaganga
1. Karti Chidambaram: Congress candidate, son of former Finance Minister P Chidambaram.
2. H Raja: BJP's national secretary.
3. Therpogi V Pandi: AMMK candidate is a former AIADMK functionary. He served as district secretary in Amma Peravai.
4. Constituency: Facing acute water scarcity. People forced to purchase drinking water in many places.
5. Key issues: Lack of industrial development. Though graphite ore is deposited for the nearly 25-kilometre radius in Sivaganga district, so far no efforts to develop Mining Corporation similar to Neyyeli Lignite Corporation Limited. The unemployment rate is high. Most educated youth forced to migrate to foreign countries and major cities in Tamil Nadu for job due to lack of agro-based industries. No steps to attract industries to SPICOT located at Manamadurai.
Constituency: Sriperumbudur
1. TR Baalu: Five-time MP of Sriperumbudur. On a winning streak since 1996, which ended in 2014. A strong candidate with strong local and party support.
2. Vaithilingam: Belongs to PMK. Will be banking on caste votes of the dominant Vanniyar community.
3. Constituency: Has many large industries. AIADMK government has come under severe flak for lack of job creation.
4. Mixed constituency: industrialised areas on one side and farmlands on the another.
5. Key issues: Social infrastructure and civic facilities are a big problem. Lack of adequate public transport to and from Chennai city is also a gap that needs filling.
Constituency: Theni
1. P Raveendranath Kumar: AIADMK candidate and son of Deputy Chief Minister and AIADMK Coordinator O Panneerselvam. OPS is the sitting of Bodinayakanur assembly constituency.
2. EVKS Elangovan: Congress candidate, former Tamil Nadu Congress president. Grand-nephew of Dravidan movement leader EVR Periyar.
3. Thanga Tamilselvan: AMMK candidate, former Andipatti MLA. A trusted lieutenant of TTV Dhinakaran.
4. Constituency: Drinking water scarcity and indefinite postponement of the local body elections are Issues.
5. Key issues: Farmers' demand to increase the water level of Mullaiperiyar dam to 152 feet from 142 feet for irrigation facilities. Resentment against neutrino project at Pottipuram. Lack of industrial development in the constituency, forcing large scale migration.
Image Source: The Lede
Constituency: Thoothukudi
1. Thamizhisai Soundarajan: BJP's Tamil Nadu president. Also the daughter of Kumari Ananthan, a senior Congress leader.
2. Kanimozhi: DMK party's women's wing secretary. Daughter of late Chief Minister M Karunanidhi.
3. M. Bhuvaneshwaran: From TTV Dhinakaran's Amma Makkal Munnetra Kazhagam (AMMK).
4. Constituency: Drinking water crisis. Demand to improve infrastructure facilities in town. Public transport to and from Chennai city is also a gap that needs filling.
5. Key issues: Anger of people against police firing that killed 13 anti-Sterlite agitators. Demand for a permanent closer of Sterlite Industries, a key issue. The business community has been pitching for the expansion of Thoothukudi harbour. Demand for the expansion of runway facilities and night light navigation facilities at the airport. International flight connectivity and improvement of railway connectivity. The negative impact of GST and demonetisation. Especially in Kovilpatti, which is known for cottage industries like peanut candy.
Constituency: Villupuram
1. A hot seat constituency in terms of caste fractures, the PMK, seen as a Vanniyar party, goes head to head with a Dalit party. Caste affiliations expected to play a major role.
2. AIADMK won by a large margin of close to 2 lakh votes in 2014. Despite AIADMK backing, the PMK may not find the going very easy.
3. Ravikumar: A well-known face and considered a Dalit intellectual. The DMK's local strongman Ponmudi will pull his weight for him. He will benefit from contesting under DMK's Rising Sun symbol.
4. Constituency: Rural. Villupuram suffers from traditional neglect in terms of water scarcity and lack of infrastructure.
5. Key issues: deep-rooted caste animosity erupts frequently into clashes. Attempted honour killings.
This article was first published in The Lede.