Karnataka Highlights: Senior Congress leader and Karnataka's water resources minister D K Shivakumar arrived in Mumbai Wednesday morning to make a last-ditch attempt to pacify the rebel MLAs.
Karnataka's Congress-JD(S) coalition government has been on life support after 11 MLAs resigned from the two parties last week. The rebel MLAs, who are now in Mumbai, have
moved the Supreme Court
after Karnataka Assembly Speaker did not accept their resignations. Meanwhile, senior Congress leader DK Shivakumar has also reached Mumbai to make a last-ditch attempt to convince Congress MLAs to return to the party. In Karnaka, BJP leader BS Yedyurappa said the party will meet governor and speaker at 3PM today: Here are the latest updates:
10.51 PM:
Condemning the BJP over detention of his cabinet colleagues in Mumbai and for the protest at the Vidhana Soudha here, Karnatka Chief Minister H D Kumaraswamy on Wednesday accused it of crossing all boundaries of democracy and civil code of conduct.In a strongly-worded statement here, he sought to know from the BJP whether it was polity of democracy or the ugly display of its tyrannical mindset.
8.28 PM: "What made BJP people do rowdyism like that? BJP MLAs and workers are rowdies. I condemn it. It is quiet evident that BJP leaders, Amit Shah and Narendra Modi are behind all this. They are defecting and threatening our MLAs,"Siddaramaiah said.
Basavaraj Bommai,BJP MLA: I urge Governor to intervene and throw away this Kumaraswamy govt. I urge Kumaraswamy if you continue with Congress your image will be totally tarnished. In good wisdom resign and vacate the place. https://t.co/Egc0Wtcj5B

— ANI (@ANI) July 10, 2019
8.10 PM:The Supreme Court decided on Wednesday to accord urgent hearing on Thursday to a petition filed by 10 rebel MLAs of Congress and JD(S) alleging that the Karnataka Assembly Speaker was not accepting their resignations deliberately.The plea, which has sought direction for the Speaker to accept the resignation of these MLAs, would be heard by a bench of Chief Justice Ranjan Gogoi and Justices Deepak Gupta and Aniruddha Bose.
7.45 PM: "Contrary to media reports, MLA Sudhakar was not manhandled by anyone. He is a friend of mine and I requested him to speak to PCC President in private for which he obliged. BJP as usual twisting facts to use this as fodder for their shameful #OperationKamala, " Priyank Kharge tweeted.
Contrary to media reports, @mla_sudhakar was not man handled by anyone. He is a friend of mine & I requested him to speak to PCC President in private for which he obliged. BJP as usual twisting facts to use this as fodder for their shameful #OperationKamala

— Priyank Kharge (@PriyankKharge) July 10, 2019
7.43 PM: Siddaramaiah said, "All that is happening is anti-constitutional, anti-system. We don't care about the Goondas, we will fight them out. Sudhakar was not taken forcibly, he is our well-wisher and friend. He was our MLA for 5 years. He said he resigned because of personal reasons."
5.28 PM: Congress MLAs Dr K Sudhakar and MTB Nagaraj, who resigned earlier today, arrive at Raj Bhawan.
4.47 PM: "There was no provocation from our side. Mumbai police detained us a few minutes back even though we were sitting outside the rest house in a peaceful manner." We want these MLAs to go back to Karnataka, he said, adding police and state machinery are being misused," Milind Deora said.
4.44 PM: Karnataka Minister DK Shivakumar, Milind Deora and other Congress leaders who were detained, have been kept at Kalina University rest house.
Mumbai: #Karnataka Minister DK Shivakumar, Milind Deora & other Congress leaders who were detained, have been kept at Kalina University rest house. They were sitting outside Renaissance - Mumbai Convention Centre Hotel when they were detained by police. pic.twitter.com/K2EgyB3O6f

— ANI (@ANI) July 10, 2019
3.20 PM: Detained Karnataka Congress leaders and others are being taken to Kalina University rest house. Shivakumar has said, "This is a misuse of power."
"We are sure of saving the government. The Centre and the governor's office is trying to pull the govt down. It is the Speaker, who has to deal with the MLAs and not the Governor. This is not the first time that the Centre has tried to topple an elected government," he said.
2.56PM: DK Shivakumar and Milind Deora were detained by Mumbai Police, said Satyajeet Tambe, Maha Youth Congress Leader.
Maharashtra Congress leader Sanjay Nirupam slammed the city police for stopping Shivakumar outside the Hotel Renaissance.
2.54 PM: Congress leader Ghulam Nabi Azad detained while protesting near Raj Bhawan in Bengaluru.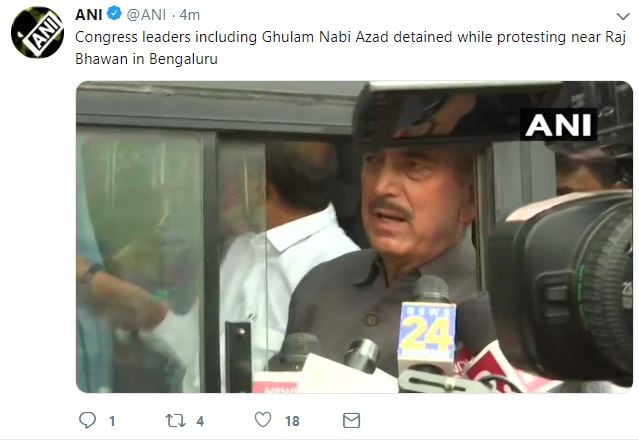 2.38PM: Mumbai Police have detained DK Shivakumar as he refused to leave the hotel, where rebel MLAs are staying and Section 144 is imposed.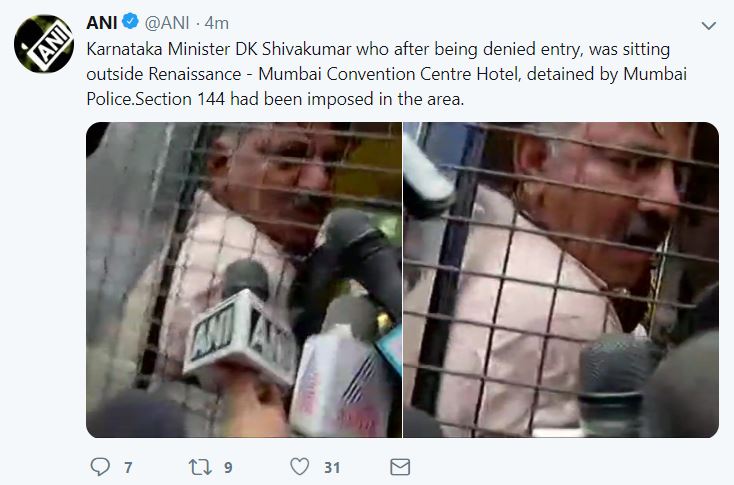 2.30PM: Rajya Sabha was adjourned till 3 pm after ruckus over the poitical upheaval in Karnataka.
2.00PM: JD(S) Chief and Former PM H D Deve Gowda at Congress protest site in Bengaluru, meets Ghulam Nabi Azad. Siddaramaiah and KC Venugopal are also present. (ANI)
1.30PM: Adhir Ranjan Chaudhary, Congress: "Looks like there is martial law in Maharashtra, a minister who has a booking in the hotel is not allowed to enter inside." (ANI)
1.15PM: BS Yeddyurappa said, "We will meet the Karnataka Assembly Speaker at 3pm today. Speaker has still not condemned tearing up of resignations (of rebel MLAs) by DK Shivakumar. Tearing up of resignations is an 'apradh' that is unforgivable."
12.36PM: Section 144 has been imposed in Powai Police station limits with effect from July 9 to July 12 because of "likelihood of breach of peace and disturbance of public tranquillity"
12:32PM: "On 12th July, Assembly session will begin but they don't have the numbers, it will be an illegal session. It is not too late, you (Karnataka CM, HD Kumaraswamy) should resign and make way for a BJP govt," said BS Yeddyurappa.
12.17PM: Youth Congress have started gathering outside the hotel with flags to protest after the hotel cancelled DK Shivakumar's reservation citing some emergency. (News18)
11.50AM: Top Congress leaders are holding a meeting in Bengaluru. Eshwar Khandre, KC Venugopal, Gulam Nabi Azad, Dinesh Gundu Rao, G Parameshwara are attending the meeting at the KK Guest House in the city. (News18)
11:42AM: BJP leaders hold a protest outside Vidhana Soudha
11:22AM: "Speaker has given time to me to meet on July 15; till then I am not saying anything," said Ramalinga Reddy. (News18)
11:12AM: BJP will today meet Karnataka Governor Vajubhai Vala and state Assembly Speaker K.R. Ramesh Kumar seeking a floor test against the beleaguered JD-S-Congress coalition government, said a party official.
11AM: Ten rebel Karnataka MLAs of Congress and JD(S) Wednesday moved the Supreme Court, alleging that the Assembly Speaker has been deliberately not accepting their resignations.
A bench headed by Chief Justice Ranjan Gogoi took note of the submission of senior advocate Mukul Rohatgi, appearing for the rebel MLAs, and assured him that it will see whether their petition can be listed for an urgent hearing tomorrow. (PTI)
10:58AM: "Don't intend to insult DK Shivakumar, we have faith in him," Rebel Congress leader, B Basavaraj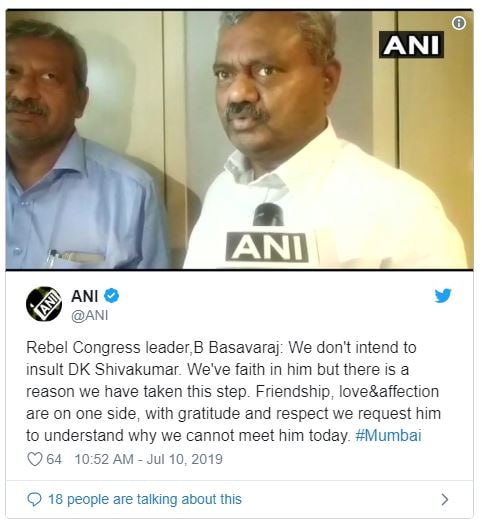 10:50AM: The Supreme Court said it will hear on July 11 a petition filed by Karnataka rebel MLAs.
10: 48AM: "I can't understand why they are blocking DK Shivakumar. This clearly shows BJP is trying to destabilize the govt. These MLAs have not left Congress," said K C Venugopal
10:45AM: Yeddyurappa calls out the Speaker
10:37 AM: Former Congress MP K C Venugopal said these are sincere Congressmen and they should return at the earliest. The country has never witnessed such sabotage by the Central government, Venugopal added. (News18)
10:35 AM: "Nothing is permanent in politics. There're no friends & no enemies. Anyone can turn at any moment.I'm trying to contact them(rebel MLAs).I'll get a call. Their heart is beating to meet their friend," said DK Shivakumar.
10:30 AM: Around 10 Karnataka Congress-Janata Dal(Secular) MLAs hooted at senior leader D.K. Shivakumar, who attempted to meet the rebels at a five star hotel in suburban Mumbai. He was not allowed to enter the Hotel Renaissance in Powai where tight security has been deployed.
10:27 AM: DK Shivakumar's booking at Renaissance Mumbai Convention Centre Hotel has been cancelled by the hotel quoting "some emergency in the hotel," reported ANI.
10:20AM: D K Shivakumar arrived in Mumbai Wednesday morning to make a last-ditch attempt to pacify the rebel MLAs stationed here at a luxury hotel. These 10 legislators who had proceeded to Goa on Monday, returned to the city while another group of around a dozen is put up in a location in Satara, party sources said.
First Published: Jul 10, 2019 10:31 AM IST