Chief minister Vasundhara Raje of BJP triumphed over Manavendra Singh of Congress at the Jhalrapatan constituency in Rajasthan.
Raje received 80,509 votes while Singh secured 51,116 votes, according to the latest available Election Commission data. But counting is still ongoing.
Raje won but has been unable to shrug off the effects of widespread disquiet over farm distress and a lack of jobs for growing numbers of young people in the state, which caused the defeat of her party at the hustings.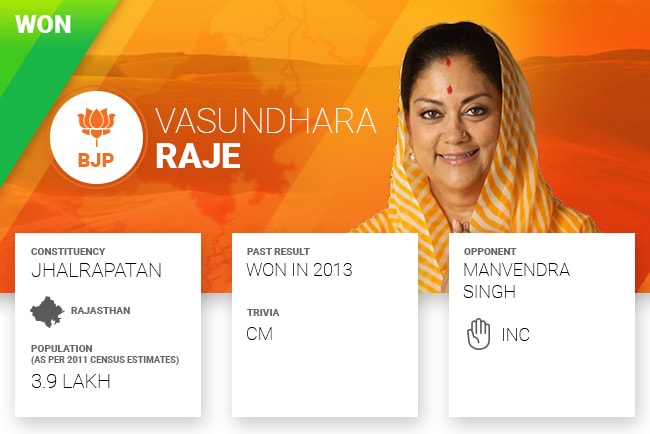 Voting in the constituency was held on December 7.
Raje is one of the senior most leaders of the BJP and a two-time chief minister of Rajasthan. Singh, a former BJP leader, is the son of that party's senior leader, the late Jaswant Singh. He switched alliances to the Congress just before the assembly elections.
Shreelal, an independent, is set to finish third.
Jhalrapatan is a town in Jhalawar district in the south of Rajasthan state in India.
Rajasthan is one of the five states where elections where elections were held between November 12and December 7.
These polls are seen as a bellwether of the 2019 general elections.