May 16, 2014. The Congress party was reduced to an unprecedented low number of seats in the Lok Sabha. Rahul Gandhi, vice-president of the Congress then, walked up to the podium where a press conference was called, made a short statement that the party will introspect and walked away. In a few months from then, he went off somewhere and none in his party was aware of his whereabouts.
It was another Rahul Gandhi on December 11, 2018. That he waited until past seven in the evening to meet the press could be because the results from Madhya Pradesh had gone down the wire. Rahul Gandhi did mean as much when he spoke aloud of the lessons he learnt: To be humble. The Congress president was candid when he said May 2014 helped him learn; what he did not say was also it taught him and his party to unlearn. It does appear that his May 2014 statement that the party will introspect was not just a bunch of words spoken because the occasion demanded that.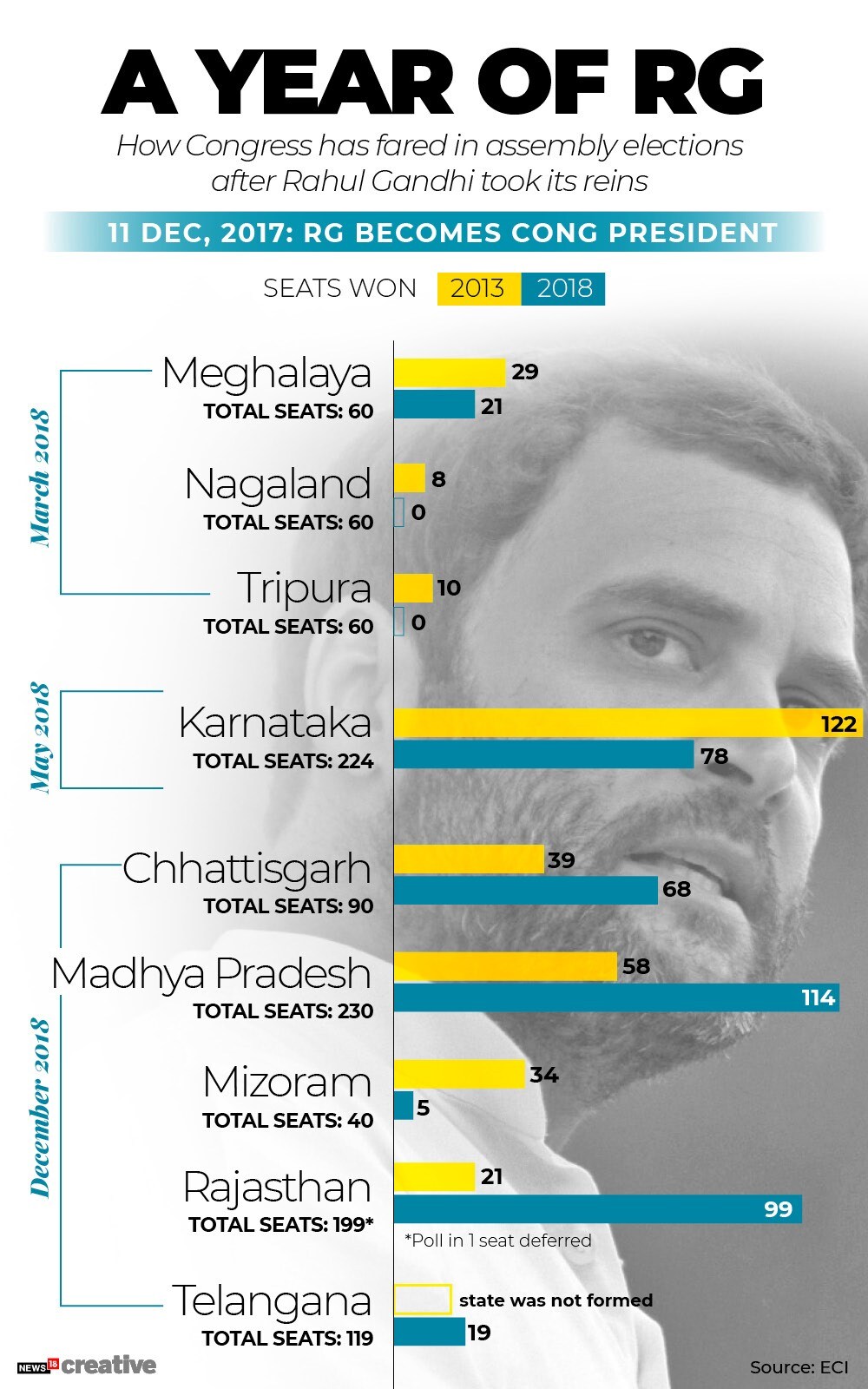 He should have known then that the organisation that he led, as vice-president, was moribund and ridden by power brokers; he may have been told, by someone at home or elsewhere that his late father had spoken this in the open at the Congress centenary session at Bombay in December 1985. Rahul Gandhi seemed closer to finding a solution because he was convinced that his party was moribund and that was a problem.
Learning From The Grandmother
Indira Gandhi, his grandmother, seems to have helped him. She too was left in an un-enviable situation in 1977; her own defeat from Rae Bareilli and her party's devastating defeat (though not as bad as Rahul's 2014 state) was followed by her former aides appearing before the Shah Commission of Enquiry, on their own volition, to testify on oath that they were forced to do wrong things by their leader and her son during the Emergency! She split the party and formed her own Congress (I) then. Indira's task got easier with the fratricidal quarrels within the Janata Party.
Rahul Gandhi did not have such a luxury. There was nothing much left with his party that he could find a part to take away with him and form another. However, he was not as unfortunate as his grand-mother; none in his party turned up to speak against him. They stuck around and elevated him as party president. His mother did not hesitate making way for him.
Rahul Gandhi was denied of an easy way out by the BJP; the BJP's simple majority in the Lok Sabha, stranglehold of Narendra Modi and Amit Shah on the party's MPs and ministers, and a polity willing to give Modi the long rope to usher in good times made the challenge daunting.
Rahul Gandhi began showing his willingness to take up the challenge and strategising since February-March 2017. He went for an adventurous course in Uttar Pradesh then. The alliance with the Samajwadi Party came a cropper in the assembly elections and gave the BJP another unprecedented mandate in the state. Then came Gujarat in November-December 2017. Rahul Gandhi fought from the front and struck an alliance that was not thought of even in the days of Madhasinh Solanki, known for reviving the Congress in Gujarat in the 1980s.
Shorn of baggage and with little to lose, probably, helped Rahul Gandhi to experiment with an alliance of the kind he managed involving Jignesh Mewani, Hardik Patel and Alpesh Thakore. It may have been considered reckless by seasoned politicians but Rahul Gandhi acted like a novice and the adventure yielded results. He must have smiled within that the Congress did not win a majority (because such a coalition in government would have begun and ended under its own weight) and yet came striking distance from it.
Of the three, Rahul Gandhi certainly knew the importance of Jignesh Mewani; above all, Mewani was one who challenged the BJP, post-Modi ascendancy, there in Gujarat and galvanised the Dalit community. Rahul Gandhi also did not get on the way of Kapil Sibal, in Delhi, from taking up such briefs for Kanhaiaya Kumar, Umar Khalid and Anirban, who were charged of sedition and accused of being anti-nationals. He certainly recognised the importance of the struggle put up by the students and a section of the teachers from JNU against the mighty regime run by Modi and Shah.
The JNU Factor
I should place on record that the students of Jawaharlal Nehru University (JNU) and some of its teachers must be credited for having laid the foundations for the challenge against the Modi regime and yesterday (December 11, 2018) witnessed one of its early outcome. It is, indeed, unprecedented that students from a university persisted, beyond weeks and months, for four years and more, to agitate, get jailed, even exposed themselves to murderous assaults (and yet manage to submit their theses and write examinations), in their quest to preserve republican and democratic India.
Rahul Gandhi seems to have engaged himself with all these and dared to experiment with alliances and yet stay clear of some as in Madhya Pradesh, Rajasthan and Chhattisgarh involving the Bahujan Samaj Party (BSP). The high point of this was his refrain at the press conference yesterday: To hold the Samajwadi Party and the BSP with respect and even affirm that their and his party's goals were the same. He did prove that he learnt the lessons inflicted by the defeat of May 2014; to remain humble. He showed humility in success by not blaming the BSP or others.
Rahul Gandhi did prove that his engagement with the farm crisis was not just populist. Loan waiver, he said, is only one aspect and a necessary step; the crisis, however, he stressed calls for a response that ought to evolve through deeper engagement. He showed a willingness to learn and experiment and unlearn too.
Well. One did see a leader of a party that is now resurgent and willing to experiment, engage and learn. One did see in him a streak, quite prominent with his great-grandfather, Jawaharlal Nehru, and that was a firm commitment to the principle of agree-to-disagree. It remains to see how far he will be able to keep the power brokers and the carpet baggers who continue to hang around his offices and elsewhere. Here is a 1970 moment for the Congress: To re-invent itself as did Indira Gandhi after the reverses her party suffered in 1967 general elections and by the split in 1969. Rahul Gandhi seems to have the potential for that and his presser on Tuesday had glimpses of that.
V Krishna Ananth is Professor of History, SLABS, SRM University AP, Amaravati.