Counting of votes finally ended in Madhya Pradesh on Wednesday with Congress defeating BJP in the state. With this, the party has won three key states -- Rajasthan, Chhattisgarh and Madhya Pradesh.
Congress won majority with 114 seats but fell short of two to win the election, however, Bahujan Samaj Party (BSP) and Samajwadi Party (SP) extended their support to the party to keep BJP out of power in the state.
BSP and SP won 2 and 1 seats, respectively, taking the total for Congress to 117, crossing the majority mark of 116.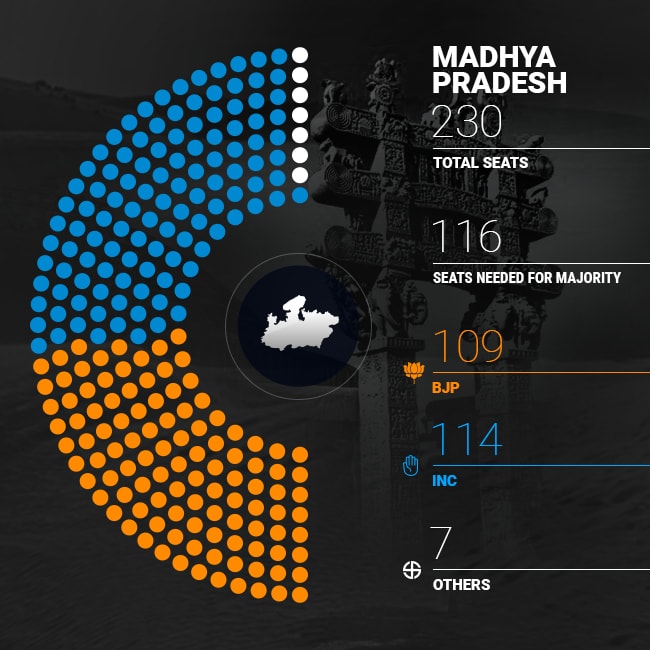 While Congress' closest rival BJP secured 109 seats. Madhya Pradesh chief minister Shivraj Singh Chouhan is expected to resign soon, making way for Congress.
The outcome means that Congress, which was reduced to a rump of 44 seats in 2014, was able to make inroads.
The exit polls were proven largely correct except in the case of Madhya Pradesh, where BJP was expected to emerge as the winner.
In the case of other two states, TRS retained power in Telangana while Mizo National Front emerged as the winner in north-eastern state Mizoram after about a decade, crushing Congress.
Elections in the five states were held between November 12 and December 7.
First Published: Dec 12, 2018 11:22 AM IST