Elections in Tamil Nadu are all about colour and drama. It must come as no surprise then that the scripts which play out during the poll season, could well be straight out of a Kollywood classic. That seems to be the case in Central Chennai, at least, where a political debutant in the PMK's Sam Paul will be facing off against a seasoned campaigner, former telecom minister and DMK leader, Dayanidhi Maran.
On the face of it, Maran seems to hold all the aces. The DMK is after all, on the right side of anti-incumbency against the AIADMK, which has allied with the BJP, PMK and DMDK for the elections. Maran also has political pedigree, since he is the son of the late Murasoli Maran who was Minister of Commerce in the Vajpayee government and the nephew of DMK Patriarch M Karunanidhi. Dayanidhi Maran has also been a two-time member of parliament from Central Chennai, and served in two ministries: Telecom and Textiles.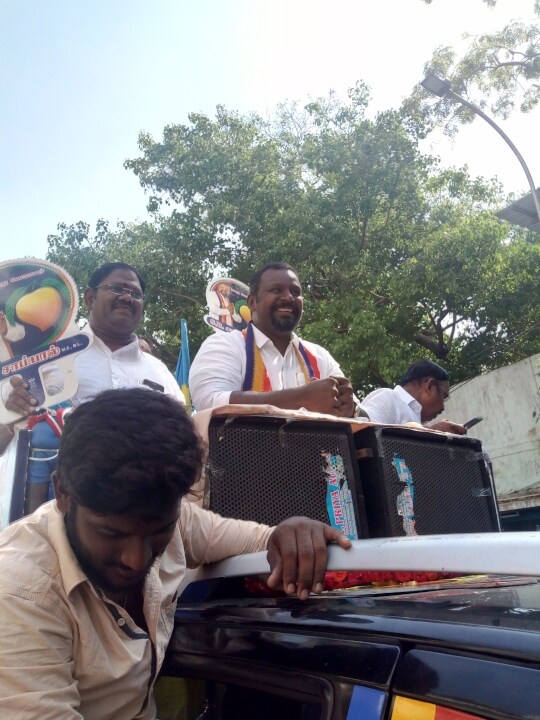 PMK's Sam Paul
Sam Paul feels he has the right kind of ammunition to take on Maran. "He (Dayanidhi Maran) is a corrupt man. Nobody in their right sense would vote for him," said Paul alluding to allegations against Maran in the 2G and BSNL Telephone Exchange scams, "I'm going to bring professionalism and transparency in the system. We're going to come with an app, you're going to see everything online — how much funds are being brought in. We're trying to end this nonsense of corruption in politics."
Although a political novice, Paul is a well-known face among social circles in Chennai. The entrepreneur-turned-politician owns a popular chain of hair salons and a number of restaurants in Chennai and Bengaluru. While it comes as no surprise that anti-corruption and transparency is the focus of his campaign for Central Chennai, Maran, on the other hand, has been careful to steer clear of any questions surrounding allegations of corruption, choosing to focus instead on his poll promises: clean drinking water and jobs.
"In 2004, things were very similar to how they are today," he said, "There was a severe drought and I promised the people that I will find a solution by way of setting up a desalination plant, if I were to be elected. For the first time that year, the union budget saw the UPA allot Rs 1,000 crore for a desalination plant in Chennai, which was implemented." Maran added, "Today, we in Chennai find ourselves in a similar situation, facing another drought. I've promised my voters that we will enhance the capacity of the existing desalination plants, and also add another plant, if needed."
Maran also pointed out how unemployment was at a high under the BJP Government and that the people of Tamil Nadu want change. "When we were in power, we brought in industries and provided employment," he said, "If I win again, we will ensure that industries invest in Chennai, especially in the IT sector."
While on the face of it, both candidates have set up their campaign along the lines of a transparency-versus-development narrative, there seems to be a clear disconnect between what they are promising and what young voters want.
"We have leaders telling us that they will do away with corruption, but it needs a strong start and I hope this election can bring that in for us," said Dikshita Jain, a schoolteacher and a voter from Central Chennai. "Women's safety is another issue most parties don't talk about, preferring to brush it under the carpet instead," added Portia Bosco, a Chennai-based techie, while her friend, Madhu Ramakrishnan wants education to be given importance by elected representatives. However, issues like development continue to find some resonance with voters like Shyam Sundar, who works as an engineer with an automobile company. "Development has stalled in Tamil Nadu," he said, "A lot of jobs have gone to other states where governments are more pro-active."
With Tamil Nadu voting in just a couple of days, it's clear that both candidates are running out of time. They may well have to work quickly and start addressing issues that voters are really concerned about if they want to sway the vote in their favour.