The seven-phase Lok Sabha elections, which began on April 11, concluded with the final phase of voting on May 19. Soon after the conclusion of polling on Sunday came a flurry of exit polls with their prediction about the winner of the marathon, six-week exercise to pick the members of the 17th Lok Sabha.
There had been a near-unanimity on the possible winner.
The Bharatiya Janata Party-led National Democratic Alliance (NDA) was predicted to return to power with a thumping majority. Buoyed by the news of the ruling dispensation continuing for another five years, the markets rallied and the BSE Sensex gained 1,422 points ultimately closing at 39,352.67 on Monday.
However, as past elections have shown, exit polls do not always get it right. Some come close to the actual result while others end up way off the mark.
And this year has been no different.
Of the plethora of exit polls that bandied different projections, India Today – Axis has hit the mark.
The pollster predicted 339-368 seats for the BJP-led NDA, and if the current trends hold, the ruling alliance is on course for 347 seats. They gave UPA anywhere from 77 to 108 seats and the current trend put them their prediction right in the middle with 91 seats to the Congress-led alliance.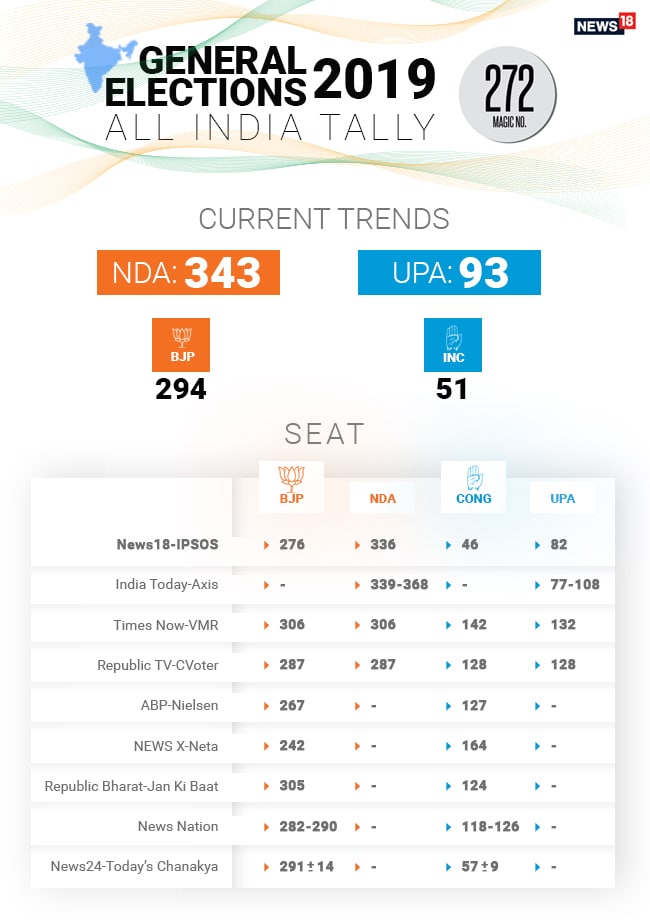 News 18-Ipsos came within a whisker of hitting the mark. They had the NDA at 336 seats, falling short by a mere nine constituencies. UPA was predicted to garner 82 seats, which also appears to fall short by a margin of nine seats.
At the other end of the prediction spectrum, ABP-Nielsen and News X-Neta missed the mark by a country mile. The former had the NDA falling just short of majority with 267 seats and the UPA at 127 constituencies, while the latter pegged BJP at 242 seats and the Congress at 164.
Republic TV-CVoter also missed the mark by some distance. Their exit poll predicted the NDA to win 287 seats in the 545-member lower house of parliament followed by 128 for the Congress-led alliance. Turns out neither predictions are in the vicinity of the current trends.
Times Now-VMR also missed the mark. They had the NDA alliance at 306 seats and the UPA at 132.
If the current trends hold, the BJP will gain an absolute majority on its own, a repeat of its performance from five years ago.