SUMMARY
He sat there. Under the jacaranda tree with a book in hand. The shirt sleeves rolled, the trousers creased. A wrinkle on his broad forehead and a smile mislaid into the thick laughter lines. Behind the artist sculpted in bronze was 15, Plaza de la Merced, the yellow house with green slat windows where he was born one autumn afternoon of 1881. I had flown thousands of miles into Malaga (Spain) just to see the man I swoon over. His name: Pablo Diego José Francisco de Paula Juan Nepomuceno María de los Remedios Cipriano de la Santísima Trinidad Martyr Patricio Clito Ruíz y Picasso. I swoon over Picasso. But he was not there. It has been 45 years since Death knocked his door on April 8, 1973. In Malaga, I walked where he must have walked once - El Castillo De Gibralfaro, the 10th century Moorish Palace, the 16th century Renaissance Cathedral and the 1st century Roman Theatre. But I did not find his footprints; Time has erased them from Malaga's sidewalks. In 1891, when his father found a job as an art teacher, the family left Malaga for La Coruna, returning for three years in summer. In 1901, Picasso finally left Malaga. Never to return. He was 19. Children First, Just As He Finished Picasso did not live long in his birthplace, but Malaga, the largest city on the Costa del Sol in Spain's Andalusia, seems to subsist on the memory of the artist. Here, the aesthete needs no map - his feet know where to go first. To the Museum of Picasso, the world's second largest collection of his art. With ticket and an orange folder in hand, I waited at the entrance. Suddenly, there was the hubbub of innocent laughter. A bunch of kindergarten students had walked in for a day with Picasso. I had to step aside for them. In Picasso Museum, children have priority. That is how Picasso wished. Children enter first. I paid heed to the painter's wish. Then I saw him. An old Picasso. Nearly 90. He was peering from a tiny screen on the Museum's wall. In the black/white video, I watched him paint. A bull. A woman. A horse. Eloquent, magical strokes on canvas. Picasso is oblivious of the world. To the man who pioneered Cubism, only the form mattered. That's the form - and Picasso - I swoon over. That's the Picasso I met in the Museum housed in a former Renaissance-style building that sits on the remains of 7th century Phoenician Malaga and is now a National Monument. Donated by Picasso's family to the city of Malaga are 233 works of art, most never displayed for public before. Malaga on a Canvas I walked back to Casa Natal, the yellow house in which Picasso was born. Picasso's father had rented it in 1880 and stayed until 1883. A heritage site since 1983, the building was taken over by the Picasso Foundation in 1998 and officially reopened by the King and Queen of Spain. The Picasso Birthplace Museum houses the artist's prints, ceramics and graphic art from the period 1931-1971. Before leaving Malaga, I had to see Picasso one last time. I sat next to him on the bench. He was silent. Under the jacaranda tree, I tried saying the full name of the man I swoon over: Pablo Diego José Francisco de Paula Juan Nepomuceno María de los Remedios Cipriano de la Santísima Trinidad Martyr Patricio Clito Ruíz y Picasso. I fumbled. Perhaps Picasso smiled. I don't know. Preeti Verma Lal is a Goa-based freelance writer/photographer.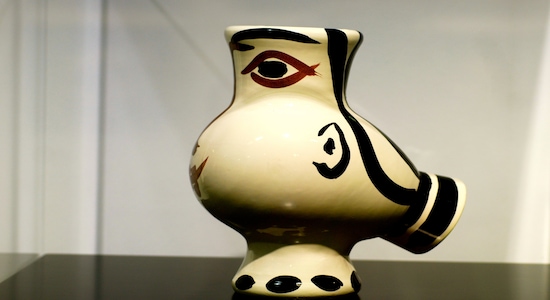 Picasso's ceramics.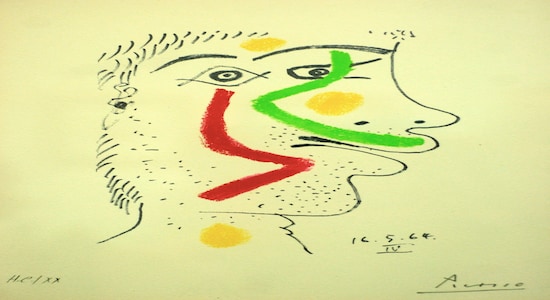 A Picasso drawing dated May 16, 1964.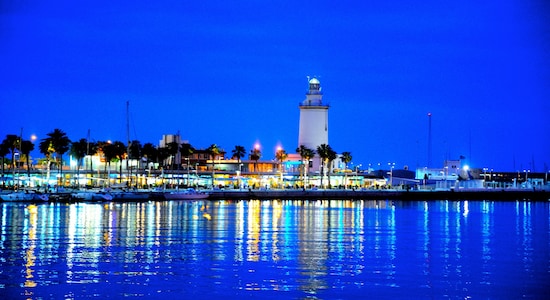 Malaga at night.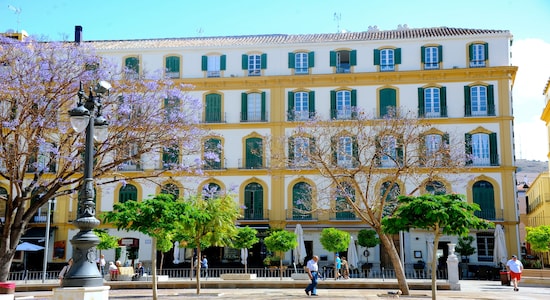 The house where Picasso was born on October 25, 1881.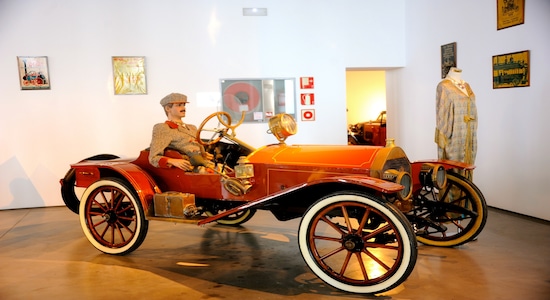 The Malaga Vintage Car Museum should be on your must-visit list.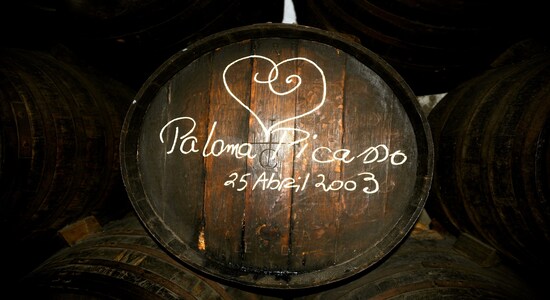 The signature of Paloma Picasso, the artist's daughter, on an oak cask in Malaga's El Pimpi restaurant.
The Picasso Museum in Malaga.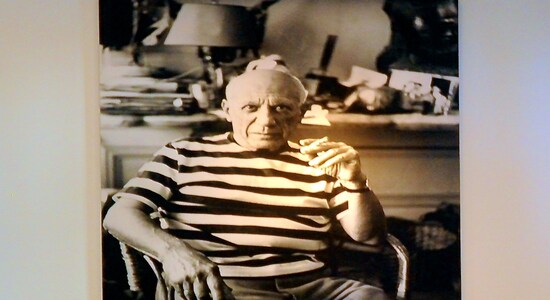 A photograph of Pablo Picasso in Malaga's Picasso Museum.