SUMMARY
Apple Inc on Wednesday unveiled a new range of iPhone 14 models and Apple Watches. At a virtual event at its campus in Cupertino, Apple announced four new iPhones and three models of the Watch. Here's a look at the price and features of the products.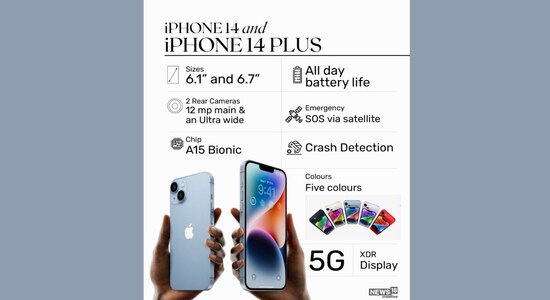 The 6.7-inch iPhone 14 Plus will be powered by a slightly more powerful version of last year's A15 Bionic chipset, improved cameras, and battery life. Priced at Rs 89,990, it will be the first time an iPhone with a screen size of more than 6.5 inches is priced under Rs 1 lakh. The iPhone 14 is similar to the 14 Plus except for a smaller screen at 6.1 inches and a slightly better battery over its predecessor. The iPhone 14 is priced at Rs 79,990.
The Pro lineup is powered by Apple's latest A16 Bionic chipset. The iPhone 14 Pro and Pro Max boast of a 48MP main camera and also features LTPO (low-temperature polycrystalline oxide) technology, which allows variable refresh rate between 1 Hz and 120 Hz, depending on the content. The Pro and Pro Max are priced at Rs Rs 1,29,990 and Rs Rs 1,39,990 respectively.