SUMMARY
As the September quarter earnings near an end amid the ongoing economic slowdown, brokerage firm Centrum Broking, in a recent report said that the worst appears to be over but it is going to be a slow ride towards the path of normalization. It expects growth to rebound to normal levels around Q1FY21-Q2FY21. Positing that gradual recovery is on way owing to continuous government intervention, the brokerage has constructed a portfolio for the coming quarters. The brokerage suggests reducing cash in the portfolio gradually and increasing weights in cyclicals like auto and banks. It is overweight on consumption stocks and underweight on IT and metals. These are Centrum Broking's top picks post Q2 results:
NCC: The brokerage likes NCC given its well-diversified order backlog, healthy bid pipeline, and strong execution capabilities. Led by new order wins and part revival of execution, it expects strong earnings recovery in FY21. It added that improvement
in order intake and clarity on the recovery of net working capital exposure in Andhra Pradesh may act as key stock triggers in near to medium term.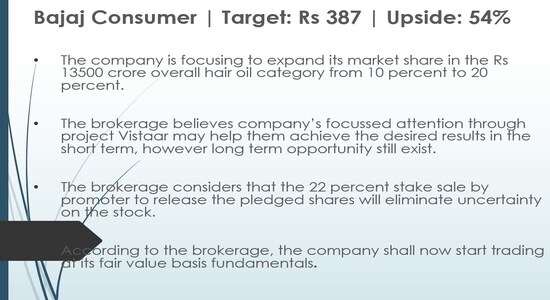 Bajaj Consumer: The broekrage maintains a 'buy' call on the stock with a target at Rs 387 per share.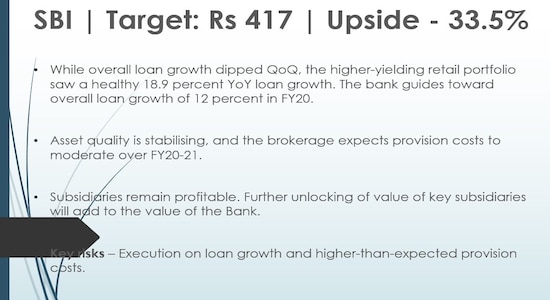 SBI: The brokerage is bullish on the stock on the back of structural strengthening in asset quality, improving margins, funding franchise, and healthy coverage ratios, all of which, it says, point toward a strengthening balance sheet. Aided by stable subsidiary performance, Centrum expect a 33.5 percent upside in their target price. It retains 'buy' call on the stock with target at Rs 417.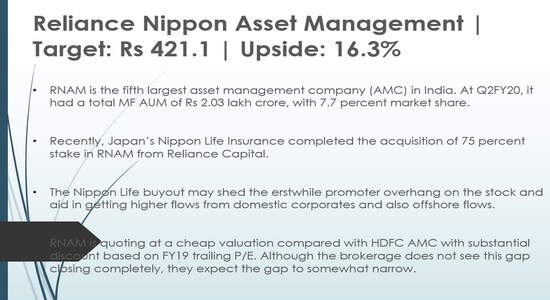 Reliance Nippon Asset Management: As per the brokerage, over the near-mid term, growth is seen on three fronts: 1. Regaining of lost share of debt and liquid funds 2. Strong systematic investment plan (SIP) flows 3. Leveraging the relations of Nippon Life Japan with global tech and insurance companies to get overseas funds. The brokerage has a 'buy' call on the stock with a target at Rs 421.1 per share.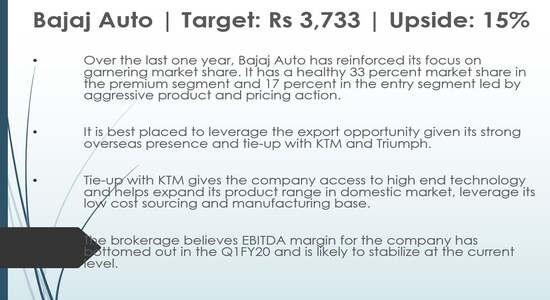 Bajaj Auto: The brokerage believes the company is on the growth path, driven by (a) favorable regulatory changes in domestic passenger three-wheeler states, providing strong medium-term growth visibility, (b) filling up product gaps in the domestic motorcycle portfolio, to regain the lost market share, and (c) stability and ramp-up in key export markets. It initiated a 'buy' call on the stock with a target at Rs 37,33 per share.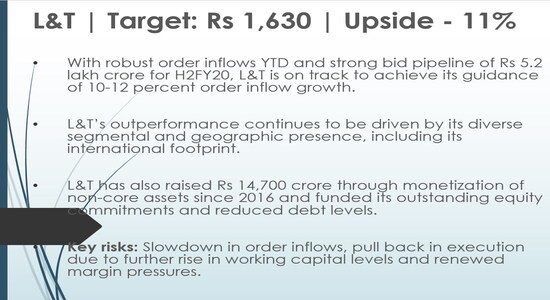 L&T: The brokerage sees strong prospects in transportation, affordable housing, airports and refining among other segments. It sees an upside of 11 percent for the stock, which derives support from L&T's strong earnings growth and improving return on equity (ROE).