SUMMARY
Indian shares are expected to open flat on Friday ahead of the release of Q2 GDP data. The SGX Nifty, an indicator of the opening for the Nifty, was trading 11 points lower at 12,175 at 7:40 am, hinting at a flat-to-negative start for the domestic market. Markets ended at record closing highs in the previous session with Sensex gaining 0.27 percent to end at 41,130.17 while Nifty closing 0.42 percent higher at 12,151.15. Among brokerages, CLSA is bullish on Indiabulls Housing, while Nomura said passenger vehicle sales will be better than other segments in November. Here are the top brokerage calls for Friday: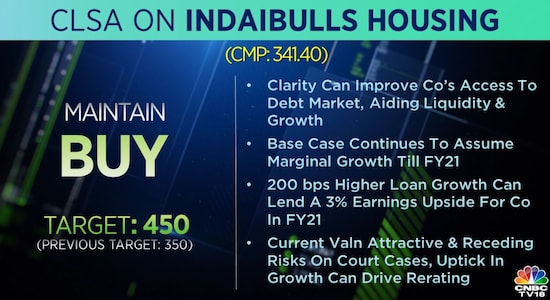 CLSA on Indiabulls Housing: The brokerage retains a 'buy' call on the stock and has raised its target to Rs 450 per share from Rs 350 earlier. It noted that clarity on court case can lend relief to the company, which can improve its access to the debt market, aiding liquidity and growth.
Jefferies on Auto Sector: Overall price hikes in 2-wheelers due to BS-VI slightly higher than expectation, said the brokerage. it added that the next few quarters will likely remain fuzzy for 2-wheelers as various themes play out.
Nomura on Auto Sector: Segments other than passenger vehicles are expected to decline for November, the brokerage noted. It expects the passenger vehicle industry to be up 1 percent YoY in November and for 2-wheelers, it expects industry volumes to decline by over 7 percent YoY in November.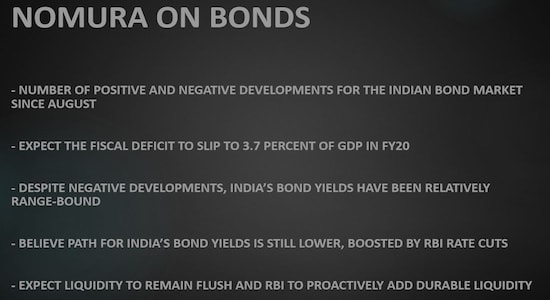 Nomura on Bonds: It said that despite negative developments, India's bond yields have been relatively range-bound. It believes the path for India's bond yields is still lower.