SUMMARY
Indian benchmark indices hit all-time highs today as Prime Minister Narendra Modi-led Bharatiya Janata Party is set to win majority seats, winning a historic second term. However, the indices shed gains and ended 0.7 percent lower. In last five years, India's stock market wealth grew by Rs 75.25 lakh crore in five years since Narendra Modi-led NDA emerged victorious in the Lok Sabha elections in 2014, with benchmark Sensex gaining 61 percent during this time. Here is an analysis of the stock market movements from May 16, 2014 till date.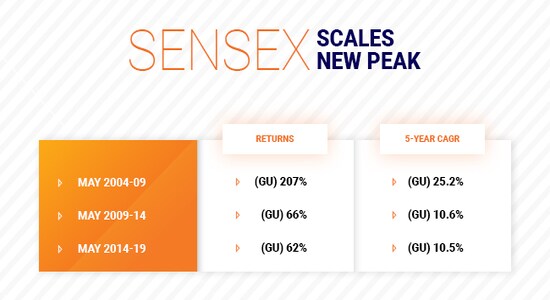 The BSE Sensex gained 62 percent and change in the last 5 years with a 5-year compound annual growth rate of 25.2 percent. However, under the UPA I and UPA II government, the index gave returns of 207 percent and 66 percent, respectively.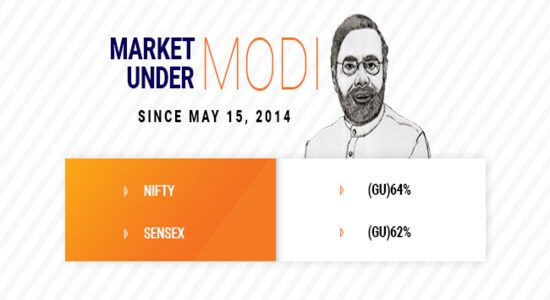 Benchmark indices Nifty and Sensex have gained over sixty percent in the last 5 years of the NDA government.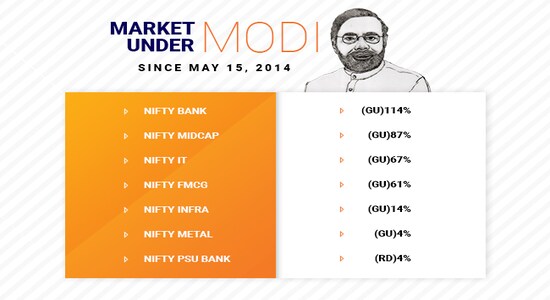 Among the sectoral indices on the NSE, the Nifty Bank, Nifty IT and Nifty Midcap Index outperformed the frontline index. The Nifty PSU Bank, Nifty Infra and Nifty Metals Index underperformed.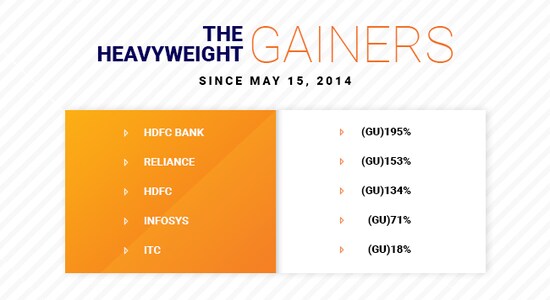 Top heavyweight gainers: Reliance Industries, HDFC Bank, HDFC Ltd, Infosys and ITC constitute around 40 percent of the Nifty. Three among the five more than doubled in the last 5 years.
Dr Reddy's, Tata Steel, HeroMoto and Bharti Airtel were the worst performers under the Modi government.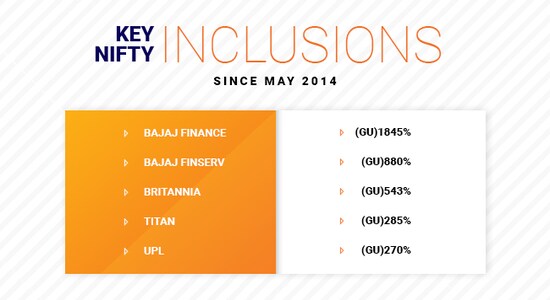 Some multibaggers like – Bajaj Finance, Bajaj Finserve, Britannia, Titan and UPL made their way into the Nifty over the last 5 years.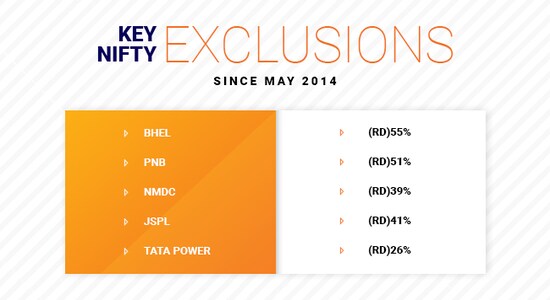 Stocks like BHEL, PNB, Tata Power, NMDC, JSPL have lost anywhere between a quarter to half of their market caps and were excluded from the Nifty.
However, the one thing that still eludes us is EPS Growth. While the index has compounded at 10.5 percent over the last 5 years, Nifty earnings have grown at just 3.5 percent.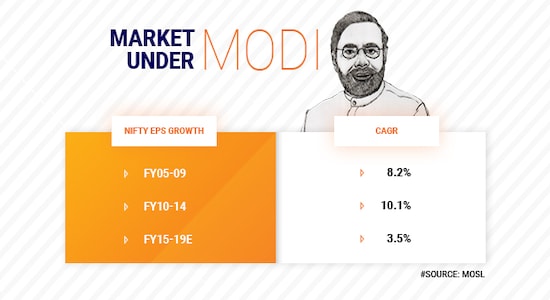 Nifty EPS growth stood at 8.2 percent in FY05-09, 10.1 percent in FY10-14 and 3.5 percent in 3.5 percent in FY15-19E.