SUMMARY
The 43rd annual general meeting (AGM) of Reliance Industries, held on Wednesday, saw a series of major announcements by chairman Mukesh Ambani. In the first-ever virtual AGM, Ambani announced that Google is buying a 7.7 percent stake for over Rs 33,000 crore in Jio Platforms. He also talked about the expansion of Reliance Retail and spinning off the oil-to-chemicals business into a separate subsidiary. He also added that the deal with Saudi Aramco will be delayed a bit. Brokerages remained bullish on the stock after such major announcements. While Kotak raised the target price for the stock, BofA Securities maintained a 'buy' call. Let's take a look at what they have to say:
Kotak on RIL: The brokerage retained a 'buy' on the stock and raised target price to Rs 2,150 from Rs 1,750 earlier. It said that foray in digital space will be the next big driver.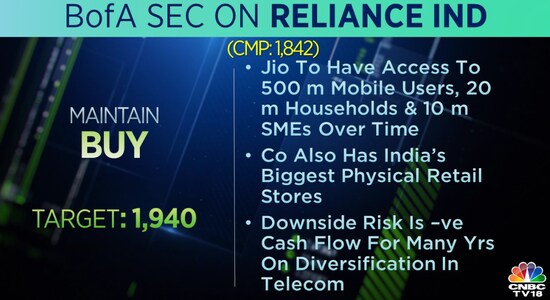 BofA Securities on RIL: The brokerage has a 'buy' call on the stock with a target at Rs 1,940 per share. As per the brokerage, the only downside risk for the firm is negative cash flow for many years on diversification in telecom.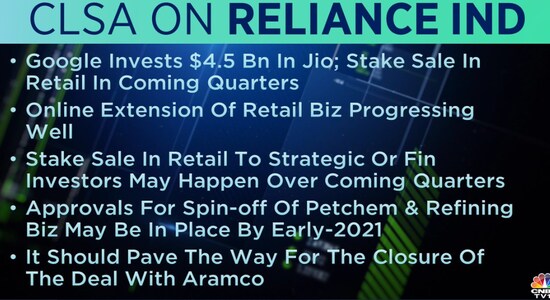 CLSA on RIL: As per the brokerage, stake sale in retail to strategic or financial investors may happen in the coming quarters. It added that approvals for the spinoff of petchem and refining business may be in place by early 2021.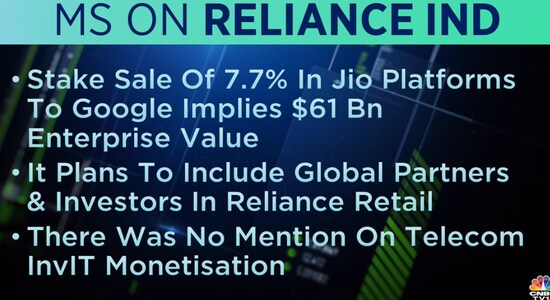 Morgan Stanley on RIL: Stake sale of 7.7 percent in Jio Platforms to Google implies a $61 billion enterprise value, said the brokerage. It also noted that there was no mention of telecom InvIT monetisation.