SUMMARY
Made-in-India weapon systems, including ammunition, were displayed at the Republic Day parade this year. These included the 21 Gun Salute with "Made in India" 105 mm Indian Field Guns, the recently introduced LCH Prachand, the K-9 Vajra howitzers, the MBT Arjun, Nag anti-tank guided missiles, Akash air defence missiles, and Quick Reaction Fighting Vehicles.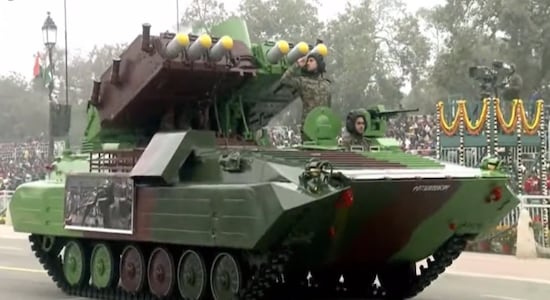 Quick Reaction Fighting Vehicle : These vehicles under Atma Nirbhar Bharat Scheme are being manufactured by TATA Advance System and Bharat Forge Limited for the Indian Army and is shining example of Indian Army's quest for self-reliance. This 4x4 wheeled Armoured Platform has full Armour Protection with a 360 Degree Turret which mounts a 7.62mm Medium Machine Gun, can carry 10 Fully Armed Troops.  The vehicle is also Mine and Bullet Proof which makes it suited as an Escort vehicle and special response for CI OPS. It has a maximum speed of 80 km/h with an OP range up to 600 km and can negotiate a gradient up to 25 degrees. The War Cry is "Ki Ki So So Lahargyalo" which means 'Victory to God. (Image Credit : ANI )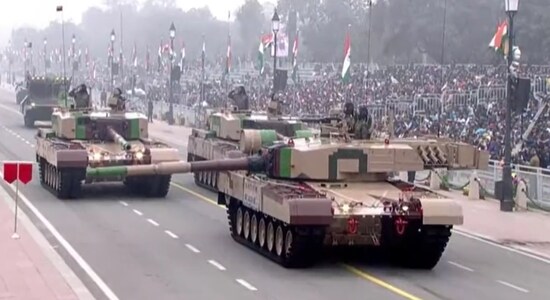 K9 Vajra-T of 224 Medium Regiment (Self Propelled): The firing range of the K9 Vajra-T 155mm/52 Calibre Tracked Self Propelled is 40 kilometres. Arid desert environment allows the Tracked Self Propelled Gun System to travel at a top speed of 60 km/h. It has been equipped with fully welded steel armour protection, and the design includes an automatic fire control system and a modular azimuth position system (MAPS). Sarvada Sarva Pratham, which translates to "Always the First," is its motto.