SUMMARY
Vicky Kat Wedding: Do you know Katrina Kaif and Vicky Kaushal? Then why were you not invited to their super-secret wedding? Jokes aside, the day is finally here -- the day when Bollywood's most private couple will make their relationship official. The two superstars are set to marry in a grand, but private, function. Only the closest friends and family are invited to the ceremony. But fans being fans, took to Twitter to celebrate this union in a funny, hilarious, and witty way. And yes, cue the Salman Khan jokes.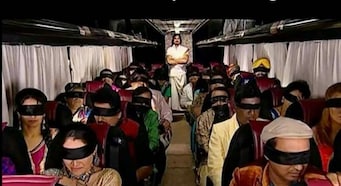 0
"Guests on their way to attend Katrina-Vicky's marriage," said a Twitter user, taking a dig at the fact that the wedding is absolutely private . The user said, "Source: Don't know".
The entire function is so private that guests have been requested to leave their mobile phones in their hotel rooms. Of course, this too became a meme.
"How's the josh?" is a famous line in the Vicky Kaushal starrer Uri: The Surgical Strike. This line of dialogue became popular as a meme when the movie was released. So, of course it resurfaced the day the actor tied the knot.
Meanwhile, here's how fans memefied Salman Khan, Katrina Kaif's old flame. In the meme, Khan is trying to gain access to the wedding venue, since he was not invited, according to reports.
Here's another dig at Salman Khan. Both Vicky Kaushal and Abhishek Bachchan's wives are Khan's ex-love interests.
Taking a still from the movie Bodyguard, here's how tweeple portrayed Khan
If we have to explain this meme, then is it is not good enough. Period.
Here's another dig at the actor.
says Vicky's mom to Vicky a day after the wedding, wrote a fan on Twitter. A dig at Indian parents' fondness for comparing their children.