SUMMARY
RBI, on Friday, announced an array of measures to help the economy as it deals with the economic impact of coronavirus. The central bank cut the repo rate by 75 bps to 4.4 percent. It was the first time the MPC met outside its bi-monthly meeting calendar. It also cut CRR by 100 bps to 3 percent and allowed a 3-month moratorium to all banks, financial institutions on all loans. Here's what brokerages have to say about the measures taken by the RBI and other brokerage calls for today: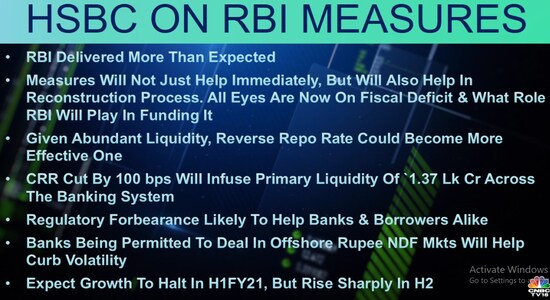 HSBC on RBI Measures: The brokerage said that the RBI has delivered more than expected. It expects growth to halt in H1FY21, but rise sharply in H2.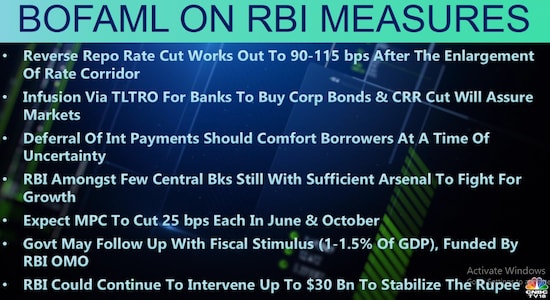 BofAML on RBI Measures: BofAML believes RBI is amongst few central banks still with sufficient arsenal to fight for growth. It expects MPC to cut rate by 25 bps each in June and October.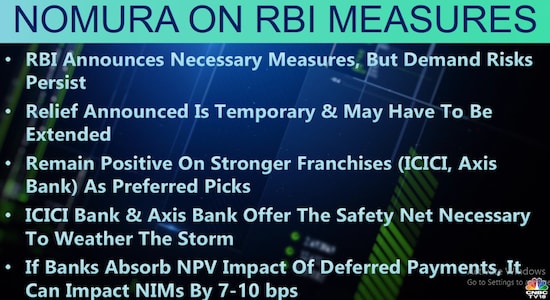 Nomura on RBI Measures: Relief announced is temporary & may have to be extended, says Nomura. It's positive on stronger franchises like ICICI Bank, Axis Bank.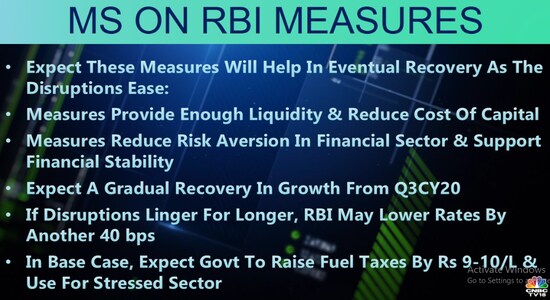 Morgan Stanley on RBI Measures: The brokerage believes, measures announced by RBI, will help in eventual recovery as the disruptions ease. It expects a gradual recovery in growth from Q3CY20.
Morgan Stanley on Industrials: Sharp correction in industrial stocks, offers strong opportunities for long-term investors, said the brokerage, adding that risk-reward is becoming attractive.
Credit Suisse on Pharma: The brokerage downgraded Torrent Pharma to 'neutral' due to its limited upside. It also cut target prices for pharma stocks amid COVID-19 disruption.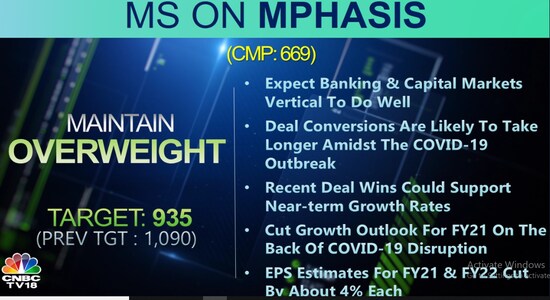 Morgan Stanley on Mphasis: The brokerage maintains 'overweight' call on the stock but cut its target to Rs 935 per share from Rs 1,090 earlier. It also cut Mphasis' EPS estimates for FY21 and FY22 by about 4 percent each.