SUMMARY
The Red Fort's love affair with Ramlila is nothing less than legendary. Every year, in Autumn, the dusty maidan outside the massive red sandstone structure dresses up to enact scenes from Ramayana. The show goes on for nine days, ending with Ravan Dahan, the burning of the effigy of Ravana, on Dussehra (also known as Vijaya Dashami). Tents come up overnight, hundreds of workers ready the dais, and loudspeakers are hoisted on bamboo poles.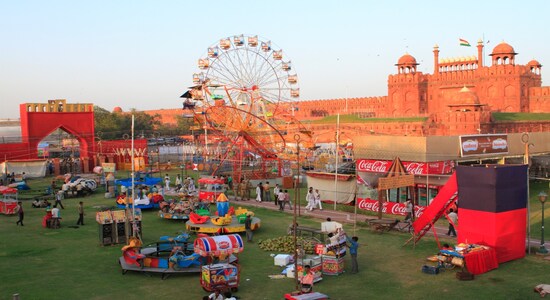 Majestic 16th century Redfort in the background.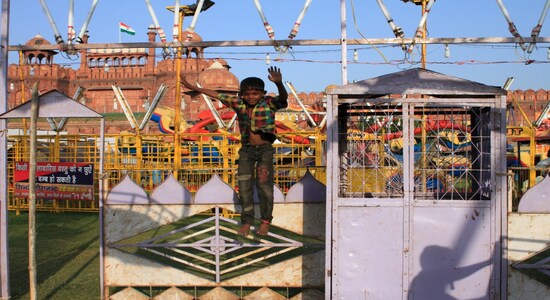 The majestic 16th century Redfort in the background has witnessed many such dramas.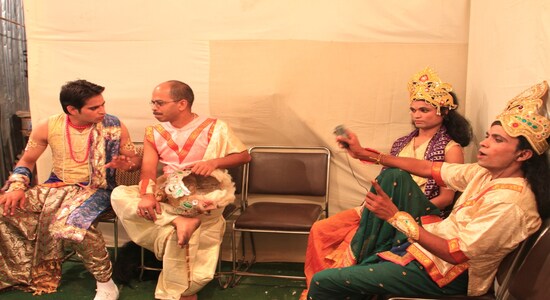 Members of the Ramlila relaxing during their makeup session.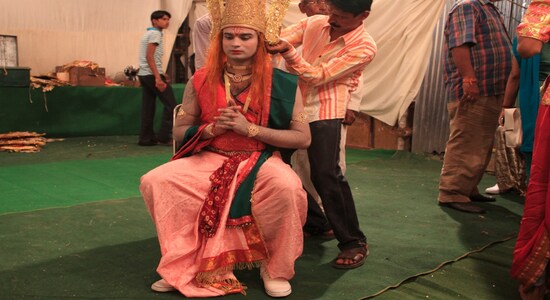 Rama the protagonist is sitting with folded hands.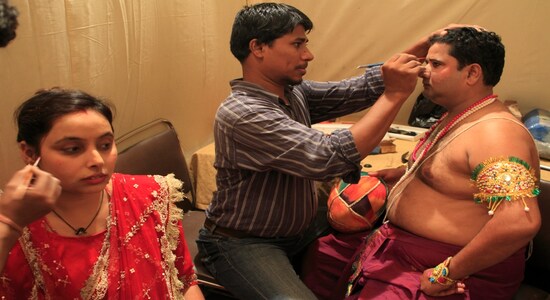 Makeup session of Sita and others in the green room.
Back on the main stage, the actor playing the role of Hanuman often gets the loudest applause — more than the princes of Ayodhya and the demon king.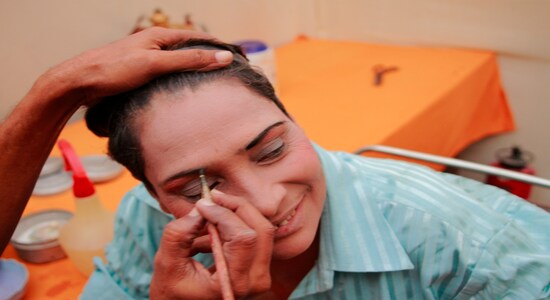 Makeup for the characters.
In 2015 there was a court order for not having Ramlila outside the Fort due to issue with parking lot allocation.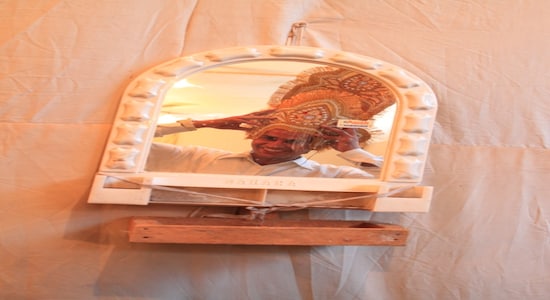 A actor laughs while getting ready for this role during Ramlila.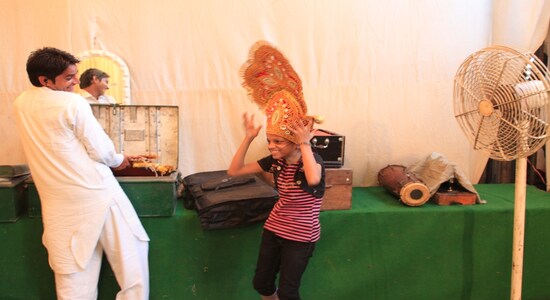 For the last few years, political honchos too have been participating in the event.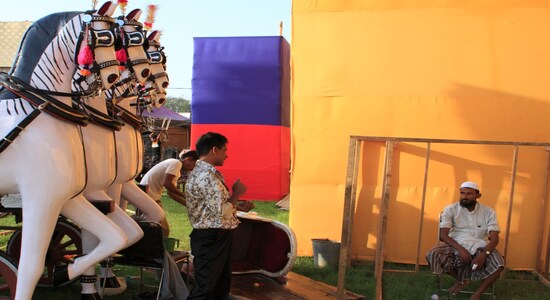 A Muslim carpenter does his job.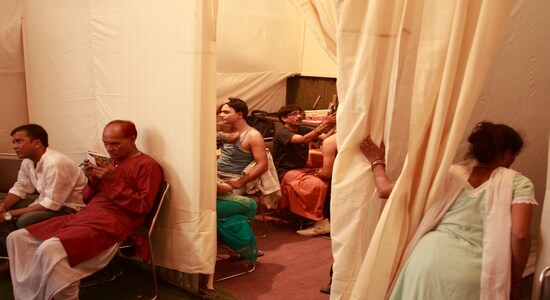 A glimpse of the Green room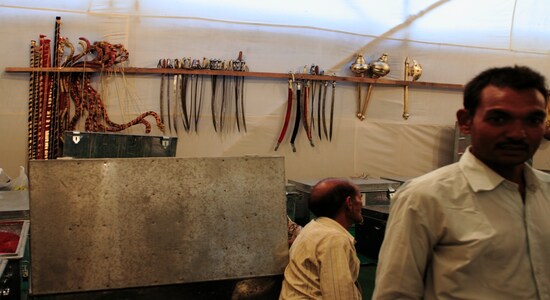 Mock armours to be used in Ramlila by various characters.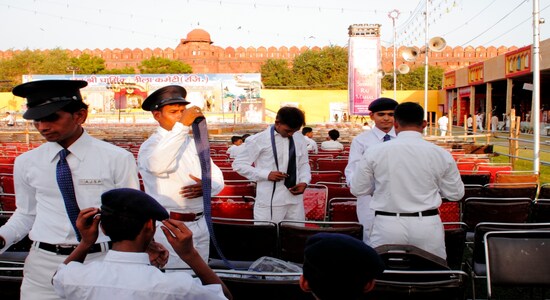 14 Boys scout has been a part of this event since independence.
Carpenters involved in art work for the event.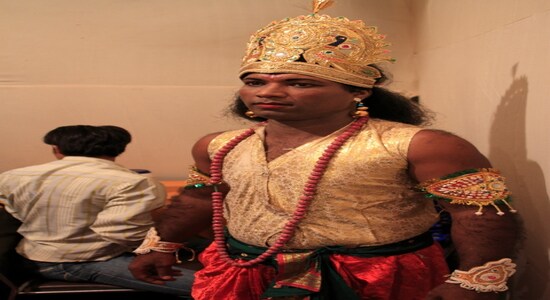 The actor waiting for his role.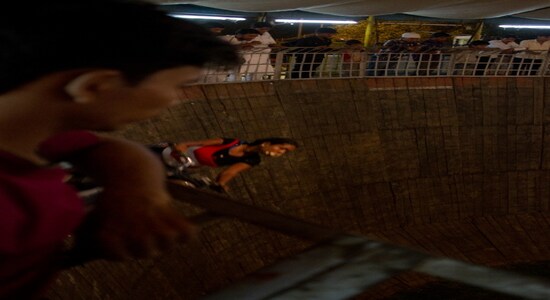 Well of Death, the motor-drome in which men and women perform stunts on motorcycles and cars.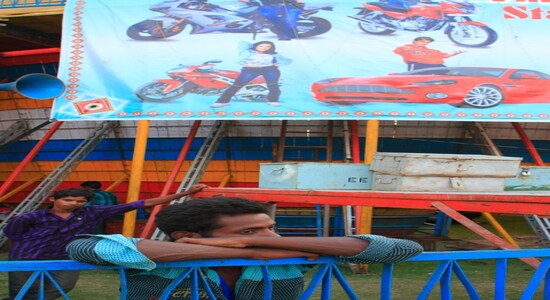 A lone man waits for an event of Motorcycles.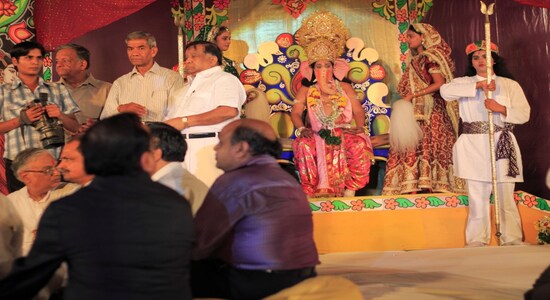 On Dussehra, Bollywood celebrities and political leaders are often invited to light the effigy using a bow and arrow, symbolising Rama's victory over Ravana.