SUMMARY
The Yangon river looks the same -- wide and muddy with ships, boats and steamers ferrying passengers from dawn to dusk. Almost 150 years ago, it was in a compound close to this river and the great golden Shewdagon pagoda in Yangon, then Rangoon, that Bahadur Shah Zafar II, the Last Mughal, breathed his last in a shabby wooden house. In 1857, when the Sepoy Mutiny was at its peak, the Indian soldiers of the British army declared Bahadur Shah Zafar II as the Emperor of Hindustan. The British suppressed the mutiny ruthlessly, arrested the Mughal emperor who took refuge at the rampart of Humayun, his great ancestor. They paraded Bahadur Shah and his sons from the Nizamuddin area in Delhi to the Red Fort. The emperor was tried for treason, imprisoned and exiled to Burma (Myanmar) another territory under the British control. He and his wife were sent to Burma in a ship named Magara. Edward Ommaney, the young British military officer who accompanied Bahadur Shah wrote that 'the pagoda is a magnificent object'. The British officer saw it from 20 miles away as they entered the Irrawady delta to the Rangoon river. Close to Shewdagon pagoda, Bahadur Shah was provided a small shabby wooden house to live. Many saw him sitting idle in the evenings outside his home. He died in custody aged 87 in 1862 -- but his poetry lived on. The pen name he used, Zafar, means victory. Defeated, demoralised and humiliated, it was an inglorious end for a man whose ancestors had for 300 years ruled a vast territory including modern-day India, Pakistan, large parts of Afghanistan and Bangladesh.Today, his tomb and the Dargah are looked after by some Burmese Muslims. Only a few Indians visit the place though it is frequented by tourists from Pakistan, Bangladesh, Turkey and Central Asian countries. On the arch, wrought in iron and painted over with gold colour are the words: 'Dargah of Bahadur Shah Zafar — Emperor of India 1837–1857'.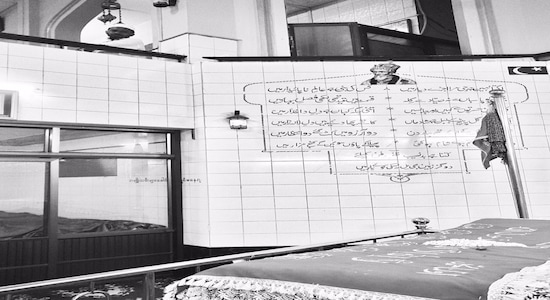 The tomb of Bahadur Shah Zafar in Yangon.
Bahadur Shah's home in Yangon behind Shewdagon Pagoda.