SUMMARY
Patachitra, a centuries-old art-form, finds its roots from the Jagannath culture, where paintings of the three deities were made on canvas and put for daily worship in the temple ahead of Rath Yatra. Patachitra paintings are frequently seen painted on temple walls, depicting mostly the life of Lord Krishna and other mythological figures and stories. An artisan village, Raghurajpur in the district of Puri, has kept alive the art form through centuries. Painted on canvas and palm tree leaves, which includes intricate designs, the paintings are done with natural paints made from coloured stones and plant pigments. Apart from the paintings, the artisan village of 80 families also makes clay masks, dolls, which is popular with tourists, art-lovers alike.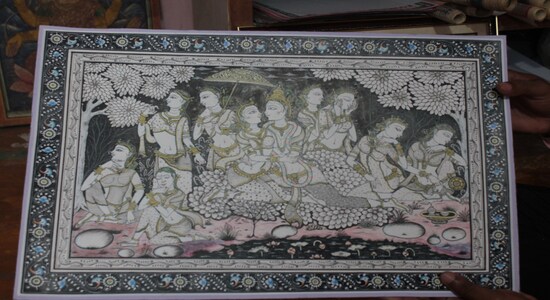 A scene of 'Raas-Leela' painted on canvas. Patachitra, an art form, are paintings on dried palm leaves or on canvas. Artists from a tiny village in the Puri district, Raghurajpur, mostly paint scenes from mythology related to Lord Krishna.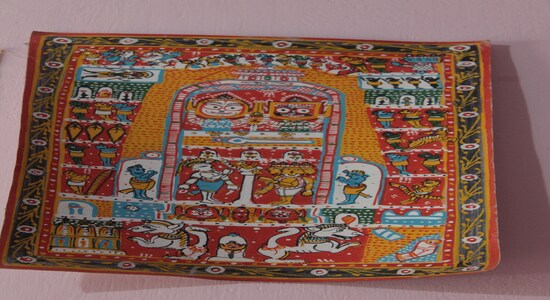 The earliest form of Patachitra, known as 'Jatri-pati' is hung on a wall. Patachitra finds its roots from the Jagannath culture, where paintings of the three deities were made on canvas and put for daily worship in the temple ahead of Rath Yatra.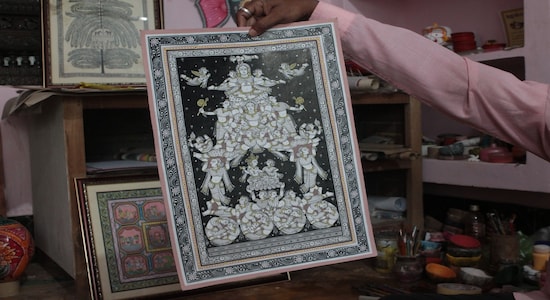 The painting depicts 'Raas-Leela' in a different way. The colours used in these paintings are natural colours, made from various coloured stones or plant pigments.
Scenes from the 'Dashavatar' is also a popular topic on which these artists paint.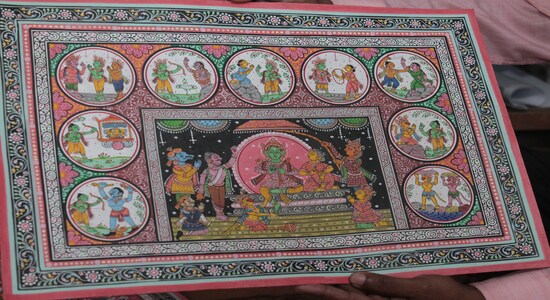 Important scenes from the great epic 'Ramayana' can be seen. Artists take up to two weeks or more to paint one such painting. The intricacies and the size of the image determine the time a painting takes to complete.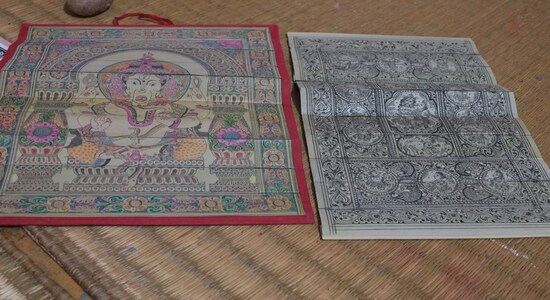 Palm leaves are engraved using an iron-pointed pen. The black and white image depicts the 'Dashavatar' while the coloured painting is of Lord Ganesha. Paintings on palm leaves take 2-3 days at most.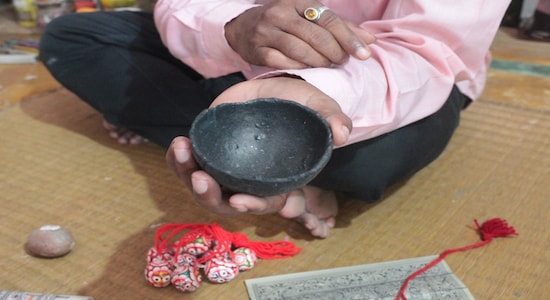 Natural paints made from coloured stones or plant pigments are used predominantly for these paintings. Artists in the village spend weeks together to create an ounce of these colours which they use for at least 4-5 months.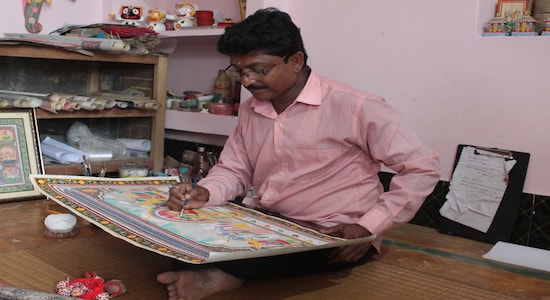 Artist Bhaskar Mahapatra is seen at work. He is painting a scene from the 'Ramayan.'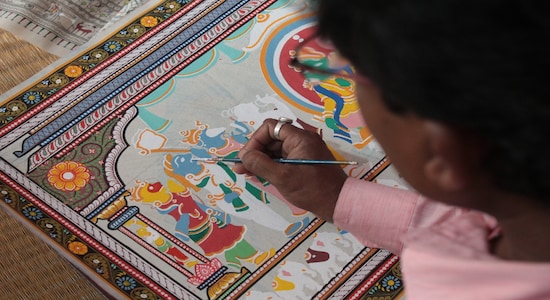 Elaborate paintings such as these take up to two weeks or more to finish.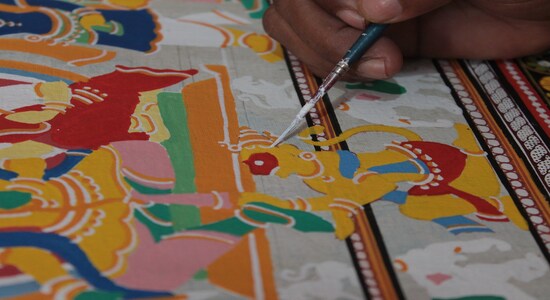 The light stroke of the brush makes intricate designs on the painting.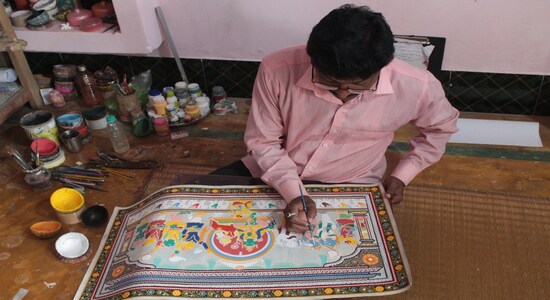 Natural colours and brushes occupy a particular corner of the living room of the artist where he does his work.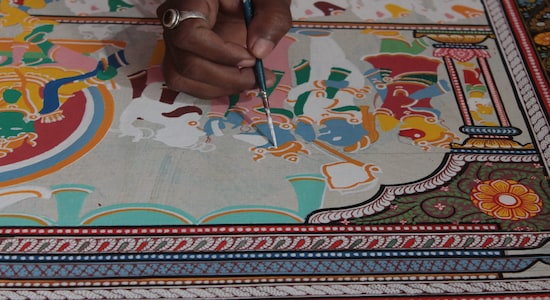 More intricate designs being made with white colour.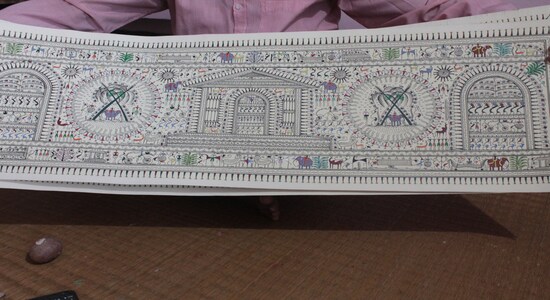 In the modern world, tribal art is also included in 'Patachitra.'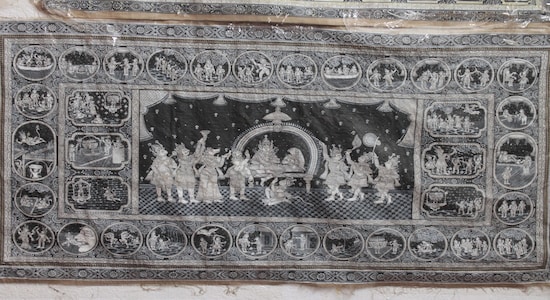 The likeliness of the art-form can be seen expanding to other fabrics such as sarees and dress materials, wherein customers want 'Patachitra' paintings to be designed on them.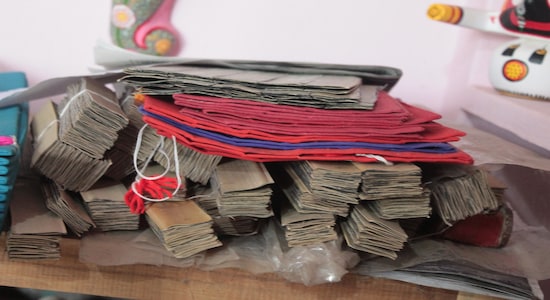 Stacks of palm leaf paintings are seen in this picture. These are one of the earliest forms of the painting. In Odisha, it is believed to be auspicious as when a child is born, the birth chart of the child is written in these palm leaves.
Hand-painted playing cards called 'Ganjapa' are played mostly by village elders. A single set of cards can have about 120 to 200 cards. Images of swords, Lotus flower, animals and Lord Jagannath are usually drawn on these cards.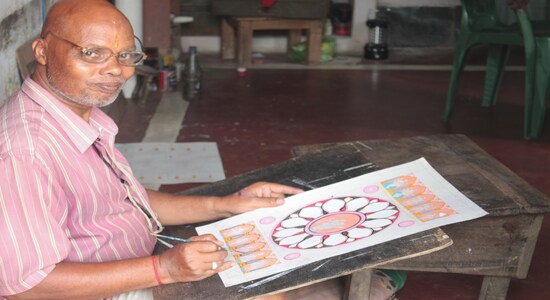 The art-form is an ancestral job that the whole village still does. People sit near the door and paint, attracting passers-by.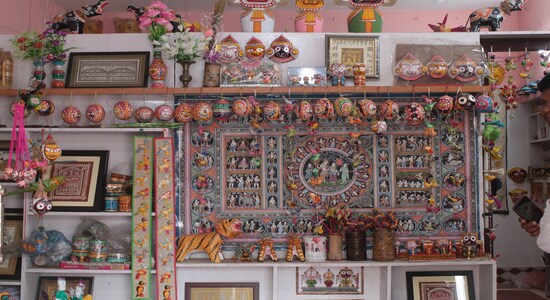 A decorated drawing room is seen filled with 'Patachitra' paintings and paper dolls and masks of Lord Jagannath. Artists sell their art from their house, by converting the front room as their shop. They decorate it with the best of their artworks to attract tourists and customers.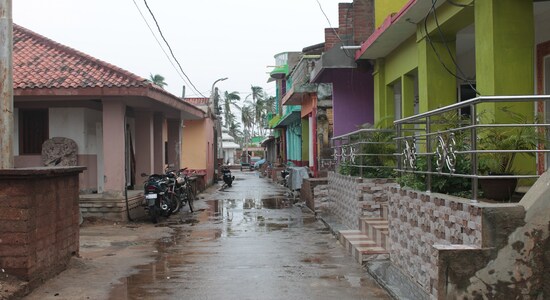 A glimpse of the village.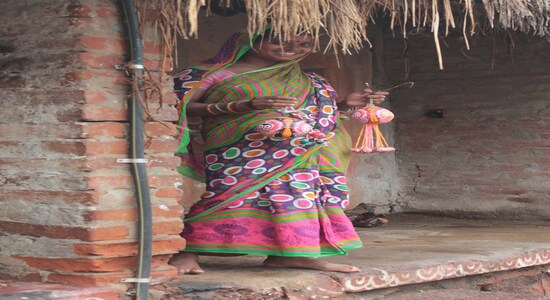 A woman is seen standing outside her home, with coconut shell paintings. Dried coconut is used as a base to paint the images of Lord Jagannath and his brother and sister. These paintings are often used for home decor.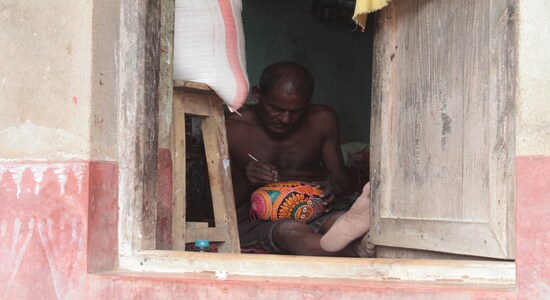 An old man painting the images of Lord Jagannath on a dried coconut in the afternoon.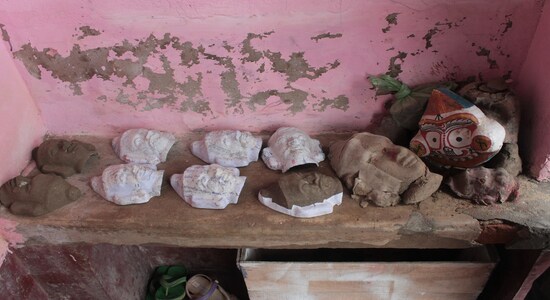 Paper-clay masks are used for home decors. Images of Lord Jagannath, mythological characters and animals are often painted on these masks.
Painted masks on display.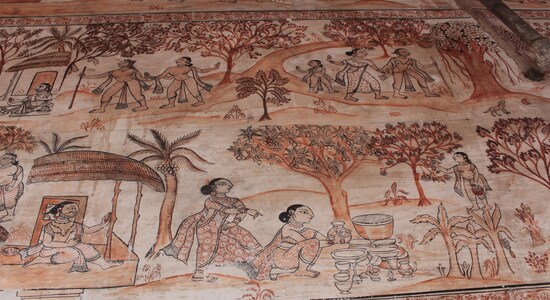 A village scene painted on the outer wall of a house.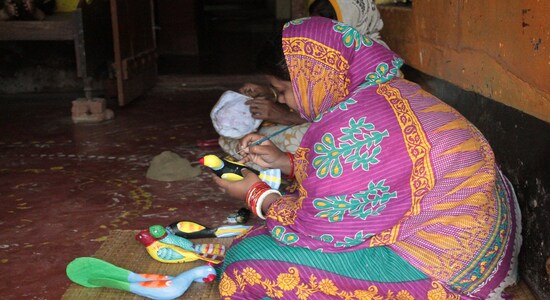 Women sit after finishing their household chores to paint dolls made out of cow dung and mud.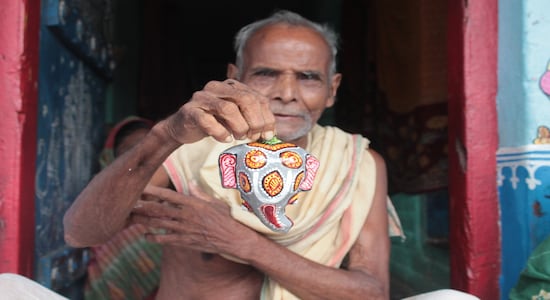 An 89-year-old man displays an elephant head mask.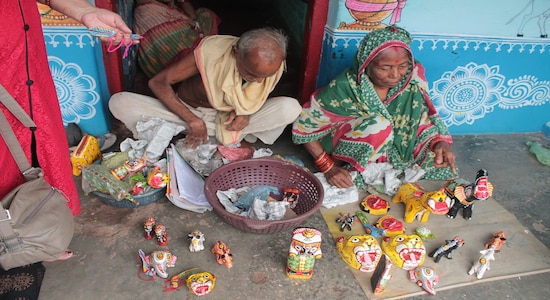 The elderly couple displays their work for customers, which includes paper masks and dolls.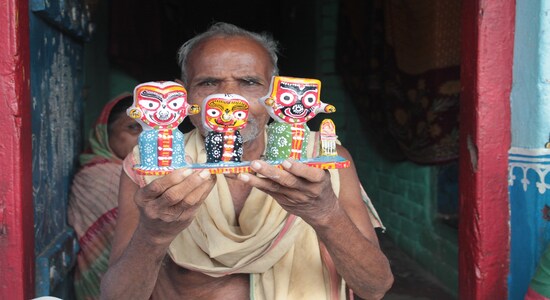 Idols of Lord Jagannath, Balabhadra and Subhadra made from wood.