SUMMARY
Growing up in '80s Calcutta (now Kolkata) had an acquaintance with Vietnam. Uncles with communist leanings told us of North Vietnam's spirited fight against the South (the former had the support of the Soviet Union, China and other allies). Others glorified the US's role in the proxy Cold War-era conflict lasting two decades (November 1955-April 1975). The war ended with the fall of Saigon and the unification of North and South Vietnam. More than 60 years after the unification, capital Hanoi, it seems to suggest that the country — once caught between communist and anti-communist world powers — is somewhere in between. Though a one-party communist state, it is no stranger to multinational brands — be it coffee, cosmetics, clothes or fried chicken. Large US and Chinese companies have opened workshops there and real-estate is growing in a good rate. Many rural people who live in cities and towns have taken as a labourer in the export-oriented industry. Skilled labour is one of the good things that Vietnam is producing and slowly cutting an edge from the Chinese and Indian markets. A government employee who hails from the outskirts of Hanoi now lives in the capital, Son is quick to explain why the country has made peace with the US and France (the latter colonised and ruled it from 1887-1954): "We are a predominantly Buddhist country, so we always forgive and move on." Signs of "moving on" are aplenty but sunset is a trigger for the spirit of Ho Chi Minh — communist leader, and former Prime Minister and President of North Vietnam — to come alive in the form of red neon. The sickle and the hammer watches over every street corner. Hanoians believe that they are under the ghosty watchful gaze of Uncle Ho.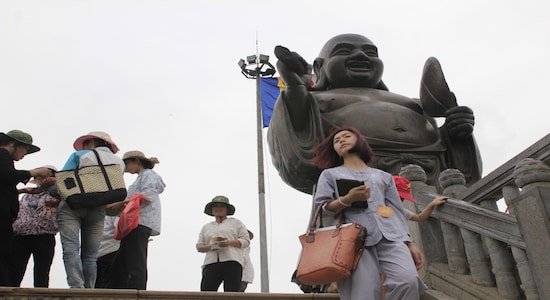 Tourists visiting a pagoda in Hanoi, Vietnam.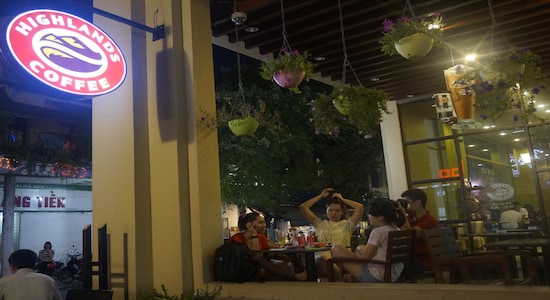 A view from a restaurant in Hanoi, Vietnam.