SUMMARY
It is mango season and time to step back thousands of years when, as folklore goes, the first mango tree was born somewhere in the Indo-Burma region thousands of years ago. I know now what the Caveman called the fruit but early Sanskrit texts refer to it as amra. Chinese traveller Hsien-Tsang who visited India in 632 AD was the first one to tell the world about mangoes. Mughal emperor Akbar planted an orchard of 100,000 mango trees in Darbhanga (Bihar) and Ain-e-Akbari (1590) details the qualities of mangoes. Alauddin Khilji was the first mango patron and his feast in Sivama Fort is legendary. Mughal Emperor Bahadur Shah Zafar's mango garden inside Red Fort (Delhi) was called Hayat Bakhsh and the earliest reference to 'mango' in a European language appears in 1510 in the Italian text of Ludovico di Varthema.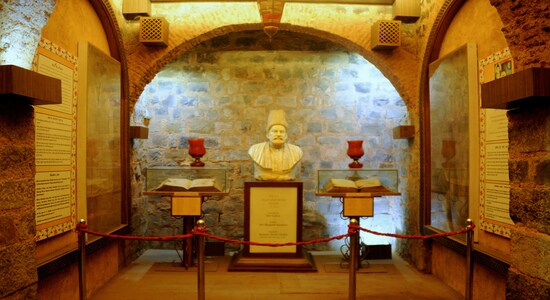 Poet's love for mango: Emperors. Noblemen. Soldiers. Plebs. Everyone is obsessed with the summer fruit. Poets wrote reams about the King of Fruits but no one can ever beat poet Mirza Ghalib's mango love. He wrote long letters to his friends requesting for baskets of mangoes (at a rough count, he mentions mangoes in 63 letters). There's his famous poem called Dar-Shifat-e-Ambah and the oft-repeated couplet: Aur dauayiae kias kahan, jane sheerin mein mithas kahan (What else can we do with first the imagination? Mango is sweeter than the best in life, nay, even life itself). Famous Persian poet Amir Khusrau called mango Naghza tarin mewa Hindustan (fairest fruit of Hindustan) and Rabindranath Tagore wrote Aamer monjori. (Photographed here is Ghalib's home in Ballimaran, Old Delhi)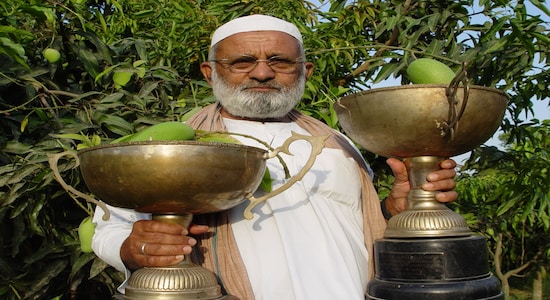 Malihabad & its Mango Man: The cineaste must have noticed the lush mango orchards and mansions in films Umrao Jaan and Junoon; the poetry-lover must have read Josh Malihabadi's poems, but the dusty town of Malihabad (near Lucknow) borrows its fame from mango - it grows nearly 800 varieties of mango. And no story of this mango village is complete without a mention of Padamshri Kaleemullah Khan, the Mango Man. (Photographed here is Kaleemullah Khan with his mango trophies)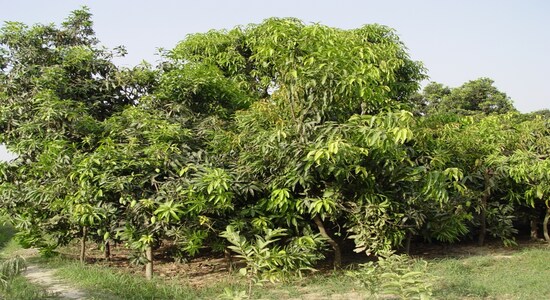 One tree with 300 different types of mangoes: In Kaleemullah Khan's Abdullah Nursery is a 100-year old mango tree on which grow nearly 300 varieties of mangoes. Yes, 300 varieties on one tree that Khan has grafted over the years.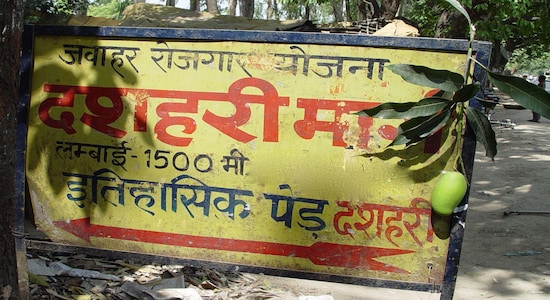 A village called Dusseheri: On a potholed road, six miles from Malihabad, crane your neck for a yellow signboard that mentions a historical tree, or a white milestone that reads: Dusseheri 1.5 kilometres. It is the village that lends its name to Dusseheri, one of the major commercially grown mangoes in the country. A narrow road leads to the original Dussheri tree that is still the property of the Nawab of Lucknow's descendants. The Mango Institute of Lucknow dates its origin to 200 years, but locals swear that the tree was not planted by humans; it grew on its own as a divine gift.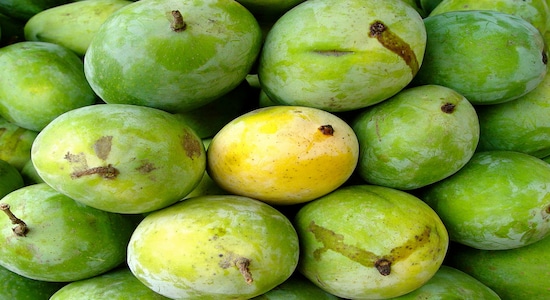 What's in a name? Though nearly 1,000 mango varieties are grown in India, very few are commercially grown; their names acquiring different names in different regions. For example, langra (literally, lame), is name-loaded: Langarhi, Tikari (Farrukhabad, UP), David Ford, Hardil-Aziz (Bhopal), Sylhet (Meerut, UP), Ruh-e-afza, Darbhanga and Chhatpa. Dusseheri is also known as Aman, Aman Dashehari, Nirali Aman and Kamyab while Bombay Green gets varied names like Kali Bombai, Sarauli, Malda, Sheeri Dhan, Bhojpuri, Laile Alupu (source: ikisan.com) (Photographed here is the langra mango variety)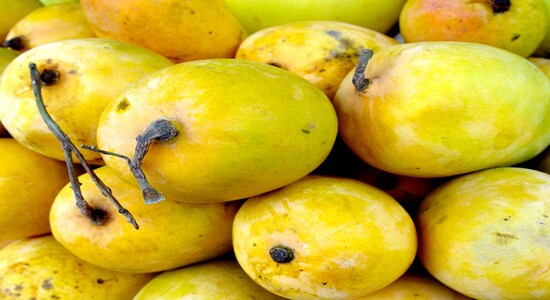 Mango naming: Ever wondered who gave mango varieties their name? Emperor Sher Shah Suri is said to have christened the Chausa variety on the eve of his victory against Humayun in Chausa (now Bihar) against in 1500s. Langra, which first grew in the house of a langra (lame) man in Varanasi, takes its name from the progenitor's disability. Amrapali is probably named after the famous courtesan of Vaishali, Amra Pali while Alfonso stems from Afonso de Alberquerque, a Portuguese general, who helped establish Portuguese colonies in India. (Photographed here is the Alfonso)